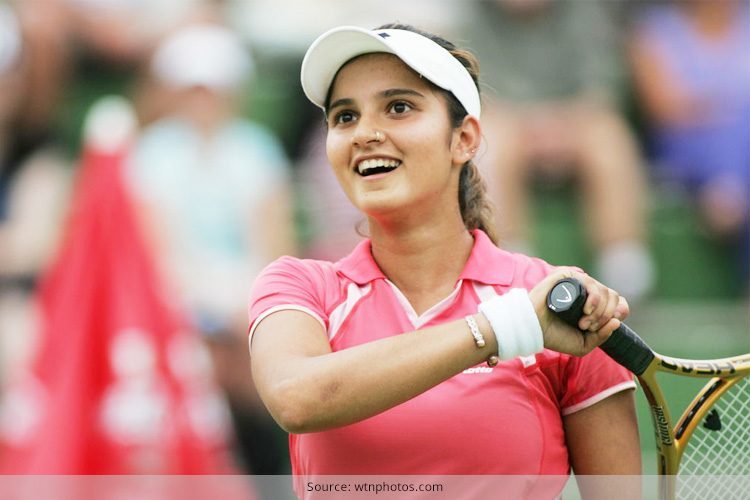 In a cricket obsessed nation like India, popularity of other sports personalities has always been short lived. However, only some rarefied names are destined to become immortal in the history of Indian sports. And one such name is Sania Mirza, whose frantic fan following flaunts an elaborate chronicle about her triumphs and achievements. Let's go through 10 reasons why Indians are proud of Sania Mirza!
India's ace tennis star's spectacular rise to stardom has indeed inspired youngsters from across the nation to embrace tennis, and also a hope that India will soon break out its shell what's known as cricket mania. Today Sania Mirza is an inspiration for the young sports enthusiasts across the country, who are not only showing interest in tennis but in other sports as well.
When Sania was ranked no. 1 in the world in Girls Doubles after winning the Wimbledon Girls Doubles title in 2003, she broke the stigma of Indian tennis being dominated by male counterparts.
[Also Read: Saina Nehwal: Making Badminton India's Next Big Commercial Sport]
There was also a time period when inevitably sports media revolved only around Indian Cricket Team and Sania Mirza sans Tennis. Sania was all over news both for right and wrong reasons. Indian sports were then conceptualized as a bubble from where no other sports personnel but Sania was only visualized. But thanks to sportspersons like Saina Nehwal, Mary Kom, Jwala Gutta and Deepika Kumari, Indian women's sports is no more confined to Sania Mirza amidst media hypes.
While it's true that Sania is a favorite among media, we also cannot discount her achievements. Even though the Hyderabadi girl is never spared from controversies, she certainly has given us an array of reasons to take pride in her. Here are 10 reasons why Indians are proud of Sania Mirza of her extensive list of accomplishments. Do have a look!
1. First Indian woman to reach the fourth round of a Grand Slam tournament
2. First Indian woman to win a WTA singles title (Hyderabad Open in 2005)
3. WTA's Most Impressive Newcomer for the year 2005
4. She was conferred with Padma Shri Award in 2006
5. Mirza is the third Indian woman in the Open Era to feature and win a round at a Grand Slam tournament
6. She was conferred with Arjuna Award in 2004
7. She was named the brand ambassador of Telangana by the Telangana Rashtriya Samiti (TRS) government in July this year
8. She has won a total of 14 medals (6 Gold) at three major multi-sport events, namely the Asian Games, the Commonwealth Games and the Afro-Asian Games
[sc:mediad]
9. Sania Mirza started "Sania Mirza Tennis Academy", which was launched in March 2013 with the aim of providing world class tennis training to Indian tennis players
10. She is the first South Asian Woman to be appointed as a Goodwill Ambassador in the United Nation's history
Sania Mirza's Style Diary
Sania Mirza's fashion has come a long way since she came in the limelight few years ago. While she was mocked a couple of times for her dressing sense, the lady took all criticism in a positive way, and today, she's definitely one of the most stylish Indian celebrities we have, flaunting revamped yet flattering style statements.
The Hyderabadi girl tight lipped her critics, when she walked the ramp at Wills Lifestyle India Fashion Week Spring/Summer 2015 as showstopper for designer Ritu Pande.
The 28-year old tennis star can pull off any outfit with equal grace and panache. While she looks super trendy in her sporty outfits on the tennis court, she can effortlessly sashay down the ramp in an embroidered full–length outfit as well.
Here is a snippet of her statement she had given post WLIFW,
"It's fun to walk the ramp. Ritu is a dear friend and brilliant designer. I am walking the ramp after a year and it's something which I don't do often. Like any other girl, I love fashion a lot. I love to dress-up for occasions. I don't follow trends and love comfortable clothes."
Besides, last year Sania was the showstopper for designer duo Shantanu and Nikhil at the Aamby Valley India Bridal Fashion Week held in Mumbai.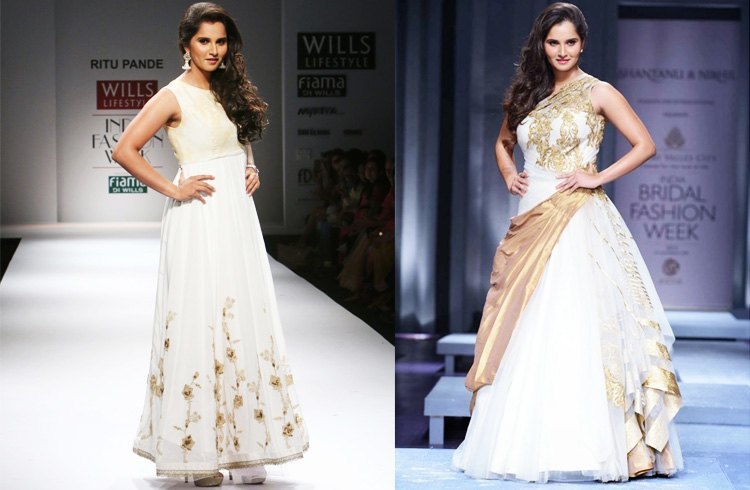 The tennis ace was spotted recently in a super chic avatar at a multiplex in suburb Mumbai. Mrs. Sohail Khan looked refreshed as she was dotting on the arm of her cricketer-husband before the shutterbugs. She had paired her dark denims with a pop art T-shirt, a trendy white cape and thong sandals.
So those were my top picks from her style diary along with 10 reasons why Indians are proud of Sania Mirza. Hope you enjoyed this post!