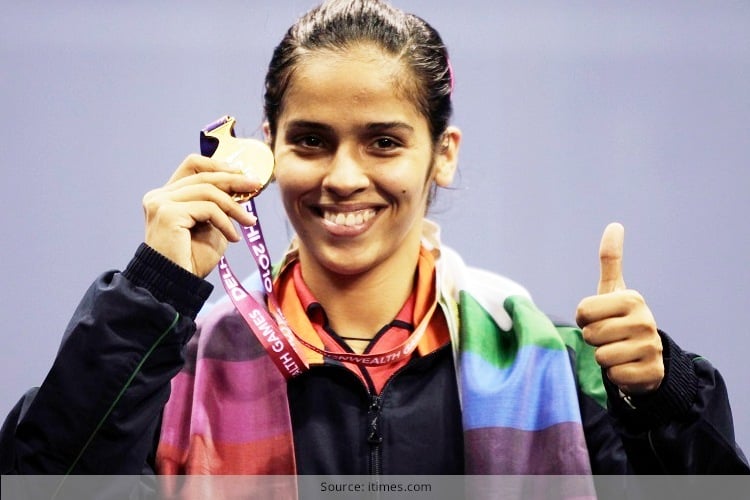 India's sixth seed Saina Nehwal has clinched her second title this year after winning the $750,000 Star Australian Super Series by beating Spain's Carolina Marin in the finals on Sunday. The ace Indian shuttler had already made the country proud early this year by winning the India Grand Prix Gold in January at Lucknow.
As per PTI report, the Indian badminton star prevailed 21-18, 21-11 in a 43-minute contest by taking home the prize cheque of $56,000.
While Saina is bombarded with congratulatory messages on her social media channels, many Bollywood celebrities have also sent their heartiest wishes to the Olympic bronze medalist, who is now soaked in victory.
The Non-Cricketing Popular Athlete
Did you know Saina was ranked #29 among list of Celebrity 100 of 2012 by Forbes India? Besides, today the 23 year old badminton player is the highest earning non-cricketing athlete in the country.
Arguably, Saina Nehwal is also the most popular sportsperson outside cricket, who has indeed created a whole new generation of badminton lovers in the country. Today, she is an inspiration to the million girls in India, whilst encouraging parents to enroll their daughters into sports.
Even statistics show that after women sports celebrities like Sania Mirza and Nehwal came into the picture, there has been a gradual increase in the enrollment of young girls into different sports academies.
Saina and Badminton Uplifting Women in India
Saina Nehwal, along with other women athletes, including the London bronze medal winner boxer Mary Kom, represents a breed of fresh, aggressive and ambitious female talents, who are forcing the country's typically ponderous middle class to think differently about involvement of women into sports.
Saina gives most of the credit of her success to her parents, who borrowed money and took loans  for Nehwal to fulfill her dreams. Their effort in making Saina an international name is an indication of a revolution in the mindset of Indian parents. Such kind of growing breed of middle-class parents in India has challenged the notion of keeping daughters at bay, whilst encouraging boys for sports.
In a country where still female feticides as many as 50 million and where 300 women are still dying every day due to childbirth and pregnancy related causes, role models like Nehwal have the potential to bring about a long-lasting change.
As per T. S. Sudhir, Saina's biographer, "Young girls are coming from the back of beyond to academies in Hyderabad with the square goal of becoming another Saina Nehwal. Most parents who come to the academies have dreams in their eyes – they want their daughters to become Saina Nehwal. Role models are necessary to change people's thinking."
Indra Nooyi's Encourages Women to Join Sports
Last year in September I came across a video on Sports Business Journal's inaugural Game Changers Conference. The conference was also attended by Indra Nooyi, PepsiCo Chairman and CEO, who was there to discuss on how to encourage women to join sports.
While mentioning names of Indian female sportspersons like Saina Nehwal; Indra Nooyi highlighted the fact that today, women are most involved in sports than ever.
The PepsiCo Chairman and CEO had this to say,
|"In my view, the key lies, as it does with other powerful consumer groups, in taking the time to understand the specific needs and desires of women. Women, not as a monolithic bloc, but as fans, coaches, athletes–and designing for those specific needs."|
Thanks to Saina Nehwal, who inspires every Indian women to actively join sports. And with every title that she brings home, she is only building more trust and confidence in young minds.
The Rising of Sania and Saina
After winning her bronze medal at the London Olympics in 2012, Saina Nehwal's homecoming had brought in the sort of passion usually reserved for India's tournament-winning cricket team. The same enthusiasm, the ace shuttler has once again raised by winning the Star Australian Super Series. She has once again given a reason for sports fans in India to look beyond the humdrum cricket.
When a 16-year old Saina Nehwal came into the picture in 2006, tennis sensation Sania Mirza was already under the spotlight at the height of her pomp. Since she was the first female in sports in ages, who was gaining popularity, media made her a star overnight showcasing her spunk attitude and endorsement-worthy face.
I still remember how people used to get confused by the two similarly named champions – Sania and Saina. Even newspapers were seen doing the same mistake in a rush to meet the deadline. With Sania's marriage to Pakistan cricketer Shoaib Malik, she was always in the news.
Is Badminton India's Next Big Commercial Sport?
As a national interest, badminton is quickly becoming the next big popular game after gaining a commercial success in the past two years. According to Mahesh Bhupathi, Indian badminton has got two great things that are going in its favour. He further insists that in order to make any sport successful in India, country needs to have role models.
He points out that a sport needs to have successful players, who not only achieves top international rankings, but also become the face of the game. India certainly has such names both at the senior and junior levels. Apart from senior Olympians like Saina Nehwal and Parupalli Kashyap, plenty of prodigious young talents are making their ways to success.
It will be a sin if I discount Viswanathan Anand, Leander Paes, Mary Kom and a host of other Olympic stars. On the other hand, you will also have to agree that badminton has gradually emerged as India's second most popular sport thanks to the efforts of Saina, PV Sindhu, Paruppali Kashyap and Pullela Gopichand.
Unlike tennis player Sania Mirza, Saina's popularity was not an overnight achievement. Instead, her rise was always piecemeal yet substantial.
Saina Nehwal and Her Simplicity
As per Saina,
I am a very simple person. I believe in actions and the truth. My childhood was spent in Hisar and my teenage years were spent playing badminton in Hyderabad. I did not get a chance to make friends because of this shift of locations.
What makes this sports star stand out is her simplicity, unlike other athletes who are easily influenced by the glamor world. While her simplicity defines her personality, the intensity of her focus defines her control over the game.
Saina further adds,
My parents initially wanted me to focus on studies but God wanted me to become a badminton player. One day in Hyderabad, Arif sir [a Dronacharya Award winner] recognized me as a player and I became one. Since 1999, badminton has been my only focus. Nothing else. They talk about the aloo parathas but I can't have too many of them as I gain weight. They are a luxury. When I am home, movies… particularly those of Shah Rukh Khan's… are generally on my plate. I do not like shopping so my sister and mother do it for me.
Badminton – First Love of Her Life
While badminton has been her only routine since 1999, I wonder if the Olympic bronze medalist finds time for anything else. Spending six days a week on the courts and leaving nothing in the tank may seem quite exhaustive to us. But truth is quite the opposite – Saina Nehwal actually enjoys what she does.