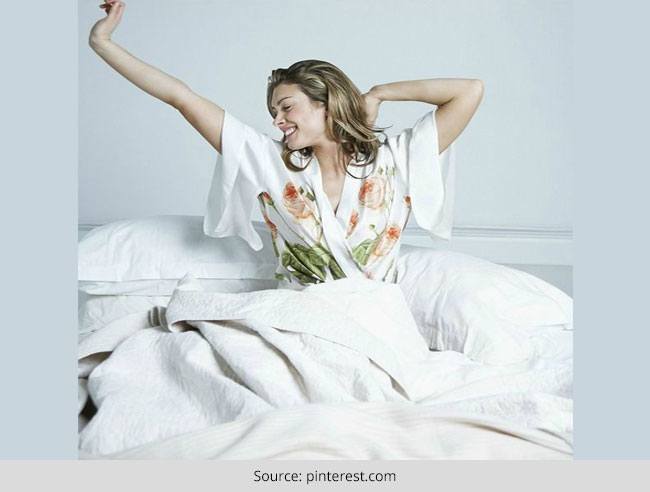 Early to bed, early to raise makes a person healthy, wealthy and wise…Well we don't know about that but a good night's sleep and the right beauty regime is guaranteed to get you glowing skin and beautiful hair.
How? You can read through to get beauty hacks that work most effectively while asleep. Beauty sleep, as we call it is very important for skin repairing. For healthier looking skin, you just require the right amount of sleep combined with the right tricks.
Night times beauty regimes are effective more because the skin is indoors, not subjected to any environmental infections or sunlight. Also our entire body works to build healthier cells during that time of the day. Today, most of us have hectic scheduled lives, so spending time on ourselves has becomes more difficult. So, adopting these few simple habits, you will get beautiful skin during the day by just spending some time during the night. Sleepless nights are also reasons for dark circles, break outs, etc., hence to look fabulous, you have got to sleep well and to look fantabulous.
So now let's read about a few beauty hacks that work while you are asleep:
1. The satin pillowcase: For all those who have frizzy or dry hair, one simple way to avoid tangles and breakages during sleep time is by using a satin pillow cover. It couldn't get simpler than this; it helps in a simple way which is easy and effective to say the least.
2. Sleeping on your back: Fighting wrinkles never became so basic, when you sleep on one side of your face, they are prone to more set-in wrinkles on that same side. Its continuous pressure on your skin that will cause creasing and wrinkling of skin. A solution for puffy eyes too, an extra pillow will help. So be careful about which sleeping position to use.
3. Aloe Vera gel for your face: Those with pimple issues or breakouts, just apply some aloe Vera gel on your face for the night for it will cool your skin and help get the pimples down. It's medicinal and herbal and very effective on your skin. The coldish after effect will help you sleep easy too.
4. An age old trick for soft hands and feet, applying Vaseline or any thick moisturising cream to your feet and hands and sleep with socks or gloves on. Make sure you always have some Vaseline handy as it has plenty of uses and works like a charm.
You could, follow this simple routine for soft hands and feet – Soak your hands and feet in warm water, exfoliate with a scrub – walnut works best, then after washing, apply the cream or Vaseline and cover them throughout the night. Trust me you haven't felt your palms that smooth and touchable.
5. These days you should start with your anti-ageing creams once you've crossed 20. They help maintain your younger looking skin and provide the entire nourishment it requires. Not all moisturising creams can deal with your skin necessities. The best are the anti ageing night creams that hydrates your skin in the night and also tend to the other repairing. It is like a night beauty serum that you use for your skin. Obviously the products work more effectively in the night because of the repairing nature of your body cells at that time.
Products available: L'Oreal Paris White Perfect Night Cream, Olay Regenerist Night Firming Cream , Clinique Super Rescue Antioxidant Night Cream, The Body Shop Nutriganics Smoothing Night Cream
6. Like your night cream, you could use an under eye night cream for those puffed eyes and eyes that look dull. Your body and skin needs to remain hydrated at all times to look their best. The cream will help reduce dark circles and diminish puffiness around those pretty eyes.
7. For your hair, I recommend using a leave in conditioner while you sleep. To wake up to shiny, manageable hair,
apply some leave-in conditioner that will work on your hair and provide your ends and roots with good
moisture and will repair in case your hair is damaged.
Products that you could use: L'Oreal Professional Absolut Repair Cellular Serum, Oriflame HairX Volume Boost Leave in conditioner, a natural substitute is coconut oil.
8. Cleansing and cleaning your face before hitting the bed is the best way to give your skin the air to breathe after the makeup it was subjected to. Not removing your entire make up from your face will cause pore-clogging and breakouts.
9. For your hair – Braid your hair at night and make a bun out of it. Or another trick is to half dry your hair before you sleep and add some volumizing spray to it for best results.
10. Your nails also need attention and care; they could be dry and unmoistened. Use some cuticle cream or oil before you go to bed. Massage your nail bed a little and you would have good happy looking hands.
11. Face masks to hydrate the skin work their absolute best at night. Al your skin woes will be solved with a face mask that gives your skin the hydration and care they deserve to look magnificent for the daytime.
12. For your lashes, get some castor oil. It's been said to help grow eye lashes longer and thicker by continuous use. With a Q-tip, apply some to your lashes before you get to bed and you will see noticeable results in a few weeks.
13. Want to smell fresh in the mornings? Adopt this simple trick of applying some deodorant to your body at night. The smell penetrates the sweat ducts and skin. This idea works wonders especially if you have an odour issue. Try it and believe me, you ll want to thank me later.
[Also Read: How to Sleep on the Floor]
So, with these simple hacks for your skin and hair, make night time your beauty repair time. Repairing of skin cells is done best during the after-hours. You will wake up refreshed and rejuvenated. You skin is more receptive to the treatments that happened through the night giving you better results. Also excess of anything is definitely bad, so save your skin from over nourishments too.
Hope you enjoyed this article on beauty hacks that work while you are asleep.