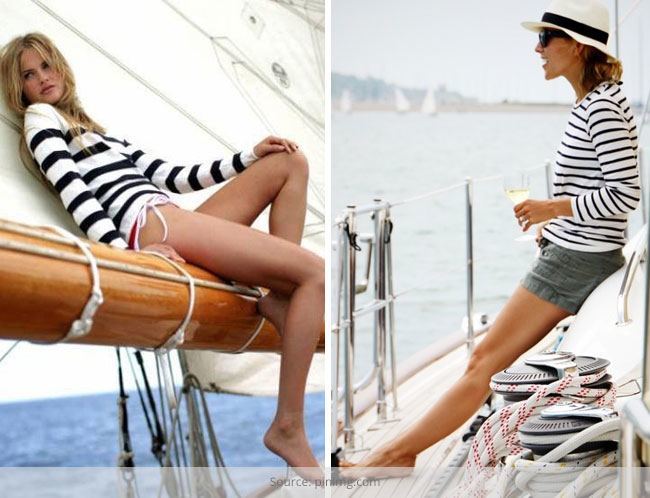 Nautica, an American clothing and lifestyle brand, has water—the source of life, as its basic inspiration. With an extensive men's, women's, and children's apparel collection as well as a wide range of home and lifestyle products, they have made a mark around the globe as a successful brand. So what makes Nautica particularly appealing to women? Why should women make Nautica their all-time favourite brand? Here we give you a list of reasons and let you decide for if Nautica has what it takes to become your favourite brand.
1. They are all about the classics
Their apparel collection is made up of classic essentials that every wardrobe must have.
2. They do good work
Keeping to their theme of being inspired by water, Nautica has raised over one million dollars to provide clean drinking water for people in developing countries.
3. When you buy their clothing, it truly is an investment
Nautica makes top quality clothing that will last you for years. The fabric, the cut, and the style is all made in such a way that you care wear them for years to come without having to worry about it going out of style.
4. Is a global brand
Nautica is available in over seventy five countries, making it a truly global brand. So wherever in the world you travel to, when you're wearing Nautica, chances are that people are going to recognize the brand.
5. You will be spoiled for choice
They have a wide range of clothing, from the classics to the trendy, from stripes to Aztec prints you will be spoiled for choice.
6. They get inspired by real people
Nautica has associated with fishermen, sailors, and who artisans craft boats and has used their stories as inspirations in developing their clothing line. So when they say they are inspired by water, they meant it in the literal sense! Unlike many other brands who rely on celebrities to be their brand ambassadors, Nautica turns to these real people with interesting stories to represent it.
7. They are trend setters
They are always ahead of the curve and their winter/fall collections are much coveted. They are the trend setters, bringing in the "in" colours and styles for the season.
8. Nautica is a Luxury brand
As a luxury brand with great brand image, and high quality products, Nuatica is a strong contender to becoming your favourite brand.
9. They deliver both style and comfort
You will never have to compensate on your comfort or style with them. All their clothes are designed with comfort and style as the top priority. So you never have to suffer for the sake of fashion ever again.
10. They are all about intrinsic fashion
No matter what your style—bohemian, chic, understated, or flamboyant, you are sure to find something that catches your fancy.
11. They are socially and environmentally responsible
Nautica has been striving to increase the efficiency of its waste management, reduce its water carbon footprint, and save the increasingly scarce water resources. You have to agree that that is quite impressive; a brand that gives back to society in a very real sense.
12. Have you tried their clothing?
You wouldn't need any reasons to convince you of Nautica if you've tried their clothing. It is very comfortable, made for movement and looks effortlessly stylish. Once you try the clothing, it is very difficult indeed to not like them.
13. They have an awesome logo
Of course when it comes to brands it is all about recognition. The Nautica logo is that of a spinnaker, symbolising adventure and is quite impressionable. Once you see it, you are not likely to forget it, so as far as brand recognition is concerned you have nothing to worry about.
14. They are not too mainstream
Nautica strikes the balance between being too exclusive or too mainstream. So while the brand is well-known, you don't have to worry about every other person flaunting it that it eventually loses its exclusivity.
15. Nautica products are unique and quintessentially theirs
You cannot accuse them of being generic. Their products are styled and designed in their very unique signature style.
Nautica is a brand for those outdoorsy, adventure-seeking souls who want to be comfortable while still looking their best. While these fifteen reasons listed here give us a glimpse into the brand, its potential, and its reach, there are so many more reasons for why Nautica should be a woman's favourite brand, but that is best left unsaid, to be discovered overtime by those who start patronising Nautica.