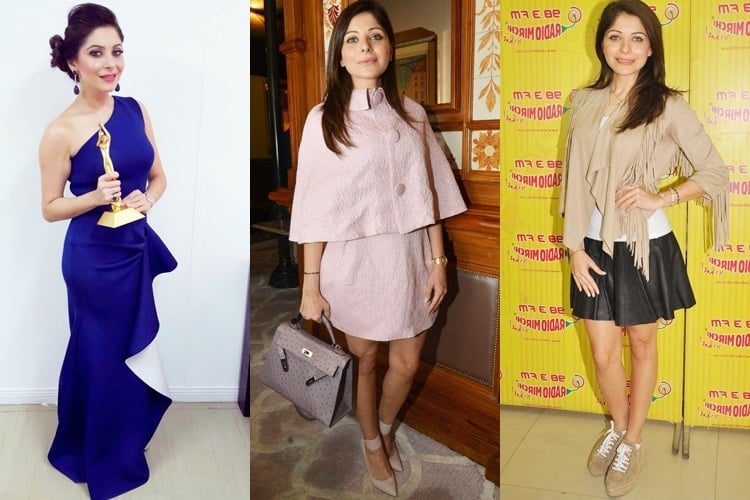 Kanika Kapoor is a singer and she sings very well. We can attest to that just like anyone else in this world. We have heard her sing a lot of times, but to be very honest we haven't seen her. Or at least, I hadn't seen her. Not until she got married.
For her wedding, she wore outfits from one of the best designers in India and got her hair and makeup done by the top stylists.
[Also Read: Twelve Best Fashion Moments of All Times]
Her makeup was on point with well-defined eyebrows, highlighted cheekbones. Her breathe taking smile accompanied her on all the functions. As if that wasn't enough, we died a little more looking at her bright and glittery jewellery. Diamonds, rubies, emeralds, polkis, pearls and kundan. She wore them all!
Well, that's enough hashing about her wedding. Let's talk about present day and how she's glowing at every single appearance that she's making. Is it the marital bliss? *wink*
Exhibit A
Kanika Kapoor attended the Indian Couture Week 2015, dressed like Blair Waldorf. Everything about her dress made us think – oh wait! This is so Upper East Side-ish. From her lilac-ish beige separates, to her Kelly Hermes bag to her Prada shoes. Everything matches and is on point!!
We really like how the separates are complimenting her height.
Exhibit B
Here as well, Kanika Kapoor opted for separates and was rather dressed down. A simple leather skirt and a plain white tee shirt were teamed with a beige coloured fringe jacket. She didn't accessorize her look much save for the bracelets and a dainty chain around her neck. Her eyebrows (like always) were well defined, her makeup au naturale and her lips coral.
We think we like this plain combination a lot!
Notice how her leather skirt is very girly and not provocative at all?
[sc:mediad]
Exhibit C
Now, now. Brace yourself for what we are about to show you! Kanika Kapoor killed it in her Gauri and Nainika gown at the Arab-Indo Awards. The cobalt blue gown fitted her like it was tailor made for her and gave her figure a very svelte look. The bunch below her waist is what we loved the most. But wait, we also loved her matching sapphire earrings and the fact that she kept her face very simple (makeup wise) and went dramatic with her hair (the chic up-do).
But what we absolutely loved the MOST is her emerald and diamond ring. Such a striking contrast. Don't you think?
Between the three looks, which do you like the most?