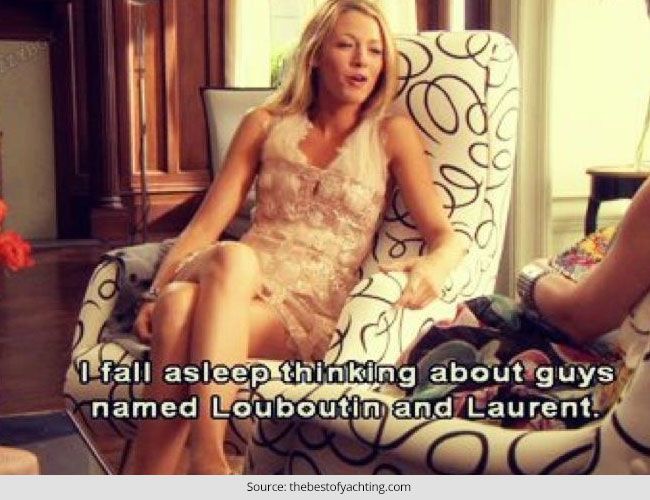 Runway show or a popular flick – which one of these kick-starts the biggest trends? If you are going with cinema, I can't help but agree. And why? Simply for the reason that movies reach a wider audience – including us fashionistas! And if you consider yourself one, here a few flicks that should be among the frequently-watched in your movie folder.
The Devil Wears Prada
No fashion movie list is complete without this movie title featured among the top 3. If you haven't watched it yet, try reconsidering your fashionista tag.
The Devil Wears Prada is, at times, the brutal reality of the fashion world and on the other hand, a wonderful chronicling of how this well-oiled industry works. And it's not just the sights, but the powerful dialogues too. For example; you will watch with dumbstruck awe as Miranda Priestly (Meryl Streep) launches into a tirade against Andy's (Anne Hathaway) sniggering remark about how two blue belts look the same to her. Cerulean Blue earned a lot more respect from me after I watched the above mentioned scene. You will witness the powers of fashion as the movie transforms a plain boring Andy in grandma skirts and baggy sweaters to a smokin' hot Andrea Sachs in Diors and Chanels.
Oh! I could go on – I must have watched it at least close to a dozen times. But then, let's not spoil it for all those who are yet waiting to experience this wonderful movie. Go watch it now!
Breakfast at Tiffany's
Three words – LBD, Pearls, classic,  and a name – Audrey Hepburn. For those of you who are used to the fast paced movies of today's world, this may look other worldly and a little too slow or dramatic. But trust me, give it a chance.
The opening scene shows, Audrey in that iconic gorgeous black dress and pearls, hair in an updo, coffee in hand, casually "peering" in at Tiffany's. Move on and you'll see the fresh faced beauty in quirky eyepatches, wide-brimmed hats, a bright orange trench coat and a couple of enviable dresses – pulling it all off like the iconic stylista she has always been. This one of the first movies you are instructed to watch, if you attend a fashion school – for good reason too.
Watch it for a sneak peek into a glorious era – not too far away in history – but not your's to enjoy either. The innocent acting combined with her effortless style will make you certainly fall for Audrey.
Sex and the city
Carrie Bradshaw and her girls can never go wrong when it comes to high fashion. The movie itself is annoyingly girly for my taste and if you fall into the same movie-watcher category as me, I'll still recommend it for the feast of fashion.
There's nothing these four women can't make look stylish. From New York streetwear to wedding gowns and even Arabian desert queen style on their trip to Abu Dhabi. In Carrie's own words – "I like my money right where I can see it…hanging in my closet." Do you need more reasons to watch this movie straight away? I mean, it's like tons of new looks in every other scene – designer clothes that too. You'll forget about the storyline and just stare at the fabrics and cuts and accessories, of course.
Designers love this movie franchise too. Ask Manolo Blahnik – Carrie's ( Sarah Jessica Parker)
fetish for his shoes have certainly done him more good than any other promotion he has ever tried.
Aisha
Is anyone complaining about how I am ignoring Bollywood in this list, so far? Okay, okay – but if you were expecting the obvious (Priyanka Chopra's Fashion) – sorry to disappoint you. When it come to Indian cinema, I go straight to the one and only reigning queen bee of Bollywood fashion – Sonam Kapoor.
So, maybe Aisha  did not make much of a splash in terms of being 'everyone's favourite movie', but the costumes are worth a look-see. Just when we thought that chiffon sarees, swirly skirts and patialas with t-shirts are the limits of filmy fashion in India, this Sonam Kapoor – Abhay Deol starrer came in to break up stereotyping. Styled by Pernia Qureshi, the movie has often been referred to as India's answer to Sex and the City. Fashion bloggers and celebrity watcher went gaga over the never-before-seen style extravaganza on Bollywood screens.
Can you believe it? – From among decades of dedicated filmmaking, a breezy chick-flick is the first from Bollywood to make it to must-watch fashion movie lists. Enough reason to add Aisha to your downloads?
That's it! No, of course not. When it comes to the Top 4 movies for fashionistas – I'll pick these. But you must check out these favourites my movie collection too:
Pretty Woman
[sc:mediad]
Clueless
The Great Gatsby
Coco before Chanel
Confessions of a Shopaholic
Bonus:
If you are really really into fashion, here's a list of must-watch documentary films for you. Trust me they aren't boring – go explore the real world of fashion too.
Lagerfeld Confidential
Valentino: The Last Emperor
September Issue
Bill Cunningham's New York
Apart from these fashion movies, every fashion forward girl must read these fashion novels too.
Hope this post on Must watch movies for Fashionistas has been helpful to you. If you haven't watched any of these movies, get your hands on them right away.