T-shirts are arguably one of the most comfortable pieces of clothing that you can own. That being said, they are not really what one would term as 'fashionable' clothing. So how do you take a utilitarian t-shirt and turn it into something fashionable and trendy that can be worn for different occasions? Read on to know how to wear different types of T-shirts for every occasion..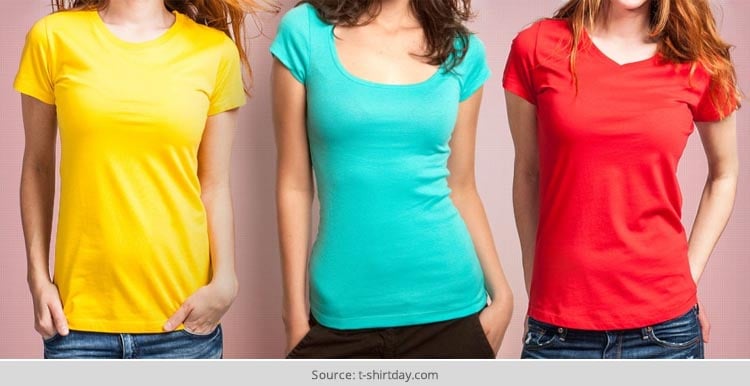 For a Picnic or Walk in the Park:
Cropped tees work well with high-waist jeans or shorts. They are quite the 'in' thing right now in the fashion circles. All you need to rock this look is a cute cropped tee, a pair of high-waist jeans or shorts and a really flat tummy. This look is perfect for a day out when you want to look casual yet trendy. Put on a pair of funky flip flops to complete the look and you are ready to go.
Custom printed clothes will also hit the spot. Designing your own t-shirt is a great way to express yourself. You can have it printed via an online print shop. Wake up your creativity and become a t-shirt designer!
[Also Read: How to Wear Crop Tops]
For a Traditional Desi Celebration:
Pairing your t-shirt with a sari might sound like a recipe for disaster but if done right it can lead to very unique and amazing results. Designers like Sabyasachi and Payal Khandwala have done this, pairing t-shirts with their saris instead of traditional blouses. Do if you have a desi celebration coming up where you have to wear Indian attire, why not wear a t-shirt with your sari or lehenga and nail the indo-western look?
[Also Read: How To Wear Oversized Shirts]
For a Movie:
When you are going out for a movie you do not want to look overdressed. But, at the same time, looking drab and boring is also not an option. So how do you hit that perfect combination of casual and trendy? With an awesome t-shirt of course. Opt for a cartoon/music band t-shirt and pair it with your favourite jeans and sneakers for a look that is just perfect for the movies.
[sc:mediad]
For Lounging at Home:
For lounging at home in style, oversized, off-shoulder t-shirts are the best. Simply pair them with some comfortable shorts or yoga pants and you can chill at your home and still look good doing it.
For a First Date:
When you're going on a date and are not sure if you should dress up or keep your attire casual and simple, t-shirts come to your rescue. Wear an Aztec print t-shirt with skinny fit jeans or leggings for a fun, quirky look that hits the right balance between dressy and understated.
[Also Read: How to wear Prints]
For Work:
If you're workplace allows you to wear casual clothing or if you practice a casual Friday routine at your office, then you are in luck. A plain solid coloured t-shirt topped with a blazer and a pair of jeans is a great look for work. The blazer will keep the look from being too casual while the t-shirt will provide a relaxed look, while still keeping the overall look professional and work-appropriate.
It is quite sad that t-shirts are more often than not regarded as casual/sleep wear by many, when in fact, a good t-shirt that fits well can actually be a very effective fashion tool. The best part about types of t-shirts is perhaps that they are so versatile. There are t-shirts for every occasion. They go with pretty much anything from jeans to leggings to shorts to skirts and as we saw, even with ethnic wear. So let your creativity guide you in finding new and interesting ways to re-invent your t-shirts and make them more of a fashionable item and less of a utilitarian one.
[Also Read: How to Cut a T-Shirt]
Some of the most popular t-shirt brands also sell t-shirts online for easy purchase. The one thing to keep in mind while hunting for a good t-shirt, is to make sure that it fits you well. Any t-shirt, no matter how awesome it might look, will fail miserably if it does not fit you well. So always try on your t-shirt and make sure the fit, length and style suit your figure and frame to a T (pun intended).