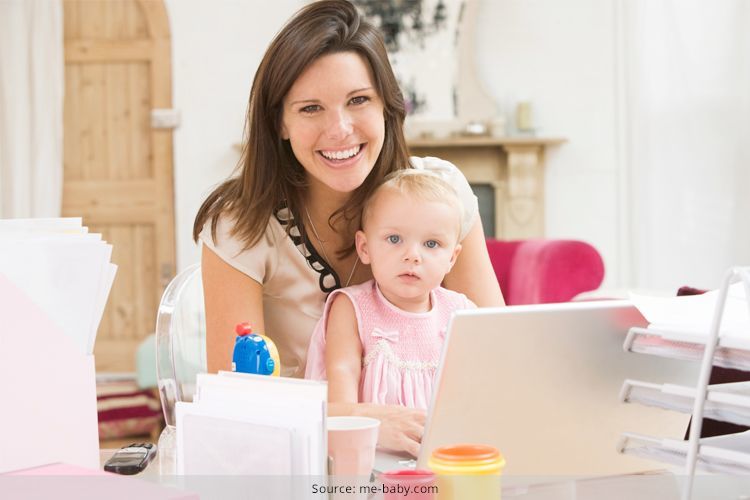 I bet all the busy moms out there go through this –
It seems everyday you wake up to go a war. Yes, preparing your kids for school is not less than any war. You have to struggle hard with time and their sleep. Make breakfast, pack their lunch box and keep running to their room to wake your tiny tots (remember Taare Zameen par movie?)
You finally manage to get the kids out of house. In the car, when you look at yourself in the rear view mirror, you ask yourself, "How did I leave the house like this?"
This is the case with almost all the moms. In a bid to manage time between work, home, husband and kids, they are hardly left with time for themselves. While most of them have already dropped the idea of looking beautiful, others blame it on their busy schedule.
In this edition, I am neither going to lecture you on staying healthy, diet maintenance nor time management. Instead, I have come up with 5 simple yet quick beauty tips for our busy moms.
Every woman has the birthright to look beautiful, no matter whether she is enjoying her celibate days or basking on motherhood experience.
Below are 5 simple beauty tips for moms on board. Continue reading!
1. Polish your nails: I know when kids are around, it's not ideal to have grown-up nails only for sake of fashion. While moms have to feed and take care of their toddlers, growing up nails is a strict no. This doesn't mean that you cannot groom them.
You can still pamper your nails. You may not get time to take an appointment with your parlor for a manicure session, but you can spare a few minutes on polishing your nails.
I suggest you to go for a quick drying nail polish, which will help you paint your nails and dry them in less than 5 minutes.  A dash of color on your nails can brighten things up. You can also go for a neutral shade to keep your nails healthy and shiny.
2.  Eye cream for sleep-derived moms: Once a mom, you wold hardly remember when was the last you had a sound sleep.
Improper sleep takes a heavy toll on our eyes, with dark circles immediately getting visible the next morning. So, arm yourself with a super-charged eye cream to help you wake up with fresh and beautiful eyes.
3.  Minimal make-up: Nothing works out like an eye make-up to make your day. Wait, don't assume smokey eyes with heavily-clad kohl, mascara and eye-shadows. I am still suggesting you simple tips.
A dash of eye liner or kajal can alter the entire look of your face. Even though you would have had your facial long back, your kohl laden eyes will brighten-up your face.
[sc:mediad]
You only wear make-up when you have to attend a party or family function. Or else on an average day, you neither have the mood nor time to go for that. You can however afford to have a light make-up; perhaps some lip gloss, mascara, kohl or a light powder.
This will surely enable you look fresh and ready for the day without all the fuss.
4.  Hair care: As your crowning glory, hair deserves utmost attention. By combing coconut or olive oil to your wet hair, you can restore its moisture and luster.
Soon after brushing your teeth, the next thing you should do is to comb your hair. You do not have to spend long time in front of your dresser to style your hair. If you have long hair, a simple ponytail will do. And if you have short hair, you can use head bands and clips to make your hair look nice.
5.  Prepare at night: If you are a working mom then one of the best ways to leave for work is to slightly change your daily routine.
Wait until your kids are asleep and then jump in the shower. This is the best time to do which you usually do not get time to do, especially when you have to struggle with your kids in the morning.
You can shave your legs, condition your hair and use a moisturizing body soap. This will surely save you a lot of time and also make you ready for the next day. Even you will be saved from having a bad hair day or missing your kids' school bus.
Another thing which you can do is lay out your clothes at night. There are days, when you are forced to grab anything you get in your wardrobe for work. You do not have to show up at your workplace like a sluggish poor soul letting everyone know you are a working mom so you don't get time for yourself.
Bonus Tip: How to overcome a bad hair cut?
If you have a bad hair cut and curious to get rid of this look then bad news is there is no way to get quick hair growth as the rate of the growth of hair is only half an inch per month.
Therefore, you can go for other alternative i.e. style your hair in some other way. If your hair stylist has given you very short bangs on front then you can go for a stylish headband like one from Sabyaschi Mukherjee's fashion house or a bohemian hair band to hold back those bangs. Even a loose bun can help you get a casual and stylish look even though you've had a bad hair cut.
Kids may always come first, but moms do not always have to come last!
Follow our tips and surprise your husband with your refurbished make-over.