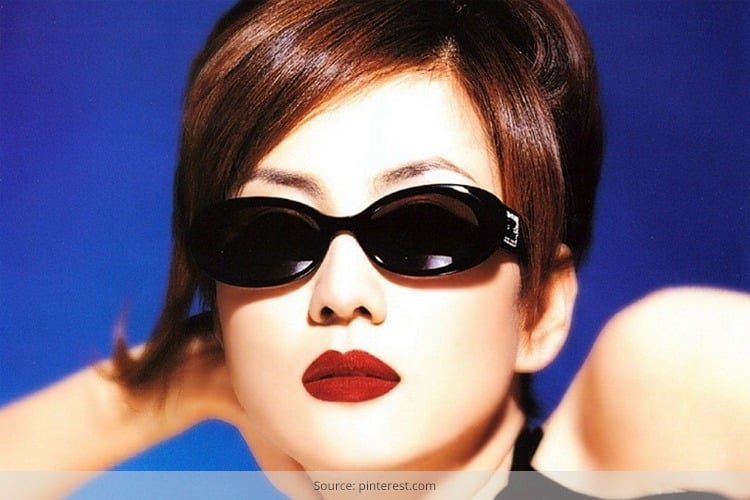 Next to bags and shoes, sunglasses are the most essential fashion staples in any fashionista's wardrobe. Apart from their benefits of protecting the eyes from sun and UV rays and keeping the dust at bay, these are among the most trendy items to go for. You can not complete your outdoor day look unless you don a pair of statement sunglasses. Sometimes, they help you hide your beauty ailments such as that annoying pimple day or the dry winter face.
Whatever be the reason, the sunglasses and eye wears have become an integral part of our lives now. I can never think of stepping out without my aviators or sunglasses as the mood goes. I am a great fan of eye wears, for which I was motivated to do a research on the best selling designs of all time.
So here is what I have gathered. Do have a look at 6 all time trending sunglasses!
1.  The timeless Ray Ban Aviators
I still remember my infatuation days and I am sure the moment anyone combines a pair of aviators with bike, you quickly get reminded of a young handsome Tom Cruise from his 'Top Gun' days and not to mention the sizzling the soundtrack! This pilot fashion has been one of the most trending unisex elements of all time.
While Tom Cruise have already popularized it in his movies, Top Gun and Mission Impossible series, back in India years later Shahrukh Khan looked equally stunning in his last year's release Jab Tak Hai Jaan, where he played the character of an army officer. While these eye accessories are men's fashion staples, women have a wide choice to enhance their look. But nothing looks as classy and cool as a pair of golden Ray Ban aviators.
Sunglasses Trends 2015
No matter how many fashion revolutions you witness in your generation, these regal items can never go out of fashion. This is the reason, they have topped my list. So, if you are now motivated enough to buy a pair of aviators then go for full mirror lenses to keep up the new age element, looking classic at the same time.
2.  Carrera Hippy Sunglasses
Did you know?
The 1953 legendary Panamericana automobile competition actually became glamorous because of the few participants who had worn Carrera Hippy Sunglasses. Just like the Kentucky Derby Hats, which made the race course a glamorous podium for the elite class, these glasses got associated with the automobile competition since then.
Because of their vast assortment of designs, you can easily display your mood. These glasses come under the high-class and still stand for luxury. For those, who love the hippy and Bohemian style can go for these eclectic shades. However, be warned if you have a small face do not go for over sized glasses.
[sc:mediad]
With almost 6 decades of experience in their basket and sponsoring some high end events including the  America's Cup, the 1988 Winter Olympics, and Formula 1 racing; they have bagged second position in the list of best selling shades of all time.
3.  Ray Ban Jackie Ohh III
Designed with plastic temples and saddle nose for maximum comfort, these classy shades relish in a historically sought-after design. The Jackie Ohh III from Ray-Ban® pays tribute to one of the greatest style icons of the last century – Jackie O Kennedy.
[Also Read: Sunglasses For Round Face]
You can also obtain this celebratory look with their latest 3rd series that bring in the diva in you. From bags and shoes to shades, the former First Lady left a glorious fashion legacy to her name.
4.  Round framed sunglasses
Remember the sensational 'Ye kaali kaali aankhen..' from Baazigar? And the round glasses? These types of glasses have returned time and again to the fashion world.
These are another pair of timeless designs, which have adorned the eyes of our Bollywood + Hollywood baddies from 60's to our recent Harry Porter. So, you can collect one vintage-inspired classy pair for a bold look. And to jazz up this look, you can pair them with a floral printed scarf if you're in donning a complete 60's look.
[Also Read: Oval Face Sunglasses]
5.  Ray Ban Wayfarer
Ever since Ray Ban launched these amazing shade in the early 1950's, they have become a fashion icon, attracting a massive customers and with their recent comeback, the popularity has just manifolded. This particular style has never really faded down.
Because of the brand value and leather covering, these shades are bit pricey than other wayfarers and so are counted among the luxury fashion items. Considering the modern taste, the company has also modified their vintage items with some more slimming down versions to cope with the current trend. Go for these coll retro shades and make a true fashion statement on your pretty face.
6.  The Cat Eye Sunglasses
As the name suggests, these are the most feminine sunglasses for women always appreciated by the edgy fashionista. Because of their versatile features, they can complement a wide range of faces.
There are two distinct designs that define the cat eye shades; the traditional '50s swoop and a wider, softer '80s iteration. You can either go for the retro fashion or keep up the vintage appeal. There are various other patterns as well available in the market, the most recently being the Dolce and Gabbana baroque collection. Available in different colors, these shades scream fashion, enabling the wearer with loads of attention.
With a wide range of uber-dramatic to mega-mainstream, these shades are for serious fashioners. For the autumn/winter 2013 collection, D&G showcased some of their baroque-inspired accessories in filigree work, especially their cat eye sunglasses with gradient lenses.
So, these were my top picks. I hope you enjoyed the post!
Happy reading and a great weekend ahead!!