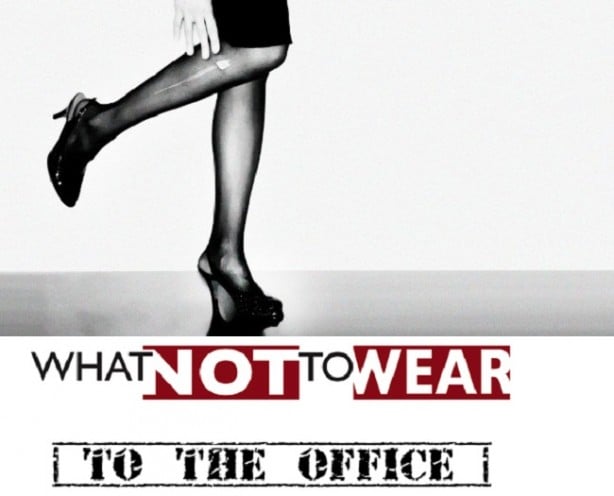 I understand this is a bit lengthy post. But believe me you'll enjoy reading it with some useful tips as well. If you're running sort of time, bookmark this link, but make sure you read this! I assure you'll have just another 5-10 minutes of fun time of your day!
I really find it whimsical to see how women show up at office in some absurd getups, even though they think it as great fashion take. Sometimes their fashion statement is so wacky that I have started joshing out their faddism as workplace fashion crimes.
Sometimes we present ourselves without even realizing it's just against the office etiquettes; while it's knee-slapper at times, it can be offensive as well. I have compiled 6 office fashion crimes which should be avoided at the behest, if you're serious about your fashion quotient. Do have a read!
Office fashion crime #1 – Showing up at office in wet hair
Ek ladki bheegi bhaagi si…This funda really looks cool in Bollywood movies, where actresses are seen seducing their heroes through their wet hairs and little peek-a-boo. Ahem! Having said that let's come back to some more practical note. Busy moms, women having morning shifts are always in a time crunch. They seem to go on a war, struggling hard to manage with their kids, daily chores and time. In a bid to avoid showing up late at office, they forget drying up their hair after a head wash.
Result – You show up with wet hair at office, which is now nothing but a bird's nest. When you feel it's OK to show up in wet hair, as you're used to wearing such look to workplace, you are actually committing a fashion crime.
It's better you clutch it or make a casual bun out of it or set your alarm 15 minutes earlier, so that you get time to blow dry them. Wet hair not only easily gets messy but tends to more hair loss if not taken care of immediately.
So, next time do not end up looking your pooch, instead take some pain to wake up early to present yourself neatly at office.
Office fashion crime #2 Sitting barefoot at your desk
Remember the scene from the movie, 'Devil Wears Prada', where the office is in complete chaos with the news of arrival of the Editor-in-Chief of Runway magazine, Miranda Priestly?
The idea is since it's a fashion magazine office, the employees should take fashion seriously, no matter even if the girls had to suffer from painful ankles and smothering outfits.
Well, neither I am Miranda Priestly nor your cubicle is at the Runway magazine office that you have to maintain high-end fashion takes with towering heels, tailor-fit pencil all pervasive from world's top class brands.
You may not wear those high fashion heels to office nor even that corporate suede boots to to convince you're taking fashion seriously, but I really take this as a workplace fashion crime to see women sitting barefoot at their desk.
This isn't any yoga class, beach or living room for Heaven's sake, so being barefoot is strictly against the office etiquettes.
Presentation plays a crucial role in defining your work profile. You should not present yourself in that way that make your HR feel that you're  taking your job and company lightly. Your working hours should be nothing but a prerequisite to count upon more professional opportunities.
You may be taking this as a more comfortable attitude to deliver in a more productive way, but come on no one is asking you to stand on your shoes all day. Apart from flaunting your cracked heels with un-pedicured feet, you are also sending out a message to your colleagues that you are not respecting your job.
Office Crime #3 – Don't seek awful attention with your short skirts
Few months back in Accenture, the HR department sent out a mail to everyone stating – "When we ask you to keep it short, it strictly means to meetings and calls." And beside this mail there was an image of a girl in short skirt attached.
No matter how cool is your corporate culture is, you should never forget the basic decency.
Wearing short skirts and dresses office is against the office rule, as it strongly diverts male employees' attention, deviating them from their work all the time. Plus, with the prevailing situation in India, it's an open invitation to ill-minded people on the streets.
[sc:mediad]
Not only in India, even in US, companies discourage their female employees from wearing short length outfits to office. Take it as a plain offensive to show so much of leg at office. It may not be a fashion crime, but it's an absolute absurdity when the mini skirt wearer sits down unleashing her Thunder Thighs and not to mention her several time getting up and wriggling down the skirt.
When she is herself not comfortable in this inappropriate attire, how could see make others feel comfortable with her presentation?
 And if you do not consider my words with a straight face then better have a look what fashion gurus have to say. Here is an excerpt from Harper's Bazaar where Tibi founder Amy Smilovic had this to say,
"As far as my staff [is] concerned, my rule is your skirt should cover the seat of your chair when you sit down.  If someone's wearing an extremely short skirt in a way that is completely opposite of my taste and hence my brand—super short and a sky-high heel—I would send them to the sample closet for a change-up."
So, even if you're into fashion business, ladies gotta lock it up and maintain proper decorum at workplace.
Office fashion crime #4 – Peek-a-boos with bra straps and impolite cleavage show
My words may seem too much revealing to some, but believe me this crime #4 is mother of all fashion crimes you commit at workplace. And I believe everyone will strongly agree with this point. So here are some points to consider.
Do not let your bra peep out from your outfit – Always be careful in choosing the innerwear for your outfit. Do not let your inner wear peep out from your clothing. Believe me, it's not even a seducing factor for men as well. I know Indian women do not usually wear clothes to office that intentionally show off the bra, but subconsciously we sometimes end up showing them through our dresses or through the side peeps.
Pick the innerwear carefully for your office outfit. Let's say if you're going for a boat neck top then it's better to go for a strapless bra. Almost every kurti, whether it's ready-made or stitched comes with hooks to keep the bra straps in place. Do not forget to use them.
Do not let your bra sneak out from your see-through outfits. Sometimes, we wear sheer clothes or tops made up of very thin fabric. When we are opting for sheer, white and light fabric clothes, we should then consider bra accordingly. We should always go for nude and skin colored bras for sheer tops. Don't you feel awkward when people look more at your chest rather at your face?
Avoid cleavage show at office – A bit of peak-a-boob is absolutely fine in terms of fashion, but you should never avoid the place and situation especially in India. Wearing deep plunging neck or a shirts that are too tight at the chest area can land up you with unwanted attention. Not only in office, you'll be attracting onlookers at public places as well.
Just like wearing mini skirts to office, showing cleavage is also a plain offensive.
Camisole, a must-have in your wardrobe – Since Indian women usually wear kurtis, salwar kameez to office, a camisole is a must-have in every woman's wardrobe. This is one of the coolest things you can find in a woman's lingerie section.
Apart from hiding the bra and skin from the see-through tops, especially chikan kurtis, the camisole is also essential for the buttoned-up formal shirts. Even well-fitted shirts and blouses show up gap in between the buttons unless you are standing upright. So, it's always safe to slap that awkward situation with a camisole.
Fashion Crime #5 – Flaunting bold accessories
In one my recent posts, I had suggested curvy women should go for bold jewelries. Well, that suggestion doesn't suit here. No matter how much a ginormous piece of jewelry complements your personality, you just cannot wear them all the time unless you are an Illa Arun or Kiron Kher. I love the way Mrs. Kher adorns her statement accessories, which suit her personality like no one else in the circuit.
You may be curvy and you may have a great personality, making you worth of donning such exaggerated accessories. But my darlings, come out of the dream world and think practically. Workplace is never a suitable place to flaunt any such pop items.
I agree, accessories can always jazz up any boring outfit, but I really thwarted to see big danglers, over sized cuffs and sparking hoops on women while those Gulam-style accessories on men at corporate. While top end MNCs follow strict disciplinary rules, where HRs can immediately nail you down for wearing those abstract items, there are companies where the HR department is quite lenient with their employees.
You should not take this freedom for granted and show up dramatically at office. Save your chunky neck pieces and danglers for Saturday night outs and Sunday brunches. If you carefully go through fashion blogs, you'll get an array of cues on corporate fashion, including accessories. I am not asking you to cut down on your embellishment but keep it to minimum and be a role model for your subordinates and the freshers.
Office fashion crime #6 – Hooker heels were never designed for office
In the third floor of my office building, there is a company, probably it's into software. I always catch up with some women from that company in the lift (my office is at the 6th floor) and not a single day do I see them without hooker heels. Intrigued by the sight, I initially decided to find out what's the company was all about.
I was surprised to see how the culture in a software-developing company allows women in short skirts towered over 6″ heels. It's just against the corporate etiquette if your heels go beyond the 4 inches. If I were the CEO of that company, I would have sent these ladies a warning mail reminding them of the company culture.
To dare is always fashion, but we should never ignore the place while picking out the stuff from our closet for the day. You will always find some amazing collection in footwear, which are not only stylish but sophisticated as well.
Your shoes can tell a lot about you, so before people start becoming judgmental about you, it's better to check yourself.
Hope you enjoyed this post! Stay tuned for more interesting posts!