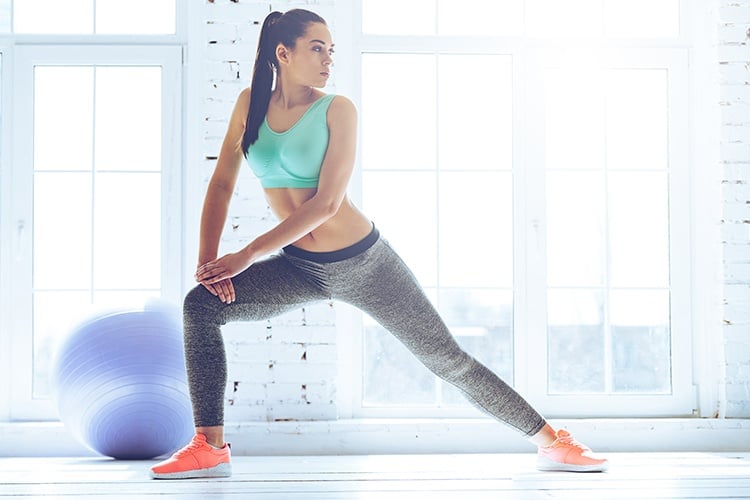 The only thing that can enliven a woman's mood no matter how much she is feeling low is fashion. A new pair of footwear, the latest designer outfit, a statement bag or simply a pair of earrings – these are some of the basic requisites a man should never forget of. Going to gym is never exciting.
While for some women, it's just the only way to put down weight, other women just take it as a part of routine. Since exercise is an integral party of your fashion and beauty regime, you should never miss it. And for this you will have to add some interesting elements to motivate you to be regular at the gym.
For me, the best part of our workout sessions is my work out clothes. They are fashionable and in bright colors to jazz up my mood. If ever you see me in bright shades it will be in my fitness clothes.
I understand most of you hate this hourly routine. I have seen women showing up in their regular salwar kameez to gym and having no other option, they manage to come in proper footwear but their dressing sense is horrible at times at the gym.
[Also Read: How To Fit Into Size Zero Jeans]
In the name of fashion, you should not even pick something blindly, as your fitness clothes should offer you optimum comfort helping you conveniently carry out your workout sessions.
I have come up with some stylish yet comfortable work out tips for you. Do have a read!
1.  Footwear is essential
A good pair of shoes is a must for exercise. Whether you're jogging, cycling, stepping or simply running on the trade mill, an appropriate pair of shoes is crucial. An ideal pair of footwear enables your feet to breathe, whilst balancing the overall weight over it. They fit your feet perfectly without hurting them during your rigorous workout.
If you are new to gym and fitness ritual then it's better you consult with your trainer for which kind of shoes to go for. He will help you in determining the right pair suitable for your exercises.
Now that you've now the knowledge on technical details, sky is your limit to choose a design as per your likeness.
2.  Right sport bra
Now that you've picked the right shoes, it's time to consider your innerwear. Unlike men, you have certain other things to take into consideration as well. Wearing a wrong bra to the gym can leave you with terrible pain, hampering your figure as well. And not to mention, the last thing you would want to see your breasts bouncing every time you leap or jog.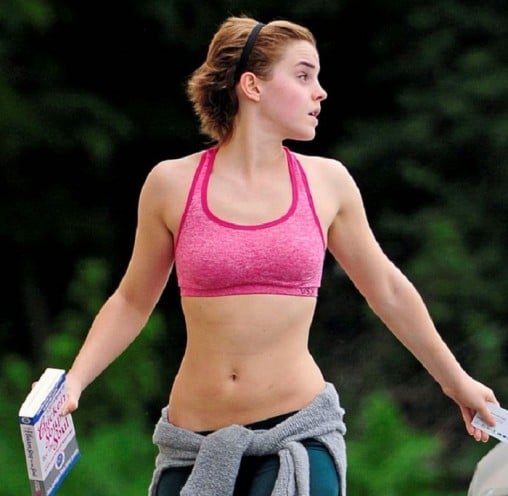 In order to avoid such embarrassing and painful situations, walk into a specialized store and look for professional designed sports bra. There are numerous lingerie brands, who offer stylish yet comfortable sport bra. Pick one that best suits your figure and taste.
Click here to know more about the brands and types.
3.  The wonder yoga pants
If you remember few months back I had shared a piece stating Victoria's Secret launches Yoga Pants. The yoga pants are amazingly stylish. You may not be aware but in US women literally go crazy for these pants.
[sc:mediad]
Here is a quick sneak peak into my post on yoga pants –
How I fell in love with yoga pants?
So there comes a time in almost every girl's life, where she decides to bid farewell to one of her favorite clothing articles, like I did a while ago. I recently decided to retire one of my favorite pair of lounging pants, which lived a good life with me and saw me through many summer days and rainy nights and even my occasional workouts.

After bidding them farewell, it was time to replace them with a similar pairing that would give me comfort and space. The fabulous yoga pants from Victoria's Secret were exactly what I had been looking for. Now I have pretty collections from this brand and I embrace them as a lifestyle.
4.  Tank Tops in prints
Tank tops can be multipurpose here. These stylish tops can also be worn outside apart from working out. You do not have to change your dress before walking out of the gym. These tops are available in fun prints and bright colors, specially designed for gym. Go for loose fitting pieces in cotton fabric. Cotton will help your skin breathe easily. You can go for fitting tops, only if you are doing yoga or certain pilates and your trainer has to check in your body to see the right movements.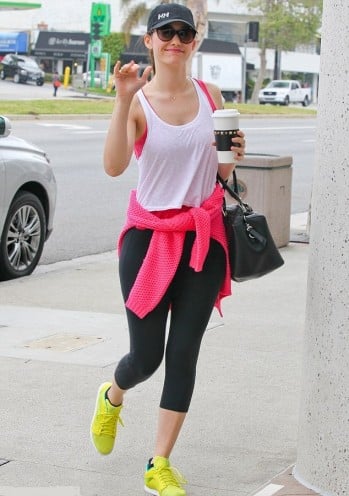 5.  Going the neon way
As I had already mentioned that you will only find me in bright neon shades in gym, the neon element can certainly enhance your work out look. Who said neon is only for summer? Gym is a great place to plunk them down. I am not asking you to overdo this shade but a bit of addition to your footwear or stripes on your pants is sufficient enough to enliven your look. A neon tank top can also make you really cool even during your rigorous exercise classes.
6.  Choosing the right work out bottoms
Based on the kind of exercise you do and your body type, you should choose your bottoms accordingly. Shorts, cropped leggings and stretchable pants great, provided you're comfortable in them. Do not go for monotonous style, when you are shopping for the first time. Pick pants in different styles and colors to keep up the mood.
7.  Take care of your locks
Hair can be a disturbing factor while working out. They should stay away from your face or else you would be busy removing them all the time. A high ponytail is a great way to keep the strands at place even while running and jogging. And if you have fringes then it's better to pin them up to avoid inconvenience.
8.  Keep the long socks at bay
Enough you've worn those long white shocks at school. Now keep them at bay and instead go for short socks. These are ultra chic and comfortable too. Your socks should be light by material, reducing sweat and letting your feet breathe.
Hope you found this post useful!