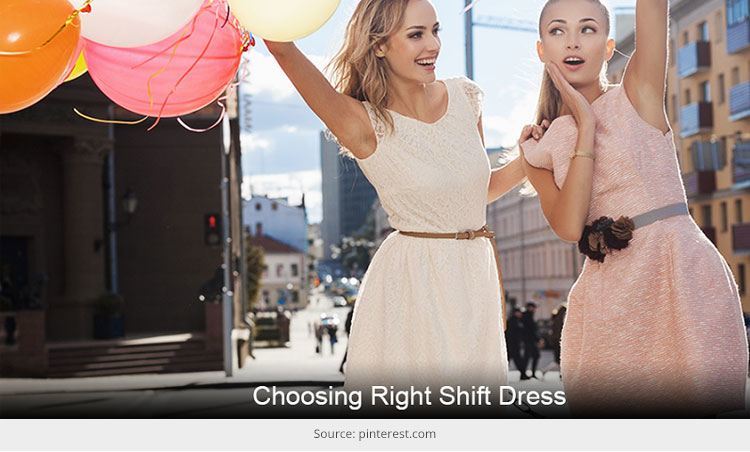 The shift dress is one of the timeless fashionable dresses in the West, worn by women from all walks of life – from high profile socialites to celebs and the regular class as well. While women consider it as one of the safest fashion options to go for, this is one of the most versatile styles suiting every mood and occasion (except for the traditional events).
So before we go deep into this fashion, let's go through what's this dress is all about.
What is a shift dress?
A shift dress doesn't hug the body just like the normal dress. Instead, the outfit has straight lines which fall loosely on the body's curves clinching the waist. This dress is available in varied hemlines and silhouettes, the most classic version being the sleeveless and knee-length. Popularized by Audrey Hepburn in 60's, this particular outfit has never gone out of fashion and with India rapidly becoming globalized, I though this to be a necessary addition to our post.
As I have already told you this classic fashion staple is highly versatile, so you should be very choosy in picking a design that best suits your body type.
Let me tell you, if worn appropriately it can make a great office wear as well and if you don't have one of this kind then it's time you shopped for it.
You should never look upon its glam power, as in recent years the fashion industry has come up with an array of styles and patterns, suiting almost every body type. And if I have motivated enough to go for it then do not forget to read my full post. As it will help you get a sheath dress that brings you loads of accolades and complements.
Do not just get spoilt with the wide choices available in the market, instead pick one as per your body type. Continue reading!
1.  Shift dress for pear shaped body
As the name suggests, the lower part of the  pear-shaped woman is usually broad with bigger thighs and wide hips accentuated with a smaller upper body with small breasts and narrow shoulders.
If this description defines your body type then you fall under #1. Your shift dress should have an A-line cut, followed by an empire waist or  flared bottom to cover up your flaw areas. the length should not go beyond the knees and should exactly fall on the spot where your legs tend to slim down.
This will make you look slimmer and with padded shoulders and lot of detailing on the top such as ruffles or anything that can attract the onlooker's attention to your upper half, your figure will look more proportioned.
2.  Shift dress for apple shaped body
The problematic area for the women with apple shaped body is their tummy area, which tends to be the biggest part of the body.
If you fall under this #2 then your shift dress should be loose enough to easily skim over the midriff area. Such design will not only hide your tummy but enhance your best assets such as your thin legs, toned arms and collar bone (if any).
[sc:mediad]
Do not go for a body-hugging dress. Instead go for a flared dress with broad or plunging neckline paired with a short hemline. This will divert the attention from the mid section to your little peek-a-boob and slim legs. Pick dark color such as black, which is notoriously famous to slim you down virtually.
3.  Shift for hour glass shaped body
Women with hourglass shape usually have large bust with a tiny waist. The shift dress best suits this body shape. However, there is a trick involved with it. Your dress should underline your waistline so as to highlight the best feature of your body. Do not go for straight cuts and anything in stiff fabric. Since the hourglass shape features large bust so do not go for high necklines. Instead the fabric of your outfit should be soft with a deep neckline. Pair your dress with a waist belt for great results.
4.  Shift dress for inverted triangle shaped body
As the name suggests, women with this body shape usually have a broad shoulders with large busts ending with a narrow bottom half i.e. small hips and thin legs. This shape is just the opposite of the pear shape, therefore the tips here are just reverse.
If you fall under #4 then your shift dress should give you virtual wider hips just like the shoulders, so as to maintain a well-proportioned figure. Pick your dress having an A-line cut with flared bottom. Do not go for chest pockets or any kind of exaggerated detailing such as ruffles. Keep the upper half simple and clean and focus on the bottom half instead.
5.  Shift dress for column shaped body
This is one of the most sought-after body shapes especially in the fashion circuit. Usually all the models have this body shape and this is the reason, any kind of dress looks great on their body. Since this type of shape does not have any curves, you should pick a more structured dress that adds virtual curves to your figure, making you look more feminine and ravishing.
Go for dress having more embellishment and detailing such as ruffles, pleats and bold patterns.