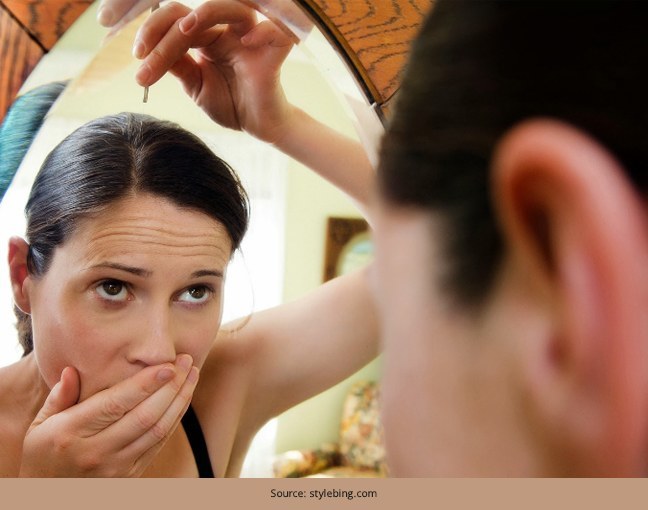 The long and shiny hair is an asset to the beauty. But, Imagine, some grey hair popping out here and there in the midst of those beautiful black hair and your friend or colleague pointing out at it. This becomes really embarrassing, yet we ignore it not knowing how to deal with grey hair. Some of us are not very comfortable in using hair colours or hair dye for the obvious chemical reasons. One should avoid ammonia, if going for hair colours. In ancient time grey hair were a sign of ageing, but today it has become a major problem among the younger generation as well. Grey hair occurs when our hair is devoid of a pigment called "Melanin". The other factors could be excess exposure to environmental pollution, genetic reasons and natural chemical changes that our body undergoes. If you need help on how to cover grey hair naturally, then that's what we are going to help you with today.
This article will explain how to naturally deal with grey hair in 6 different ways. This could either be called home remedies to cover grey hair or just simple and easy ways that one can follow to color grey hair at home. Either ways, we believe that instead of opting for the chemical dyes, why not give the natural ingredients a fair chance. So, read on.
[sc:mediad]
1. Coconut and Lemon Remedy for Grey Hair
It is one of the most effective home remedy to deal with grey hair. Take coconut oil in a glass bowl, depending on the hair length. Add two teaspoons of fresh lemon juice to it. Mix it well and apply on the hair roots and on the hair strands. Leave it for an hour. Wash it with a mild shampoo and conditioner. This will leave your hair silky, shiny and black. Repeat the procedure twice a week to deal with grey hair.
2. Henna Pack for Grey Hair
Collect some henna leaves and grind it till it is in a powder form. Add little amla powder to it. Add one teaspoon of coffee powder to it. Mix it all and finally add curd to the ingredients and make a paste. Apply the pack on your hair and leave it till it dries. Wash it with mild shampoo and apply conditioner. The coffee powder will naturally share its colour with the grey hair.
3. Black Tea Remedy for Grey Hair
Boil two teaspoons of tea leaves without adding any sugar or milk and let it brew. Take the tea water and let it cool till the water becomes darker. Apply it all over your hair. Rinse it off with water. Please do not use shampoo after using the tea water.
4. Curry Leaves Remedy for Grey Hair:
This is one of the natural remedies which is very effective and can be easily available in every household. Take some curry leaves and boil it with coconut oil. Let it boil till the leaves turn brown. Allow it to cool down and apply it all over your hair. Wash it after an hour with a mild shampoo. You can even store the oil and use it in again in future.
5. Ribbed Gourd Remedy for Grey Hair:
This is an extremely effective remedy to restore pigmentation in grey hair. Dry the pieces of this vegetable. Let these vegetable pieces be soaked in coconut oil for 3 days. Then boil the mixture till a black residue is left. Massage this oil onto your scalp. Rinse out completely with a mild shampoo and use an after wash conditioner.
6. Vitamin Diet:
Our body needs a lot of proteins and vitamins to strengthen our immune system and dispose those extra toxins that gets deposited in our body. A healthy diet reflects our skin and hair. Include walnuts, almonds and cashews in your diet. Vitamin B and E should be added in the regular diet. Avoid excess of sodium and sugar as it affects the health. Drink plenty of water and eat fresh fruits and vegetables. Avoid oily and junk foods which are the major reasons for health hazards. Drinking 10-12 glasses of water will help in digestion as well as prevents the sign of ageing.
If you have tried any other home remedy for grey hair and has worked to cover them naturally, we will be pleased to know.