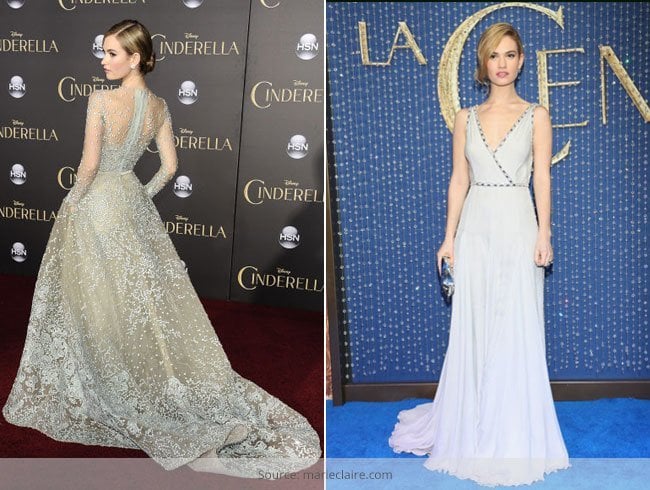 "Where there is kindness, there's goodness. Where there is goodness there is magic", says Cinderella's mother while taking her last few breaths. Assuring Cinderella that life will surely be magical to her because she has more kindness in her little fingers than people have in their entire body. Touche!
Little did she know that Cinderella's life would be turned upside down after her death? Cinderella remembers her mother's words, and faces the wrath of her step mother (whom she calls madame) and step sisters with a sweet smile. Life again does a 360 degree on her when she meets her fairy godmother. Well after that, everything else is history!
What isn't history but, was Lily James red carpet appearances. One after the other she made brilliant appearances which had the viewer's gasping out loud. Take a look!
The Premiere
At the premiere of the movie, with a handsome Richard Madden in her arm, Lily James took every ones breath away in a gorgeous ice blue Prada gown. The beaded bodice of her gown had us swooning. Notice her gorgeous metallic silver clutch? It's the Crisp Packet Clutch by Anya Hindmarch.
At Disney Land
While she made an appearance at Disney Land to promote the movie, she opted for a dramatic princess like gown designed by Elie Saab. Well, she had to look like a princess for the little girls, didn't she?
Los Angeles Premiere
Lily James killed it in another Elie Saab couture while at the movie premiere in Los Angeles. Everything about the gown was so magical. From the sheer detailing, to the embroidery to the glitter and shimmer. We also love her diamond studs. So princess-esque.
[sc:mediad]
Berlin Film Festival
While at Berlin, Lily James decided to take the dramatic flair a bit down and opted for a peachy yet gorgeous Christian Dior silk gown. Totally drool worthy Ms James! But that's not it. What we went crazy over, are her Jimmy Choo's! Specially designed for her, the shoes that she wore were blindingly beautiful! We also love how she wore a wreath of diamonds around her neck.
Gala Dinner
Lily James sure knows how to dress according to the occasion. While attending the Changing Faces Gala Dinner, Ms James wore a scarlet and black Valentino gown. Minimal, yet dreamy. We approve!
The Royal Marsden Dinner
How could she look like a normal celebrity when she was attending the Royal Marsden Dinner? It just wouldn't do, given her upcoming movie. So she decided to go with a beautiful Ralph Lauren dress. The feather detail towards the end, the silver bodice, her smokey make up, her hair. So beautiful!