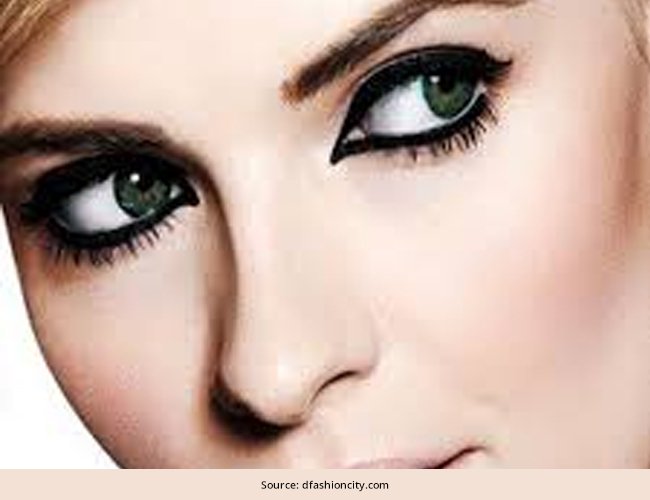 If you swear by liquid eye liners to define your eyes and make them look dramatic, then you need to know about all the best options available for you. Liquid liners give you the flexibility to draw lines any which way you want. Unlike gel liners or eye pencils which might be a little more restricting, liquid liners offer true fluidity and flexibility when it comes to drawing lines.
From budget friendly options to expensive ones, here's a list of the best liquid liners available in the market.
1. Colorbar Precision Waterproof Liquid Eye Liner
This long lasting liquid liner comes with a felt tip applicator that makes drawing lines a breeze. It is quick drying and does not smudge, fade, or flake. If you wear contact lenses then this eye liner is perfect for you as it does not irritate the eyes, making them water or any other such issues. The colour is an intense black shade.
[Also Read: Ways to Wear Eyeliner]
2. NYX Liquid Eye Liner
With an applicator that facilitates precision line-drawing, this is a favourite for everyday eye makeup. It comes in a variety of pretty shades and has a rich colour payoff. It does not smudge and is waterproof. Do give it a try if you've used and loved other NYX products. This one won't disappoint you.
3. L'Oreal Paris Super Liner Luminizer
The L'Oreal Paris Super Liner Luminizer comes in a very elegant packaging, with a felt tip applicator that makes applying the liner so much easier. It is available in four shades and with a slightly sparkly finish is perfect for parties and festive occasions. This eyeliner is more suitable as evening makeup than day time makeup.
[Also Read: Best Eyeliner Brands]
4. Maybelline Eyestudio Hypersharp Liner
This eye liner comes with a precision felt applicator that even makes drawing thin lines easy. This is the perfect liner for beginners who are just experimenting with liquid liners and for those with clumsy fingers who have trouble drawing neat clean lines. It is long-lasting and smudge-proof and gives an intense black colour.
5. Lakme Insta Liner
[sc:mediad]
This is a budget-friendly liner that is perfect for every day wear. It comes in a no-fuss glass bottle with a thin brush applicator. The colour is a matte black that is water proof. This liner continues to be a favourite amongst the younger crowd that is always on the lookout for products that are easy on their pocket. For the pricing and its durability, this is a very good product in the liquid eye liner category.
6. Chambor Smooth-On Liquid Eyeliner
The Chambor Smooth-On Liquid Eyeliner has a quick-drying formula. Available in four shades: black, blue, green, and purple, the liner has a matte finish. It lasts for eight hours without smudging and is perfect to be worn to work as the matte finish gives it a very intense yet sophisticated shade. The packaging is very travel-friendly and you can carry it around in your bag without having to worry about leaks and spills.
7. Maybelline Hyper Glossy Liquid Liner
With a very wet, glossy finish, the Maybelline Hyper Glossy Liquid Liner is an intense black colour. It dries quickly and is totally smudge-proof and does not fade as well. It lasts for almost eight hours and is perfect for those who prefer a glossy, wet-finish look for their eye liner.
So which of these catches your fancy? Try them out and see if you can find your perfect match. We firmly believe that every woman has a perfect match out there when it comes to liquid eye liners and the perfect shade of red lipstick. So all you have to do is be determined and try out different shades and brands till you find the one for you.