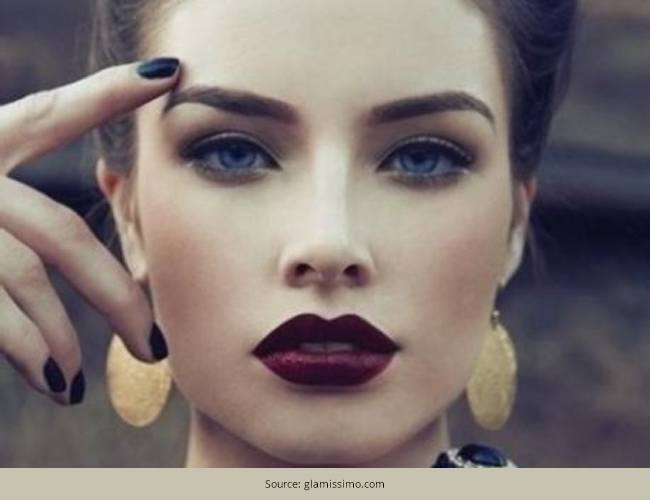 Winter brings with it images of flannel coats, chapped lips, and a constantly runny nose. And like as if that wasn't bad enough, we'll have to pack up all our summer clothes and bring out our winter wear, and let's be honest, there's only so much fashion and style one can manage to incorporate with winter wear.
So how do we make winters more fun and colourful? Well, how about jazzing it up with some nice shades of lipstick? Winter is a tricky month to choose your lipsticks. Not all shades work well during winter. Some colours just end up making you look washed out and pale. So get to know which shades to pick up this winter to look your best.
How About Some Wine?
Shades of wine, which are deep reds and maroons, work well during winter. They bring some much needed colour to your face and make you look sophisticated. Just always use a lip liner when opting for such rich colours as you just cannot afford to let the colour bleed and leave a stain. Some options to consider are Maybelline's SuperStay 14 hour Lipstick in Wine and Forever, MAC Ruby Woo Lipstick, or if you want to splurge then Rouge Dior's Haute Couleur Lipstick Red Muse. You can also opt for a lip stain to achieve a deep red that lasts long.
Get inspired by Megan Fox's deep red lips.
Say Yes to Plums
Fall in love with deep plum shades. They come with a purple undertone and are the perfect winter shade. Opt for matte lipsticks over glossy ones. Keep the rest of your makeup minimal, let your lips be the focus. Chambor Flowing Lipstick Plum Rose, MAC Plumful Lipstick, and Lakme Absolute Creme Lipstick Plum Forever are all good options to consider.
Go Nude
Okay so nude shades during winter are not for everyone. They can make you look washed out and dull, but don't tick them off your list yet. You can use some nice nude shade and combine it with some dramatic eye makeup for a very cute winter look. But this of course depends on how the nude shade looks on your face, if you think it makes you look sickly or tired, then nude shades are so not your thing during winter, pack them up and take them out during summer. But if you can make it work during winter, then goof for you! Get inspired by this winter look:
Orange is the New Red
[sc:mediad]
One shade that has managed to transition from summer to winter is orange-red. You know that bright colour that pops. While this colour was traditionally restricted to summer months, this winter is all about breaking the rules and orange shades have been accepted into the winter makeup fraternity. Just swatch on different shades till you find the perfect one for you. Needless to say, the rest of your makeup should be natural and barely there. Here's a winter look that uses an orange lipstick.
Winter is a tricky month, especially when it comes to makeup. A general rule of thumb is to keep your makeup matte and avoid glitter and gloss as much as possible. Keep your lips hydrated by drinking a lot of water and using a good lip balm. It's a good idea to exfoliate your lips before you put on your lipstick as that will help get rid of the dry chapped bits, prepping your lips for the lipstick.
Don't be afraid to try dark colours. While you may find them too intimidating during summer, they offer a comforting warm tone to your lips and make you look more alive and fresh. If you're still unsure about a shade, see if your friend has it, trying it on to see how it looks on you. That way you don't have to waste money on colours that you might never wear.
Do not forget to read our blog on How to get the Perfect Pout.