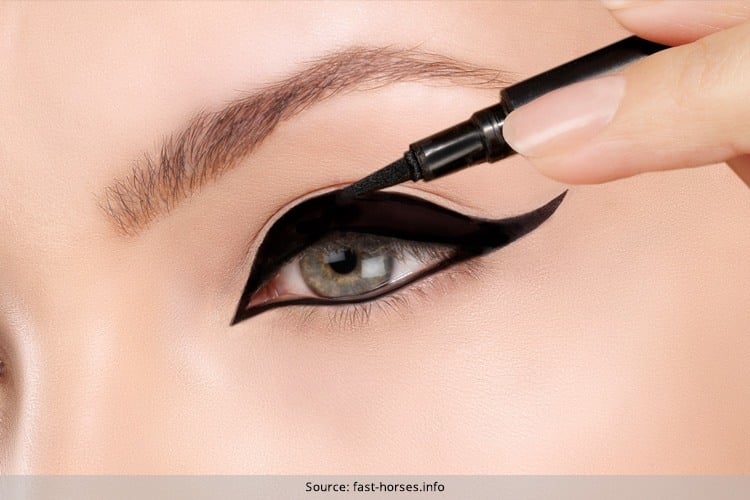 Whether you like soft touches of the liner or bold strokes, eye liners are a strict essential in every woman's make up kit. Believe it or not, that stick of eyeliner in your bag changes the entire outlook you sport. A lot of women today choose make up brands based of how big a hole it drills in your pocket. But, since you apply eye liners so close to your eyes, it is important that you choose the right and the best eyeliner brands. Spending a little extra on an expensive eyeliner now, might actually benefit you in the long run.
Most Expensive Eyeliner Brands
Thus, in this article we are bringing you a comprehensive list of the 10 most expensive eyeliner brands in the world. Here they are:
1. YSL Couture Kajal Pencil
If you are one of those women who are hesitant first timers at playing with color, this is the best eyeliner starter shade for you. Costing Rs.2385, this kajal pencil is deep navy blue. Now, you could easily sport that edgy, smudged and smoked-out look with this eyeliner. What's more? You wouldn't need an additional sharper with this eyeliner.
2. Estée Lauder Little Black Liner
Priced at Rs.2044, the Little Black Liner is a three-way liner. When you are confused between buying an eyeliner with thin tip for the neat stripe, a super fine tip for those ultrathin flicks or a semi fine tip for the heavy flicks, this is the best eyeliner for you. It basically gets you the best of all three worlds.
[Also Read: Tips And Tricks For The Perfect Eyeliner]
3. Stila Got Inked Cushion Eye Liner In Copper Ink
Love a nice shinny touch? Then this eyeliner is just what you are looking for. To get that perfect copper shine, just dip your eyeliner brush into this cushion pot of rich, lustrous and shiny copper color. Costing you Rs.1908 this eyeliner gets you the perfect blend of a love makeup artistry and calligraphy. Grab this eyeliner as soon as you can, if you have that so-important bash coming up.
4. Benefit They're Real! Push-Up Liner
Costing Rs.1828, it is a gel in a pen. It's one of a kind gel eyeliner which lives up to the hype. If you are one of those people who crave perfection while working on the eyes, this is the liner for you. The best thing about this eye liner is that being a gel, you can easily remove it in case of slip-ups, but beware, once this sets it won't budge. Which also means you could forget about the smudges.
5. Bobbi Brown Ink Liner
This eyeliner is for those who don't like to spend a lot of time on getting that eye makeup perfect. Its unique felt-tip pen like body makes the liner application a breeze. This liner costing you around Rs.1430 is great for drawing distinctive flicks even over eyeshadow. The blacker-than-black eyeliner formula is seriously impressive and long lasting.
[Also Read: How To Apply Eyeliner The Right Way]
6. Lorac Front Of The Line Pro Eye Pencil In Silver
Tired of the same black colored liners? You could go for this amazingly elegant eyeliner which costs you around Rs.1364. This liner comes in a Dark silver color, which is gets, you away from the monotonic black. Wear it alone or club it with sheer metallic shadows, to get a unique standout look.
7. Illamasqua Precision Ink In Abyss
Made for creating the precision flicks and also lining above and below the eye, this liner costs you around Rs.1364. It is the perfect applicator which dries to give you a glossy black finish which is actually quite amazing. What makes it even better is, one tube of this liner lasts pretty long.
[sc:mediad]
8. Eyeko Sport Waterproof Eyeliner
Are you one of those women who are constantly on the move or go to the beach a lot or love swimming? Then this waterproof eyeliner is the best bet for you. Smudge free and wrinkle resistant, this is the best waterproof eyeliner, which will cost you Rs.1364.
9. Ciaté London Chisel Eye Liner
A fan of the liquid liners? Then this remarkably simple to use liner is the one for you. Usually, liquid liners can get very tricky while applying, even for people who have been using it for years. But, this Liquid liner is novice friendly and glides on smoothly to deliver the inkiest black color to your pretty eyes. This little wonder costs you Rs.1295.
10. Clinique Skinny Stick In Olive-Tini
Is Bold and beautiful your kind of style? This is the best eyeliner for you. Priced at Rs.1125, this eyeliner could take you a little time to get used to it but once you get the hang of it, the eyeliner won't come off or wrinkle until you want to take it off. Also, Military khaki is one of the trendy colors of the season, so what just go for it without a thought.
So, what's kept you waiting? Go get the perfect eyeliner for you.