Everyone is going gaga over the 80's fashion trends that are back today, so how could we not open a conversation surrounding it? Though daring, the 80s fashion continues to be remembered as one of the most questionable fashions of the century.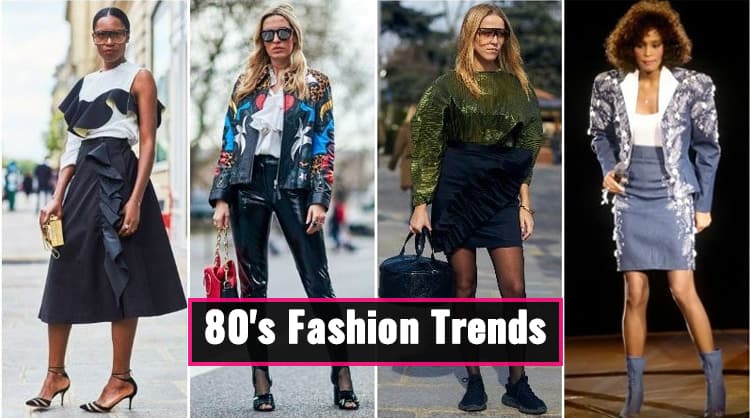 With bold colored legwarmers, sequin galore, and high-cut spandex, how could we forget the large sunglasses, exaggerated shoulder pads, and monochromes dominating the wardrobe of our mothers and aunts?
Now you could either be impressed by the style of the 80s or be petrified by it, but there is no way that you can ignore it. The buzz around the corner is that the 1980s fashion is all set to make a huge come back and to stay on top of the trend, here are some of the inspired pieces you can add to your wardrobe.
Don't worry, we won't suggest anything that would make you look like 'straight outta 80s music video'. These retro pieces have assumed a tone-down makeover and are all ready to set the streets on fire.
Must Have 80's Fashion Trends That Are Back Today:
1. Shoulder Pads:
Poor shoulder pads have been under the radar of fashion police around the globe, for years now. They enjoyed their heyday during the 80s and then went unnoticed before fading away from the style junctions. Though we have spotted a few celebs embracing the shoulder pads at red carpets every now and then, it has been quite a while since the shoulder pads have been part of the mainstream fashion.
However, with the 80s fashion making a comeback, the first thing to enter the stores are the shoulder pads- you may see them on suits, jackets, and formal blouses and even button up shirts. They look perfect with high waist denims or trousers. Team them with high heel pumps and you are good to go.
2. Gold on Bold:
Gold played a big role in the clothing during the 1980s. The rubbery, latexy fabric that soaked no sweat and made it almost difficult to breath was used to mold shiny skirts, oversized jackets, and costume dresses. Though gold is back in the fashion domain, it ceases to be as dramatic as it was back in the day. The fabric is also more wearable and the designs of the outfit have chilled a little too. It will be great to slip into some gold dress for a night out with the girls this weekend or to opt for an understated gold top for a special date you have been awaiting.
3. Patched Denim:
If you weren't around in the 80s to rock the fashion then, or if you were there but at the mercy of what your mother chose to dress you in, you seriously missed out on the basic spirit of style then… the oversized denims and jean jacket with their over-the-top patchwork, pins, badges, and airbrushed art. Cut to a couple of decades and here we are back in the bold denim avatar.
You could buy these patchwork denims from your favorite store or invest a Sunday in a DIY project. Get hold of an old pair of denims, preferably in a lighter shade and, with the help of a fabric glue, slap on some patches, embroidery, or decorative buttons laying around.
4. Pegged Jeans:
One denim style after another, looks like the 80s jeans have come back to replace the fashion of the day. That decade had the coolest kids sporting cuffed denims, but it wasn't just any run-of-the-mill cuff. They had to be rolled in tightly in a style that was popularly called pegging. Now pegging might not be as easy as it sounds, so you can always go and check a tutorial on YouTube giving you a step by step analysis of it.
5. Ruffles:
Now you may consider it too girly and not appropriate for someone in her late teens or early twenties. But the style gurus suggest even those in their early thirties would look great if they wear ruffles in the right way and the right quantity. Thanks to fashion designers, like Isabel Marant and Rosie Assoulin, we are witnessing a serious resurgence done in a tasteful subtle manner.
6. White Heels:
Haven't we all made fun of Jitendra for donning those white shoes in almost every song? Well, the jokes on us now because while footwear in what is on top of fashion must-haves this season. While stilettoes, block heels, kades, you name it and it's on the list. White footwear could be worn to complete the look of a monochromatic outfit or a colorful floral dress. They go perfectly with sarees, salwars, and all kinds of Indian outfit, given you are matching it with the colors of your wear. They make for a very smart streetwear and look great for formal occasions also.
[sc:mediad]
7. Wide Waist-cinching Belts:
Renowned designed like Isabel Marant and Balmain couldn't escape the excitement of the 80s styles coming back and have introduced these wide and chunky waist belts in their collection. These dressy belts were a staple of that era and it's safe to say that there was no teen or a woman in her 20s that didn't possess a couple of these. Broad belts featuring tasteful adornments have stood the test of time and look perfect on any flowy or scattered dress even today.
8. Glitzy Sequined Outfits:
80s fashion coming back meant that the shine had to make a re-entry. Glitz and sequins have always been around; even if they stayed at bay from our cupboards, they have been a part and parcel of the celeb lives. The news is, overboard sequins are all set to make their way into the regular lives of us regular people. Now if you are new to this fashion craze, just relax of the glitz a little and start by picking tops with a little shimmer. Look at the feedback, see if you feel comfortable and then try bolder options. Labels like Rodarte, Balmain, and Jill Stuart have already incorporated tons of sequins into their creations. So get used to it as the shimmer is here to stay.
9. Mirrored Glares:
One among the noted 80s women's fashion trends were these huge sunglasses that covered the better part of one's face. Add some bright colors to that glasses, some halogenic ones, and nothing like it if it's reflective and blinds the person looking over. There is one lying at a disowned drawer of my aunt that she hasn't used in ages, and I have seen her wearing it only in old pictures. With a little dusting, I can make full use of it for these mirrored biggies are back with a bang. If you are not blessed with a fashionista aunt like mine, please head for the nearest mall and get yourself one.
The 80's fashion trends that are back today doesn't fall out of place, they have mingled well with the style of the 2010s. Fashion, much like history, keeps repeating itself. And keeping exactly that in mind seldom do I throw away anything just because it fell out of the favor of the seasonal trend.
There are a bunch of things sitting at the far end of my wardrobe which can I reuse with little changes and switches here in there. For others, I shall jump and hop to the market. All of these trendsetters look too lucrative for me to give a miss. Is it the same with you too? Write in the comments below.