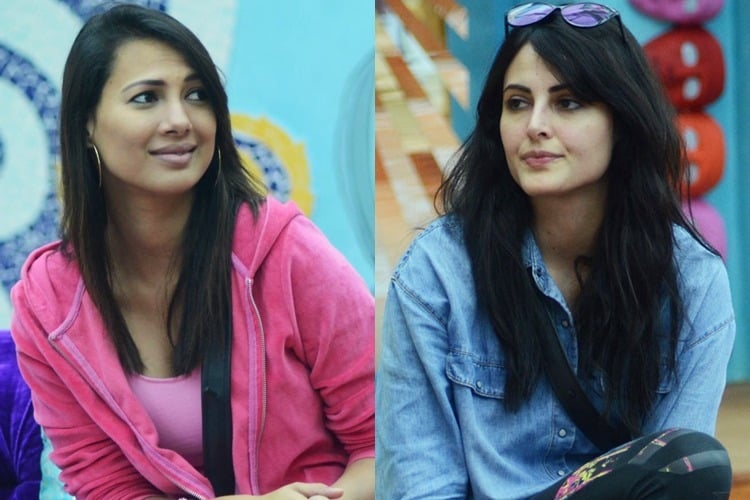 Apart from the cat fights and the growls or snarls in every season of Big Boss, or the romance between couples and to-be beau's too, what we mostly look out for are the best dressed celebrities of Bigg Boss house, let's admit it. It was funny to see the men go all sporty about the decision by BB to hand over their bags (forcefully) on the first day and to request women to share their clothes with them. Believe us when we say, the men did well as best dressed celebrities of Bigg Boss house, only for that one week and then it was over to the women without a doubt as the best dressed celebrities of Bigg Boss house.
Bigg Boss 9 Contestants Dress
Let's take a look at the final contenders (Women) that show us how to rock it in street style wear.
Mandana Karimi
She is loud, screechy and bold, which is what we guess has made her a popular contestant on the realty show. Mandana Karimi although has a problem expressing herself well in words, because of language issues; let's give her credit as one of the best dressed women in the house.
[Also Read: Fashionable Diaries Of Big Boss 9 Contestant Mandana Karimi]
From hot pants to harems, jumpsuits to black long dresses- the long legged lass from Iran shows us PYTs how to rock the party scene in street style wear. Mandana over the weekends blossoms into a new avatar altogether. She sports plenty of designer wear- sarees, salwars, mid-length anarkalis and at times indo-fusion numbers too. So yes, Mandana takes a sash when it comes to being one of the best dressed celebrities of Bigg Boss house.
Rochelle Maria Rao
Rochelle looks cute with her beau, Keith. She has the pizzazz and sass in her, but we feel she loses it somewhere when Keith is around. Coming to her sense of style, Rochelle is a strong, independent and a very glamorous woman to say the least.
Her sense of style can resonate with college goers, homemakers and independent corporate women alike. We simply love her choices of ethnic wear, for example the velvet designer saree worn at one of the weekends when Salman Khan was questioning her stance on the attack where Mandana was the victim.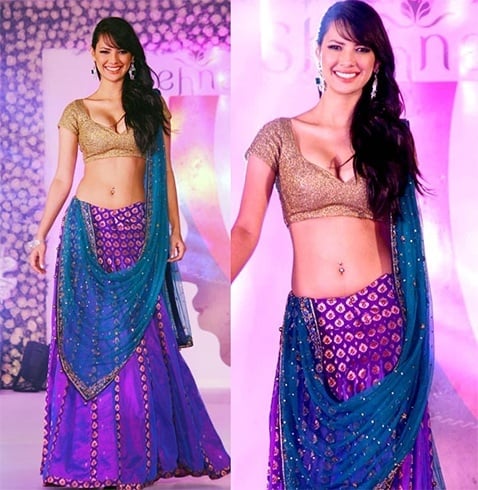 Rochelle wears her hair mostly in pony tails and topknots, which enhances her petite stance. The clothes chosen by Rochelle are best suited for girls with a moderate to petite body shape- she knows how to create an illusion of length, sometimes without heels. This is why we look at Rochelle for fashion inspiration and she becomes our favorite amongst the bigg boss 9 contestants dressers.
[Also Read: Rochelle Rao Fashion Diaries]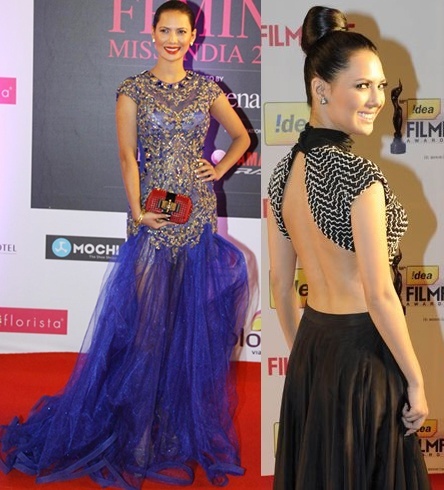 Priya
Her makeup is too loud and ostentatious, just as her nature. Priya came in as a wildcard and a tigress who made up her mind to crack more than just a stiff head in the house, but ended up being politically incorrect on more occasions than one. False eyelashes, heavy makeup and contouring even though she has a diamond shaped face; Priya needs a stylist and big time. Priya is one of those girls with a petite and very curvy body, and she should choose her clothes wise.
We often wonder why she doesn't stick to wearing A-Line skirts and trousers, which could help create an illusion of length. Her oversized tees are a fashion disaster for sure. Trying to emulate the rockabilly chick status with the scarf and wild curl hairdo, isn't the right thing to do- Priya should know that and soon. Finally, Priya needs a stylist and there is nothing more we can say about her sense of style. Have you seen the hideous tiger printed night suit with a hoodie she wears?
[sc:mediad]
Kishwar Merchant
We love Kishwar for her quirky behavior and her sassy stance, and yes, she is a game player with brains. Now one of the contenders for the finale, Kishwar might just walk away with the trophy at the end of the game. Keep a watch not only on her game strategies but her sense of style too. Kishwar is a girl with moderate to tall stances, which is why and sometimes without heels too, she rocks the fashion scene in BB.
Coming to her street style or casual looks, Kishwar is at ease in jumpsuits, hot pants, boyfriend shorts, short skirts with tees, midi skirts and mini skirts with loose tops. Saturday nights see Kishwar dolled up in designer wear, and we are still waiting for news as to who she wears the most.
Our detailed observation so far has Kishwar and Rochelle, and to an extent Mandana as the best dressed celebrities on Big Boss 9- do write in and let us know who you like the most, and if you agree that Priya needs a stylist. In the meantime, we shall scourge for more details on who wore what in bigg boss 9!