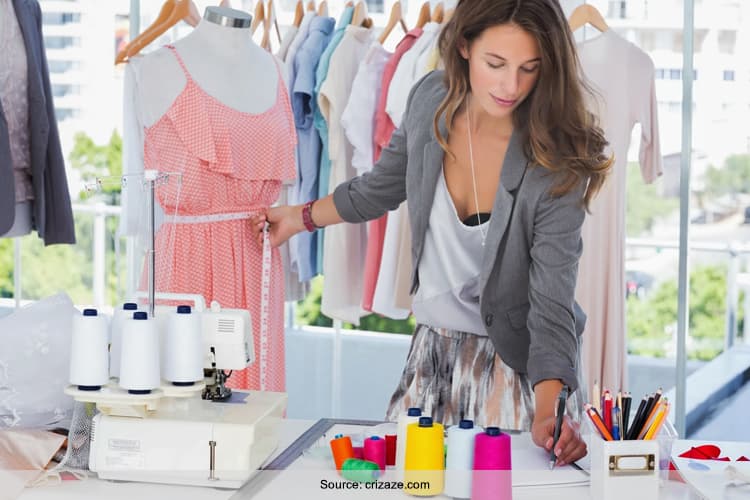 Sun Tat Label
Truth be told, fashion matters to a lot of us. Fashion also inspires and brings cultures together.
Here are few interesting quotes and responses on fashion by designers:
"Fashion helps shape individuality. I have always loved the way styles and trends are interpreted differently all over the world." – Tommy Hilfiger
"Fashion matters. It is about individuality, personal expression and choice. It helps the world by helping each individual person. Once in a while we all have a bad day, and sometimes simply putting on your favorite dress, shoe or even makeup will make you feel happy."– Charlotte Ronson
Behind the Scenes of Fashion:
There is a lot that goes behind the scenes of fashion collaboration. The creative head like fashion designer envisions everything that goes before and after manufacturing. Magazines, editors, actresses, and bloggers want to wear their clothes and there is a lot at stake for them. But before the conclusion of all these creative vision, what does it really take to be a fashion designer, create a sustainable business, and a typical fashion designer life? You can get all these answers below and more.
What is Fashion Designing?
A fashion designer studies trends and sketches initial garment or accessory design. They may visit manufacturers for selecting fabrics and trims. The designers can conduct garment fittings of their designs and then have it marketed to clothing retailers. They supervise the garment production from the initial sketch to final manufacturing stage. Most fashion designers work under design companies on regular work hours, while some designers freelance and work longer hours on more stressful conditions. Working at a small company can often mean that designers are responsible for other duties like sewing and patternmaking, while larger firms often employ a separate team for delegating such tasks. Fashion designer lifestyle also involves communicating with clients globally and extensive travel.
How to Become a Fashion Designer?
Fashion designers can earn a Bachelors degree in fashion designing. A double degree in business, merchandising, and marketing can allow one to start their own business. This degree allows one to have sewing, patternmaking skills, use of colors, textiles, and learn about upcoming trends. A background in fashion design study can allow one to understand the fashion production process in a better way and also understand clients' preferences.
Fashion design program generally feature courses in areas such as:
History of clothing and fashion design
Predicting fashion trends
Computer-aided design (CAD)
Woven materials and knitwear
After attaining a degree in fashion designing, one can apply for internships in manufacturing firms to get first-hand experience. Working with clients directly can allow one to address client needs and improve their social skills.
One may look out for companies that are led by computer-based design, or companies that are into sampling and craft technique. One should find that company that is fit for them, and they are most likely to be what the company is looking out for, as well.
Required Skills and Qualifications:
Creative and excellent artistic sense and willing to experiment with new ideas.
Excellent fashion sense and ability to translate trends into garments.
Interpersonal and communication skills.
Strong communication skill and written skills, in order to convey clear instructions.
Strong customer service skills and leadership qualities.
Work cohesively with design assistants and other staff members.
Organizational and time management skills.
Having strong multitasking skills, being able to work under pressure in a dynamic, fast-paced environment.
Excellent time management and prioritization skills.
Responsible, reliable, and organized.
Having strong attention to detail.
Self-motivated and willing to work independently, as well as part of a team.
[sc:mediad]
Typical Day for Fashion Designers:
The Balance
What does a day in the life of a fashion designer entail? Here is a document on an average day of pattern cuttings, fittings, exhibition trips, and yoga to offer a glimpse of life in the fashion world.
Start daily by checking their emails and taking follow-ups with buyers and stockers.
The majority of the day is taken up with design during the first stages of collection.
Conveying an idea through a sketch.
Working with different fabrics
Direct and coordinate workers designated for design, cutting patterns, and construction samples of finished clothing.
Testing materials, estimating costs, and establishing deadlines.
Inspect sample garments on and off models, modify clothing designs to get desired results.
Sketch rough and detailed drawings of clothes, accessories, and work on specifications like color schemes, materials, accessories, and construction.
Identify target markets for designs.
Attend fashion shows, review fashion magazines and manuals to gather news about fashion trends and consumer requirements.
Creating a network of vendors and suppliers.
Primary Responsibilities of a Fashion Designer
Fashion designers take their artistic vision with their technical knowledge together to create a unique clothing product. The common key roles include recognizing fashion trends, designs, interacting with fabric suppliers, and pitch marketable designs. Here is a brief overview of the key roles of a fashion designer life:
Monitor Fashion Forecasts and Sales
The ultimate role of fashion designers is to create items that distributors purchase. Firstly, they need to keep a watch on fashion trends and sales forecast to create designs that can be marketed easily. They also monitor what other designers believe customers will love. A saleable artistic design is more profitable than an overly artistic design that does not appeal to anyone in the industry.
Creating Designs
One of the key roles of a fashion designer is to create product designs. After creating the initial designs or sketches, a designer may consult with team members or company buyers to discuss the necessary changes needed on the market potential of a given collection.
Meeting Manufacturers and Suppliers
Designers attend trade events to meet up with vendors and check their potential materials, garments, and accessories used for product designing. These types of meetings can allow the fashion designs to include textures, garment styles, accessories, and colors for a distinctive look. Designers can also work with team members for selecting the best materials and present it to buyers.
Marketing and Sales
Fashion designers possess the right marketing and sales strategy. It helps them in getting the products to the market. Designers may deliver professional presentations to wholesale and retail buyers. While giving out such presentations, the designer may deliver designer benefits to generate interest.
These are few insights of a fashion designer life. If you are studying to be a fashion designer or want to make a career in a fashion related field, then we hope that this article preps you for what is ahead of you.