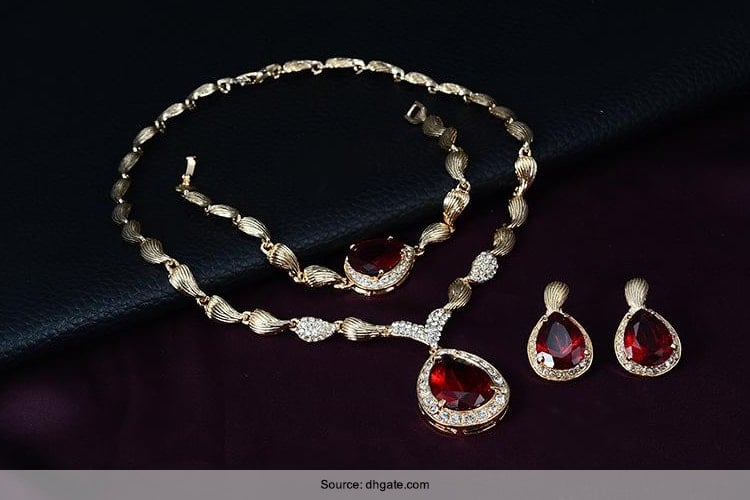 Fiery it is, and passionate too – from the look and feel to the color. It gets its color from the chromium in its structure which gives its natural color ranging from pink to blood red. Rare and beautiful splendor it gives. It has been revered world over for its luster, sheen and timeless appeal. Considered as a symbol of good health, it is seen as a mark of sensuality, vitality, and energy. It also signifies the heart. There is something unique about it to have made the ruby gemstone the dream of hi-fashion ladies to jewelry connoisseurs.
Ruby jewelry can give any ensemble a sophisticated and vibrant-looking edge. From casual to work to social evenings, a ruby necklace, ruby earrings, ruby ring, red ruby necklaces, black ruby necklace are what can make many a heart flutter with enchantment and delight.
Just because ruby jewelry has been around for ages doesn't mean its style hasn't evolved. This on-trend gemstone is the love of many fashionistas (you thought only diamonds and solitaires deserve a pride of place)?
Rubies are considered the most valuable gem on this planet after diamond. And it is well-suited for any occasion and woman. The best attention they draw is when you wear ruby jewelry as a necklace, ring or bracelet.
Let us see how to wear and style ruby jewelry.
Wear Earrings To Work
A pair of ruby earrings in the form of studs can help you win hearts from dawn to dusk effortlessly. Check out this pair of oval-shaped ruby earrings. Minimally designed, these small earrings can be an appropriate fit for your earlobes. And just pur-fect because they can go with any type of attire – traditional Indian, casual to Western. Sarees or palazzos, skirts or jeans, Anarkali suits or kurtas, all these are perfect instances of how to style Ruby jewelry in daily life to special occasions.
Have a party coming up? Dress up your ears with these beautiful diamond and ruby stud earrings. It doesn't matter if you want to wear an LBD or maxi dress for the party. You will look a hottie in no time. When you don this lovely pair of jewels on your ears, do you need any other adornments to look stunning on any occasion? To my mind, certainly no.
When you have a causal day lined up, spruce up your look with a pair of ruby studs. Even if it is a simple shirt and denim, a pair of ruby earrings can make you look stunning instantly.
In short, ruby stud earrings is something you must have in your closet. After all, it is a perfect mix of mystic hues and a fiery glow.
What Dress Combination Will Go With Ruby
Ruby can easily match any trendy outfit of yours but it depends on the occasion you are wearing it for and the style combinations with respect to ruby. Here is how you can bring out that signature style while matching dresses with ruby jewelry.
Cocktail Dress With Golden Tone Rubies
What to Wear: Ruby 18K Yellow Gold Plated Silver Bracelet, Camisole Cocktail Dress, Red Ruby 14K Yellow Gold Women's Earrings
V-neck Velvet Stretchy Long Dress
What to Wear: Velvet Stretchy Long Dress With Long Sleeve, Teardrop Bridal Dangle Earrings, Red Ruby Promise Ring Sterling Silver
Sexy Clubwear Slim Cocktail Dress
What to Wear: Off Shoulder Cocktail Dress with deep V collar, Red Ruby created Sapphire Sterling Silver Clip on Earrings, Red Ruby Pendant Necklace
Black Strapless Long Fancy Evening Dress
What to Wear: Strapless Ruched Bust Chiffon Evening Dress, Sterling Silver Bezel Set Birthstone and White Freshwater Cultured Pearl Drop Pendant Necklace, Ruby stud Earrings, Sterling Silver Three Ruby Stone Women's Ring
Where To Wear Ruby?
Yes, every gemstone that we know of is suited for a couple of occasions in life. Let us see how to style Ruby jewelry in sync with our social calendar.
[sc:mediad]
1. Wedding: When it comes to weddings, it is trendy to wear ruby gemstone in the form of a ruby ring and red ruby necklaces in Asian countries. A white fancy wedding dress with eye-catching ruby jewelry will look stunning for sure. Sure-shot inspiration it is and will be. Here are some examples of how ruby does its wooing in weddings:
Kate Middleton Jewelry Set Cubic Zirconia Necklace And Earrings
Silver Plated Base Ruby Color Red Jewelry Set
Red Heart White Gold Plated Ring Earring And Necklace Jewelry Set
2. Prom Event: What is Prom? A lavish night when you can party with your friends. Every young lass wants to look pretty at prom night. Create a style nobody will forget when you wear the following ruby accessories.
Rhodium Nickel Finish Heart Shaped Ruby Pendant Earrings Set
Ruby Pendant Earrings And Necklace In Sterling Silver
Heart Shaped Ruby Ring
Ruby And White Freshwater Cultured Pearl Necklace
3. Casual-n-Chic: Rubies can go with a casual outfit too. You just need to select a ruby set for Valentine's Day or a date night. Try out:
Pendant Scarf Necklace with Ruby Stone
Crystal Round Ruby Beads Bracelet
Ruby Party Jewelry Bracelet
Hollywood Themed Ruby 20's Set
Some Style Clues When Wearing Ruby
Few tips for you to wear your Ruby jewelry with panache:
Earrings: Go light on your blush when you are wearing danglers or chandelier earrings with a big stone. Ruby red and strong blush color might clash with each other making you look OTT. So go in for a neutral bush. It will help you get a natural glow and will also highlight the color of the ruby stone.
Ring: Say no to wearing too many rings. A Ruby stone statement ring will look elegant when worn alone. Too much of bling can look tacky.
Matha Patti: If your maang tikka is made of Ruby, then wear a subdued bindi. An attention-seeking bindi might clash with the color and beauty of the stone.
Necklace: A red necklace will look a mismatch with a red dress. Wear contrasting colors in order to enhance the beauty of the ruby gemstone. Solid colors such as electric blue, white, black, mango yellow, gold look great with a ruby statement necklace.
Saw how the fashion of wearing rubies is a timeless concept. In fact, top jewelry designers are making and supplying contemporary ruby jewelries in the market. So that you and I as jewelry lovers not only get endless options in sophisticated ruby baubles but also know how to style Ruby jewelry for each occasion.
I hope you enjoyed reading this post. Tell us which of the style options in ruby you liked most and wish to buy.