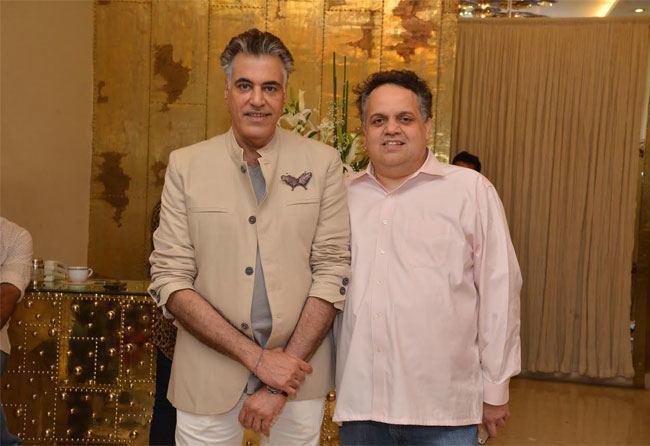 Enter Bollywood and there are two fashion designing stalwarts who have left an inimitable stamp that the world craves and croons for. Yes, it is none other than the designer duo Abu Jani-Sandeep Khosla.
Whoever can stop them from bringing excellence in their innovative designs, embellishments, embroidery and the workmanship? Those of you who are eager to hear the latest about them, Abu-Sandeep have recently previewed their Diffusion and Couture Spring Summer 2015 collection. The venue was none other than their Mumbai Store-Om Chambers, Kemps Corner.
Ishita Salgaocar, Abu Jani, Dipti Salgaocar, Sandeep Khosla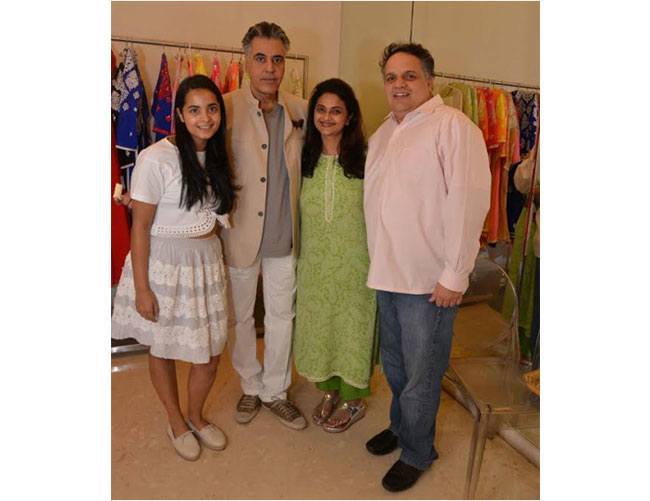 Suzzane Khan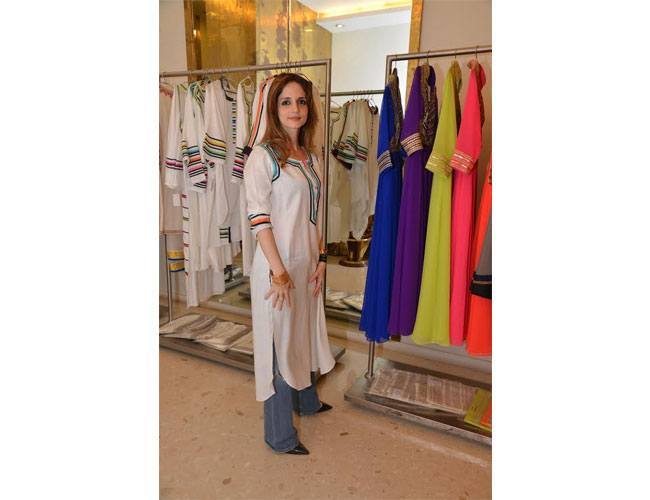 Kaykasshan Patel
[Also Read: Spring Summer 2016]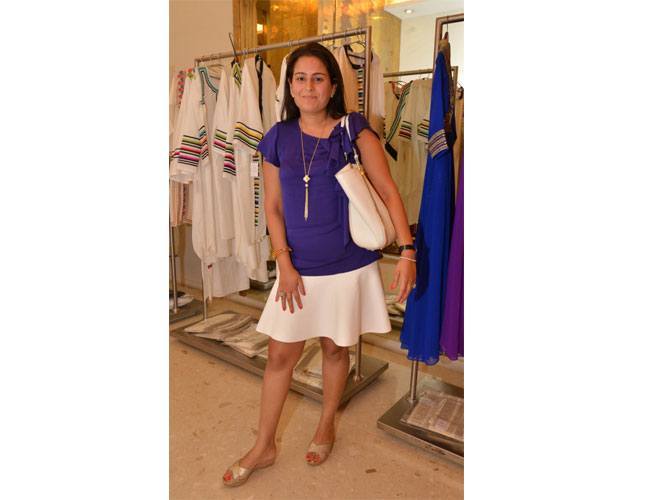 Guest List at the Preview
What was the guest list at the Diffusion and Couture Spring Summer 2015 of Abu-Sandeep? A gamut of well-known celebrities such as Suzanne Khan and Twinkle Khanna who looked quite an eyeful in the designer duo's creations was present. Top it all, there were social butterflies dotting the occasion such as Malavika Sanghhvi, Namrata Zakaria, Aishwarya Subramanyam, Anu Dewan, Ina Arora with daughter Sanjana Arora, Sitakshi Khanna, Dr. Rekha Sheth, Dipti Salgaocar with daughter Ishita, Madhuri Mahatani, Salpi Gandhi, Mukeeta Javeri, and many more.
The invitees and guests had a good time exploring the exquisite SS 2015 collection of Abu-Sandeep. The high tea by Harsha K was well-balanced by discussions with Abu-Sandeep on summer fashion. So, the Preview was classy and entertaining beyond doubt.
[sc:mediad]
To refresh your memory, Abu Jani-Sandeep Khosla have been in the forefront of Indian Fashion for 28 years as master couturiers. They have draped sophisticated and power male celebrities such as Amitabh Bachchan, Shahrukh Khan and drop-dead gorgeous women such as Jaya Bahaduri-Shweta Bachchan-Aishwarya Rai Bachchan, Dimple Kapadia, Twinkle & Rinke Khanna; and leading celebrities we see on celluloid.
Anu Dewan with Twinkle Khanna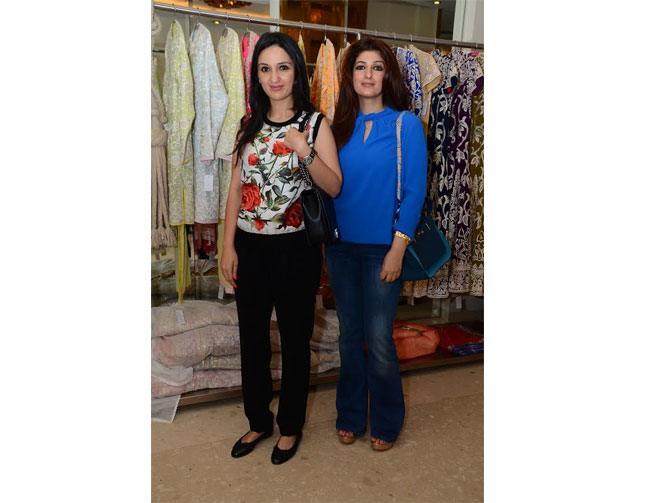 Sandeep Khosla with Suzanne Khan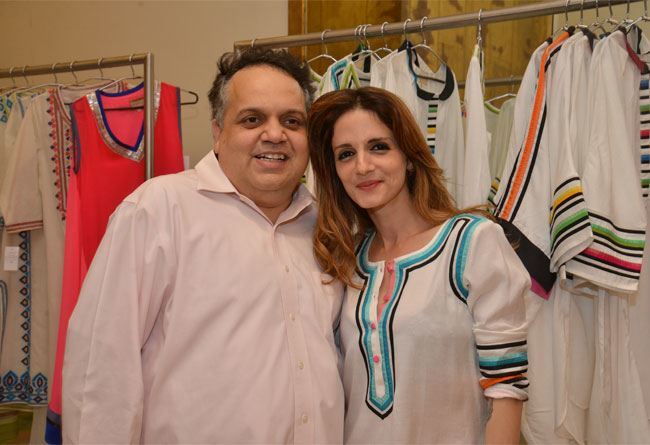 Malavika Sangghvi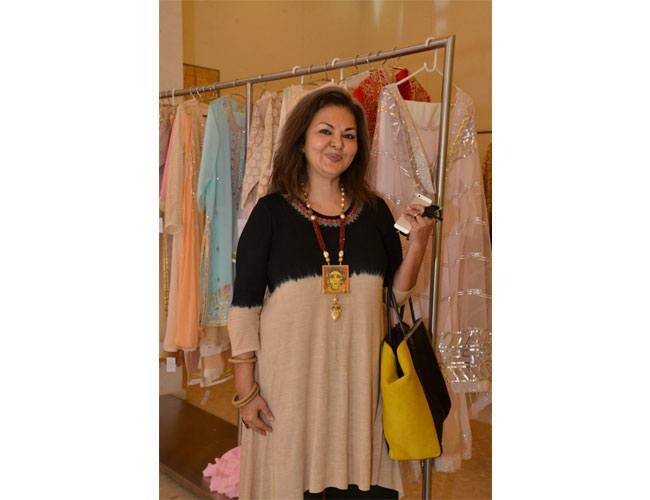 A Glance of the Spring Summer 2015 Preview
What was the element of innovation and uniqueness in the new found collection of Abu and Sandeep? Well, they played with subtle colours such as whites, beiges and neutrals. As for the fabrics, they largely used Kerala cottons and georgettes in casual, formal and occasion wear. The stamp of Abu-Sandeep creations was visible in their classic thread and resham embroideries, which made them all the more outstanding.
A closer look at this season's collections of these reputed fashion designers revealed the opulence of colour used by them. What was equally captivating was the multi-colour appliqué and silk patti work, not to forget the trademark gold zari that was used in order to bring in glamour and drama into your summer wardrobe.
As for the 'picks', there were contemporary tunics and kaftans on one hand and traditional anarkalis and lehengas on the other. In short, there was something to taste the fashion sensibility of every woman and the occasion for which she needed the outfit for, be it casual or formal. In short, Abu-Sandeep made summers of 2015 look effortlessly stylish and tasteful.
Sandeep Khosla with Namrata Zakaria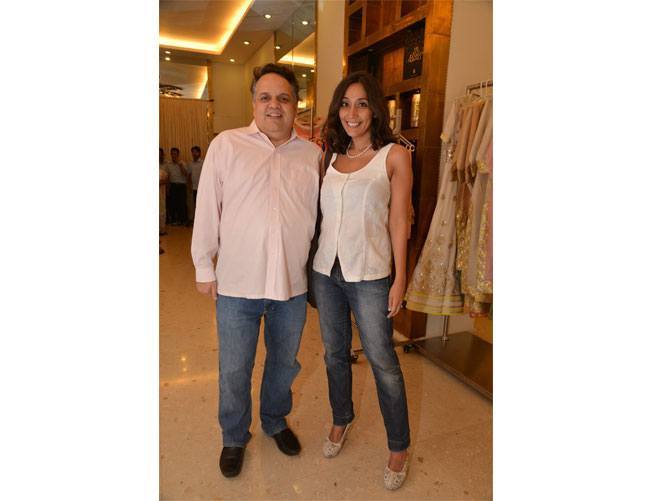 Aishwarya Subramanyam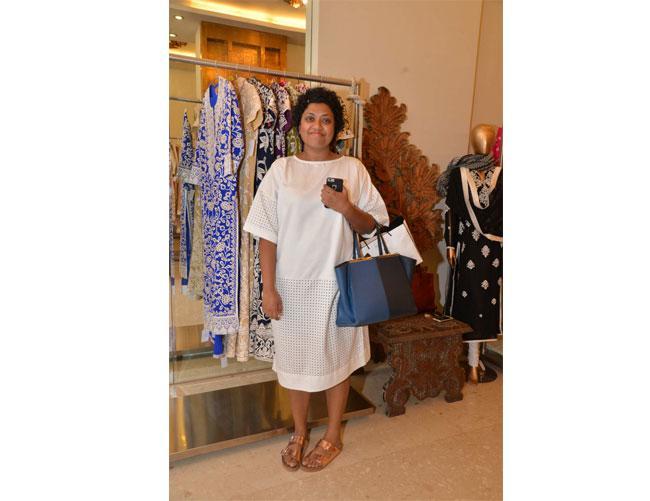 Dr. Rekha Sheth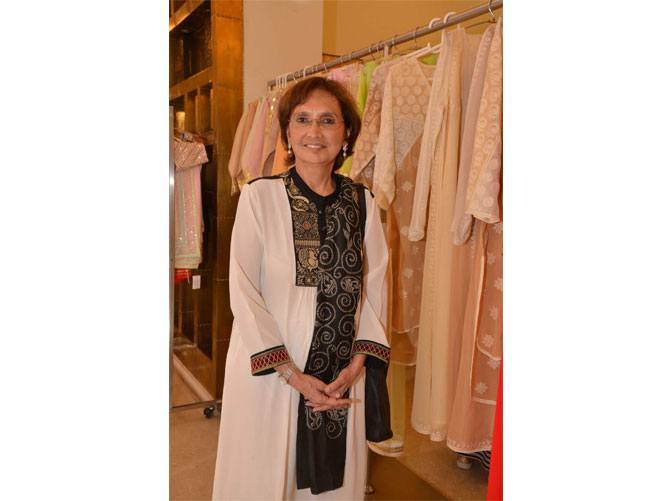 Brand Abu Jani-Sandeep Khosla
There is always an element of mysticism in personalities. Same is the case with Abu Jani and Sandeep Khosla who met by chance in August 1986. As luck would have it, they struck an instant rapport and decided to pool in their creative energies.
The Abu Jani-Sandeep Khosla label, as of today, holds an unparalleled position in the world of Indian Haute Couture. Each ensemble is unique which shows the richness of India's heritage, combined with cutting edge design. No doubt, Abu and Sandeep have come up to be the pioneers in restoring the best of the past and fashioning it for the future.
Rewind to the yesteryears and you will find the duo reinventing the traditional Mughal arts of chikan and zardozi. It is their zealous commitment to the restoration and reinvention of Indian craft that makes them true ambassadors of Indian Style.
Though they began with a small boutique, today they are the most coveted Couture label in India. Just like fashion, they are equally at home in the fields of art, architecture and interiors. Abu-Sandeep have stores in Mumbai, New Delhi and London. Here's wishing them the very best in their future fashion endeavors!
Sanjana and Ina Arora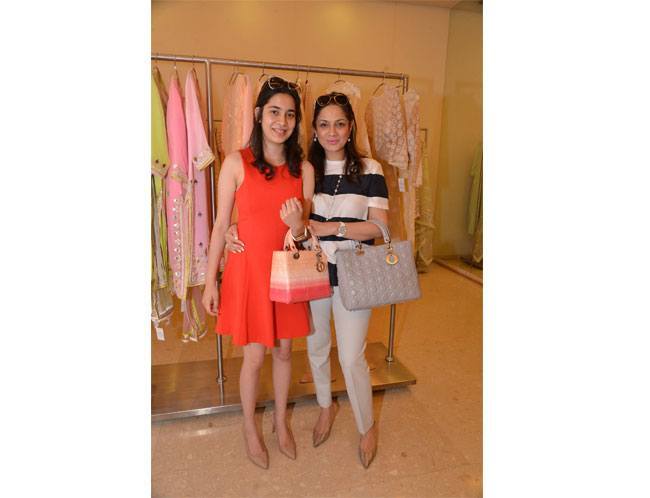 Sitakshi Khanna