With the sun giving way to those first few heavy monsoon showers, it's time we gear up for the awaited monsoon month of cloudy skies, thunderstorms and windy refreshing days.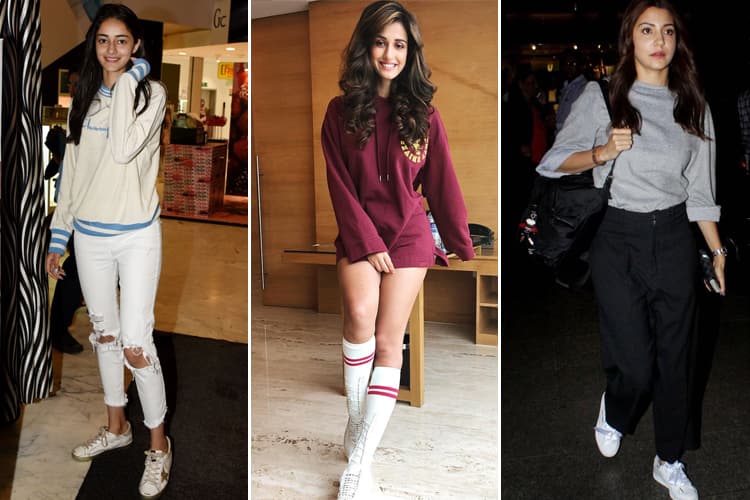 Just in time when the weather was giving us some cool and calming feels, we spotted a few Bollywood celebrities working sweatshirts.
Exuding comfy athleisure vibes, Bollywood actresses turned to knitted sweatshirts and light sweaters to up their street style game for the airport and casual hangouts.
While it's too soon to pronounce the onset of the sweatshirt trend, it's fairly wise to say that we are liking that makeshift change from the summer closet and with the temperatures nipping a bit, these looks surely did not feel unpleasant.
P.S : If you are making travels to colder places, then carrying a sweatshirt look like our divas is sure to get you added brownie points on the fashionista scale.
Actresses In Sweatshirts:
Kareena Kapoor:
The glamorous girl from B-town, Kareena Kapoor Khan is blessed with a worthy impeccable style. The begum's sighting in a white Gucci sweater absorbed all the attention from the media when she made her way wearing the chic sweatshirt on a casual day. Maintaining her athleisure love, the woman wore it with a pair of black Gucci tracks and white trainers from Saint Laurent. Her classic Hermes birkin and black sunglasses rounded up this sporty off-break look.
Sonakshi Sinha:
Sonakshi's bright orange hooded sweatshirt is everything you need to brighten up your dull monsoon days. The colour almost instantly lifts up the mood and tunes our mind to cool feels. Carrying the Adidas hoodie with her usual swag, Sonakshi had the paparazzi hooting for her. A pair of ribbed black denims, white trainers, and a black sling completed Sonakshi's chic travel fashion logs.
Taapsee Pannu:
Actress Tapsee Pannu gave us all new airport look goals as she jet-setted out of Bombay with her sister. To render some chic to her inflight diaries, Tapsee donned a look that was most comfortable. The woman resorted to a classic white blue combination pairing her blue washed quarter length denim with a good looking white sweatshirt. The tie on in the front added all the jazz to the basic white sweatshirt. With a pair of white trainers and a white handbag, Taapsee sealed her travel look to perfection with comfort being a top priority.
Disha Patani:
Dressed up like a cute teen cheerleader was Disha Patani in a long sweatshirt. Ready for an event, Disha gave us cute yet sexy vibes wearing a hooded long sweatshirt boasting of a monogram, in a warm tone of burgundy. Socks pulled up till the knee and tresses blown out gave us some major high school throwback.
Anushka Sharma:
Street style athleisure is Anushka Sharma's forte. The woman rates being comfortable on top and hence is spotted most frequently in joggers and t-shirts. For her most recent travel, Anushka worked some basic pairing her ankle-length pleated black pants with a grey sweatshirt. Keeping it extremely casual, Anushka wore the look with her sleeves rolled up and a pair of white trainers. With the backpack carrying her essentials, the only add-on that rendered some finishing glamorous touch up was a Vlad Prada keychain hanging on the backpack.
Ananya Pandey:
The best fit for the age, Ananya Pandey rocks sweatshirts, courtesy her athletic and slender frame. The woman has been spotted multiple times pairing working casual sweatshirt looks. From her recent movie date at the PVR cinemas, Ananya kept it simple in a white sweatshirt with blue trims. Love how she paired it with a pair of white ripped denims and sneakers.
Karisma Kapoor:
Keeping it subtle and classy in a Coach sweatshirt Karisma Kapoor kept her airport look much in vogue – a complete no-hassle look which Lolo fittingly sealed with a pretty pink handbag, a pair of peeps in pastel pink, and black sunnies.
Lisa Haydon:
Looking like an international model was Lisa Haydon as she waited by the street dressed up in a grey jumper from Madeleine Thompson. Wearing the separates, Lisa looked like a bomb. We love the grey sweatshirt and track pairing with a Gucci waist bag. So chic. This one needs to be replicated on your next travel.
Daisy Shah:
Actress Daisy Shah has been busy rehearsing for her Dabbang tour with Salmaan Khan and other Bollywood stars. The lady has been rocking sweatshirts for her jibe with the Bollywood tribe. Sporting cropped hooded sweatshirts from Nike in whites and greys, Daisy is turning up the heat on stage with her moves.
With the winds giving us reasons to cover up, we too, like our celebrity divas, are getting into that sweatshirt mood. Are you?