The FIFA World Cup 2018 has kick-started and it has fans world over watching, talking, and living soccer! The football-fever has yet again created a huge demand for soccer-inspired fashion. Fans all over the world are getting ready to cheer their favorite teams in style.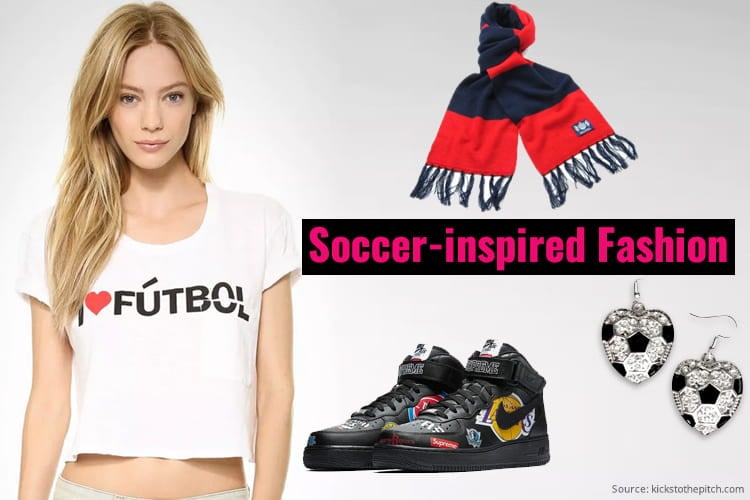 It is the season of the emergence of trends focusing on the globally loved ball game. Soccer fans can never get tired of experimenting with fashion and scoring a few style goals of their own especially when they have soccer legends for inspiration.
Hats off to Cristiano Ronaldo, the Portuguese professional footballer, or rather the best soccer player in the world who is a huge style icon. Do you know, he has a premium footwear collection called CR7? It is the number he wears on his jersey too.
Yes, the CR7 trademarked shoes of Ronaldo are 100% made in Portugal. Besides being a star player what a marketing mastermind Ronaldo is! Some football fashion inspiration it is for his fans, honestly! Let us go ahead and check out the post to see how the latest fashion vibes and trends will help us fulfill our love for soccer.
Top 6 Soccer-Inspired Fashion Ideas For All Football Fans:
The illustrious Coco Chanel had once said, "Fashion is not something that exists in dresses only. Fashion is in the sky, in the street, fashion has to do with ideas, the way we live, what is happening."
This brings us back to the concept of fashion and sport (soccer to be precise). With the FIFA World Cup mania gaining a feverish pitch here are some fashion ideas that will surely score a goal with all football-lovers.
1. Soccer Jerseys:
Soccer jersey trends always rule the sport-inspired fashion arena. Get a personalized one during the FIFA world cup to be on-trend where you needn't know your Ronaldo from your Ronaldinho.
In fact, soccer jersey trends are your go-to outfit ideas when it comes to wearing your love for football on your sleeve. The logo does most of the talking while the relaxed, unisex fit makes it comfy and casual. A must-have for all the sporty gals.
2. Soccer Scarves:
If sporting a jersey gets too much for you, then the soccer scarves are just the right thing to heat up your off-duty action. According to Lyst.com (a fashion search platform), global searches for the terms "football scarf" and "soccer scarf" upped by 13 percent in March, with "womenswear" related searches for the sporty accessory rising to 57 percent!
Although it may seem like a new trend, this one started with creative director Demna Gvasalia of Vetements, who showcased 'soccer scarves' on the runway during his Fall / Winter 2016 show. The scarves had words like "Football Scarf" in Russian, a look which was once popular in the streets of Moscow in 2016 and has now come full circle with the FIFA world cup taking place in Russia.
You cannot miss the sight of Russian football club scarves worn at fashion weeks, and on the pages of Vogue.
The Savile Rogue Navy Blue and Red Deluxe Cashmere Soccer Scarf in the colors of New York Red Bulls is the most luxurious soccer scarf, which makes a great gift for your beau if he is a huge soccer fan.
[sc:mediad]
3. Soccer Earrings:
If the mania for logo and jerseys fail to excite the fashionista in you, then Saskia Diez will pump up your adrenaline with her soccer-inspired jewelry designs.
What is special about this collection is it boasts 11 earring styles – each style depicts a soccer team's formation, and each player symbolized by a freshwater pearl. Creativity at its best!
4. Soccer Tattoos:
Well, football tattoos are the most sought-after tattoo themes in the world at the moment while you read this piece. The soccer tattoos need not just be about a ball every time. There are interesting and exciting designs like – like football boots, Champions League trophy to World Cup trophy you can go for.
If you don't want black colored tattoos, you can also get inked in the colors of your favorite team. Wrist, leg, forearm, arm, back, shoulder, thighs, there are so many places where you can get the soccer tattoos inked.
5. Soccer Nail Art:
No matter which country you are rooting for in the FIFA World Cup, the excitement gets trebled when you flaunt soccer nail art.
You can choose from chic nail styles in football nail art to "soccer nails decals". The decals deliver brilliant results as they can be applied to any type of nails (that have regular polish, soak off gel or hard gel and acrylic).
6. Soccer T-shirts:
No FIFA World Cup is complete without you sporting some of the cutest tanks and tees. Show some love for your favorite team by sporting a tee with its national flag on it. Embrace the sweat and get ready to bond over soccer and beer.
If you want to up your fashion game you can even sport watches and lingerie in your favorite team colors.
Noticed how soccer as a game is creating a buzz in the fashion world? While we wish good luck to all the teams playing in the FIFA World Cup 2018, don't forget to follow the above tips for some football fashion inspiration.
Are you a die-hard soccer fan? Do tell us your favorite fashion idea in the comments section below. We would love to hear from you!