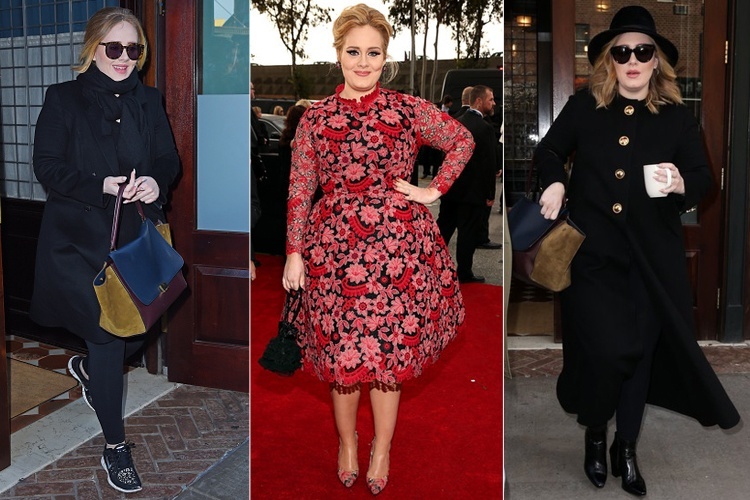 In the business of size zeroes and skin show, British singer Adele shows how her talent is not dependent on any of the so called prerequisites. With her plus size measurements, she remains to be the beautiful woman any other woman can identify with. Her talent is huge so the numbers of her stats doesn't govern her popularity. Over the years she has indeed grown a few sizes small, but she is the farthest thing to the tiny waists that otherwise command the red carpets. Adele flaunts her full figure without showing an inch of the body, yet finds herself ruling the charts. Let's check out how Adele does it.
[Also Read: Blake Lively's Diet And Fitness Regime]
During the Brit Awards, the singer was seen channeling some boho chick in a wine colored dress by Giambattista Valli. She opted for an edgy hair style parting it centrally without much of an ornamentation.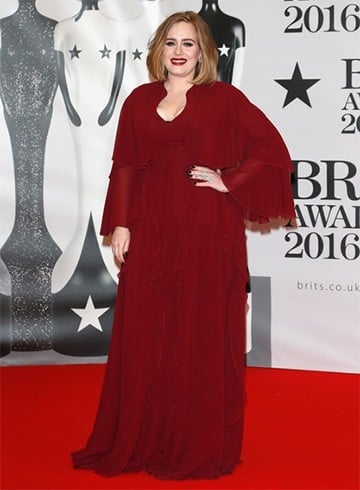 The 'Hello' singer greeted all on the red carpet of the Grammys sparking in a beaded black dress by Givenchy. Black is by far the safest choice the crooner has embraced multiple times and has slayed successfully. Her make-up was nude and was a perfect balance for the heavy dress.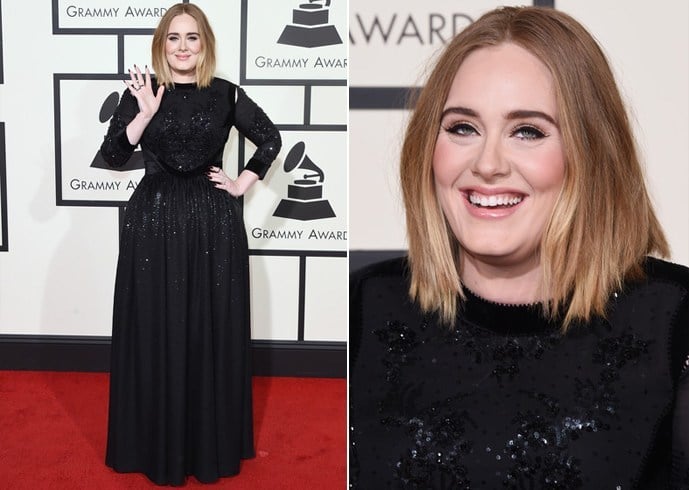 Seen treading the streets of New York City, the mother of one was a walking definition of elegance in her woolen coat by Burberry. The black coat was embellished with huge gold buttons and a pair of ankle boots kept her warm.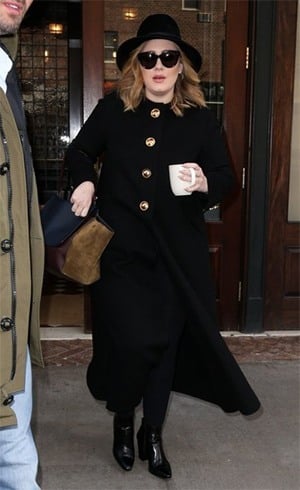 Why even bother about size, when you can rock a simple duster like it's nobody's business. Adele demonstrates how we do it in her red duster detailed with fringes at the edges. Now that's the kinda street style we all want to replicate.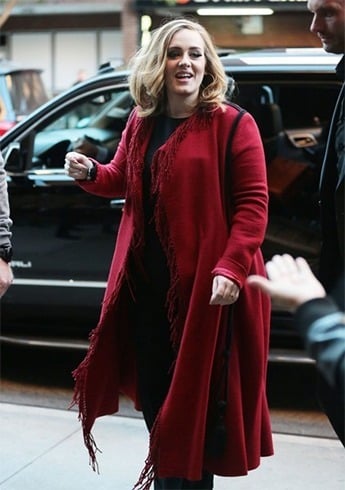 Adele had boasted the half-up-half-do hair style for the longest time and there was a time it was dubbed as her signature style. She was seen sporting the hair style even during the Oscars 2013, with yet another of her signature styles – the cat eyeliner with dramatic lashes. Aren't we all rolling deep in those eyes? She kept her full figured adorned under layers of the black tulle gown by Jenny Packham.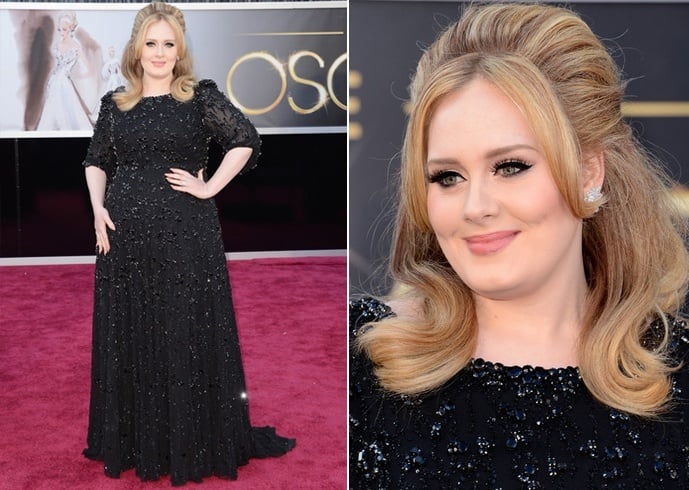 When the queen of voices thought of taking a little, just a little break from black, she settled on florals – well isn't that every women's favorite anyway? So the singer was a different level of gorgeous in her pink floral dress by Valentino at the 2013 Grammys. Apparently, when she does florals she does it in totality, hence the matching pumps to go with her cocktail dress. Don't miss the black and red ear stud in a floral pattern again.
[Also Read: Jennifer Lawrence Diet And Fitness]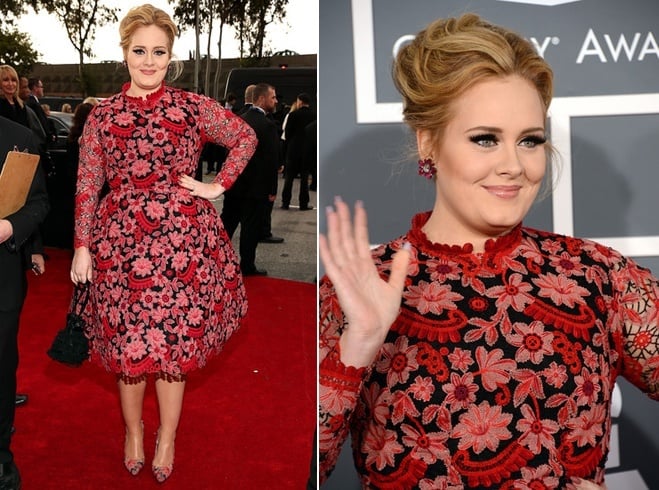 With time Adele had adopted red lips as her own and has been spotted displaying that red pout almost in every appearance lately, but who is complaining? The onlookers were blown away by the saucy star as she stunned in her Giorgio Armani gown. The full length dress was in itself a power punch but the singer added to the glamor quotient of the beaded dress by adding glittering pumps by Christian Louboutin.
[sc:mediad]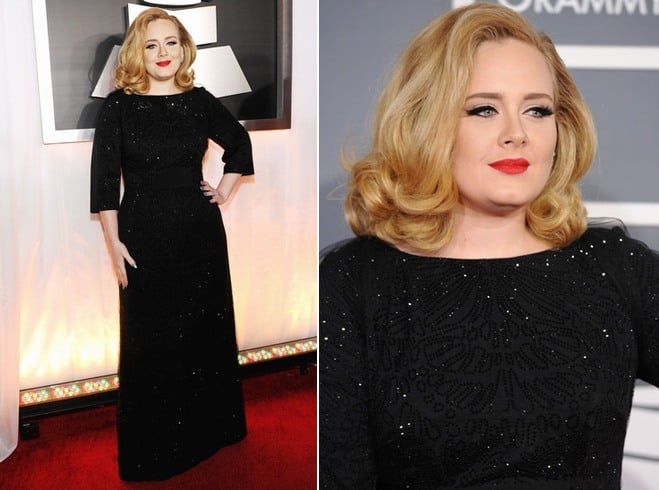 A special moment in her career was to receive the MBE medal at the Buckingham Palace in 2013. She opted for a conservative look, and yet every inch of her looked splendid in her Stella McCartney dress in the hue of midnight blue that she paired up with black pumps and maintained modesty by slipping into mesh stockings.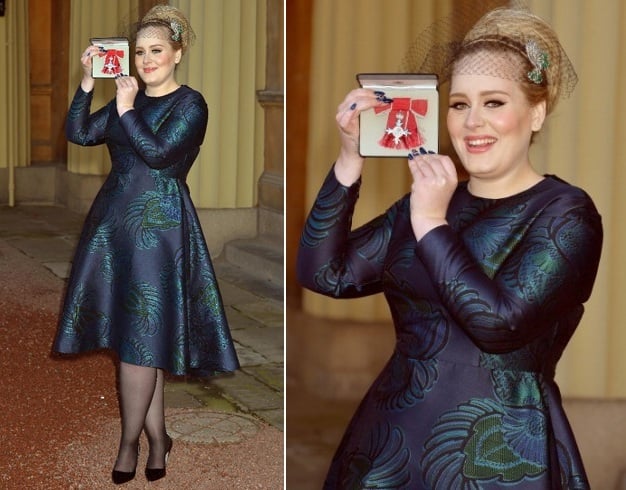 Adele keeps skin show on the minimal, or rather stays miles away from unnecessary exposure. The rule stays untouched when she is on the stage belting out her hypnotic notes and also when she is out and about on the street. She wears loads of scarves, leggings, full sleeved tops and coats while in NYC. Let's take a quick look at a few more times she had walked the streets of the city.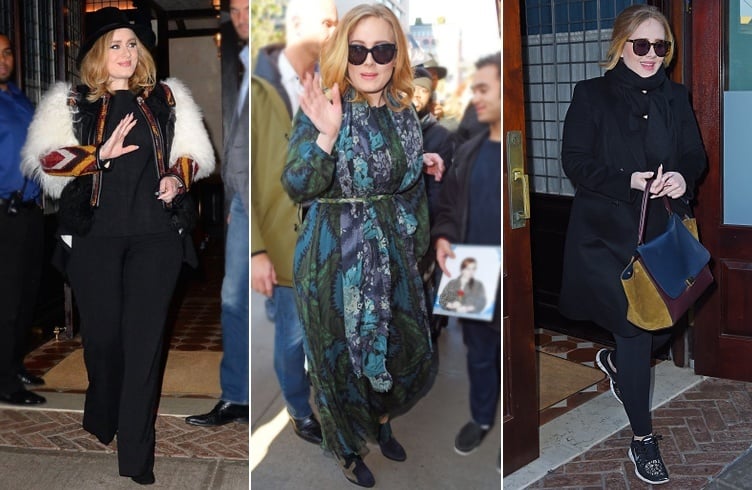 Also, you will enjoy eyeballing on some of her spangled gowns that she threw on while working out those pipes during her live performances.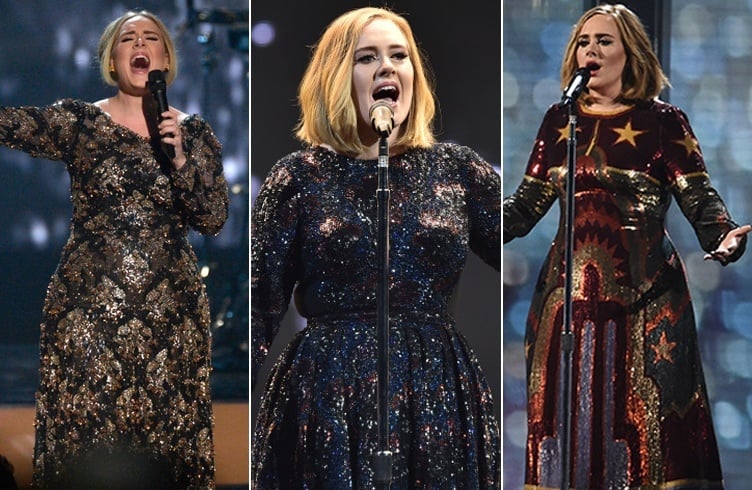 While the world has been struggling to create a healthy body image and fight the stigmas associated with not being the 'it' girl size, Adele has demonstrated how exactly one stays comfortable in one's own skin. She is also a living example proving that if you have it in you, even an insecure industry like Hollywood with roll out its carpets for you to walk on.
Images Source: pinterest.com, billboard.com, elle.com