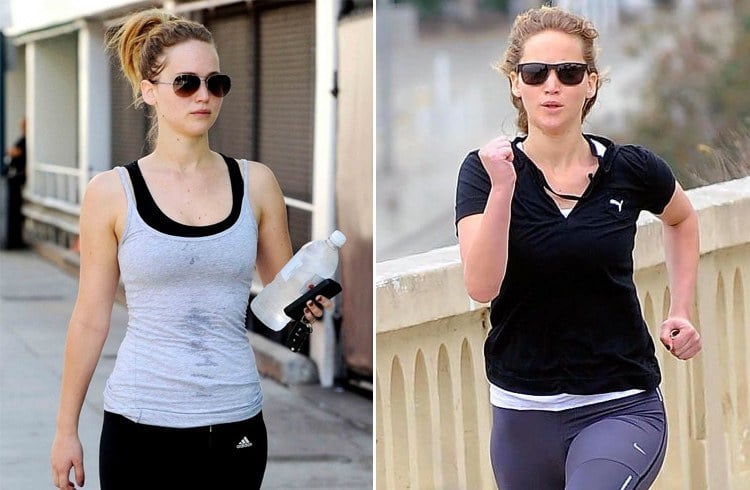 The world is not a stranger to Jennifer Lawrence's love for junk food. And it is quite a shock how she maintains that killer of a body with the uncompromised proclivity for fries and pizza. Well, all thanks to Dalton Wang, people. Dalton was her trainer whom she appointed in 2010, when she had decided on getting fit to play Mystique in X Men and ever since L. Jaw has been rocking that envious body. Apparently, her trainer Wong had mentioned how he got the actress into shape, and the 25 year old acknowledges the same. In her words, "He not only changed my body for that movie but gave me the skills to change my life," she goes on to write the foreword for his book "I could never live on a 'diet.' Dalton taught me how to eat, move, and live a delicious but healthy life. I will always thank him for that." Here, are some of the tips shared by the celebrity trainer that may give a way to those abs and arms
[Also Read: Kendall Jenner Diet And Fitness Routine]
Break It Up – For The Entire Day
While filming X-Men Dalton Wong has spent up to 12 hours every day with his celeb client for an expanse of three months. And while in Oxford, they would usually start the day with some 20 to 30 minutes of outdoor jogging. He says it wasn't a run per say but just a little movement to get awake. May be a walk at times.
Use Every Bit Of Time – Even On A Busy Day
The day would be busy with shooting, but America's sweetheart, as we call her, would be dragged into short bursts of training that involved high intensity. To quote his words, "We would focus on core exercises and some stretches," These workout sessions were designed keeping those, who like Hollywood celebs, might not have enough time to commit to a lot to that requires regularity and demands loads of hours. "A lot of people might not have the hour to commit to doing something but lots of people have 15 minutes." Says Wong.
Exercise – But Not Without Relaxing
The Hunger Games star also cherishes an alacrity for yoga, that as the Indian Prime Minister has assured during his US visit, wouldn't be claimed for intellectual property rights by the Indians, any time soon. The various asanas that she has perfected grants the star's body all the necessary flexibility her role entails. Consistent practice of yoga also leads to better concentration power.
Cardio Exercises Are Just a Must – Always
Intensive exercising should be one that uses tons of oxygen to stop one from being burning out. And so Jennifer values cardio exercises as they bright strength to her muscles, especially heart muscles, emboldens blood circulation, and reduces depression and stress by giving the practitioner an active life. This also leads to improved use of fats and speeds up the metabolism in a person.
She Is An Athletic Genius – Says She
We all know how down to earth Jennifer is, so it should not come as a shocker that she occasionally climbs trees and tracks rock climbing as well. In other days, she runs the track like more regular people. The actress considers herself a good athlete.
[Also Read: Gigi Hadid Fitness And Diet Regime]
[sc:mediad]
Diet Is Paramount – But Starving Ain't An Option For Jen
Jen doesn't preach dieting, she can't starve to look good. Her ideal diet has enough calories and she aims at optimizing calorie intake. Recently, she has also increased her protein intake enormously as compared to her previous diets. She replaces her fats by carbohydrates. Like every Hollywood star flaunting that shiny flawless skin, she has included a lot of fresh fruit and veggies in her diet. Jen binges on water, keeping sugar added beverages including coffee at bay.
Some of the snacks favored by our girl here are air-popped popcorn, cashews, blueberries, full-fat Greek yogurt, dark chocolate, coconut milk yogurt, and hard boiled eggs. Yes, she does hog on ice creams, cookies and desserts as well, but not every single day like you and me.
So now you know, you don't need to be hard on yourself to get that transformation, all you need to do is make changes in your lifestyle, take one step at a time, and you are good to go.