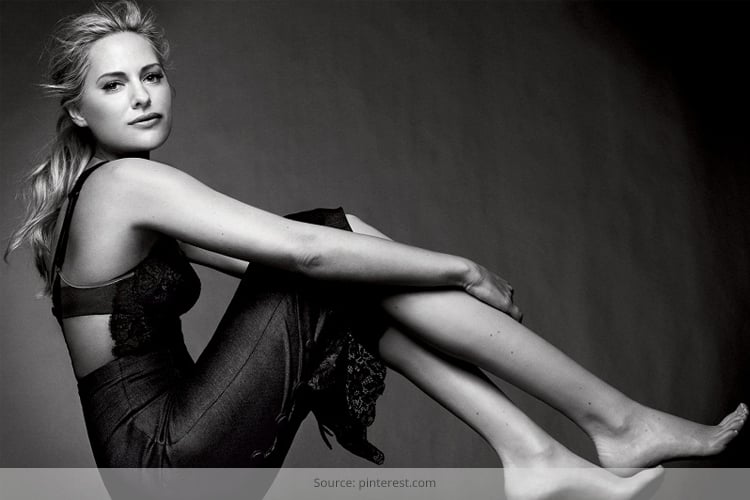 Writing for a women-centric blog, I strongly felt to share one of the most inspirational female-oriented stories with my readers that can truly alter anyone's life. A story, which can give us hope and confidence in ourself, a story which teaches us to overcome our affliction and motivates us to construct gratifying values and a story that comprehends us about the real definition of being beautiful.
So, what does a beautiful woman look like? Whenever you ask this question, I bet at least 5 out 10 people will answer, "A woman with perfect body." This theory was largely believed till Aimee Mullins, the woman of substance proved it wrong.
"Adversity isn't an obstacle that we need to get around in order to resume living our life. It's part of our life. I think of it like my shadow — sometimes I see a lot of it, sometimes there's very little, but it's always with me."
Born with fibular hemimelia i.e. missing fibular bones, Aimee's both of the lower legs had to be ampulated when she was a year old. While everybody thought she would have to spend rest of her life on wheelchair, she had learned to walk on prosthetic legs by age two.
Aimee still remembers how she used to hate attending physical therapy sessions as a child. She had to go through innumerable repetitive exercises, which involved using her legs to use thick elastic bands as her muscles. She recalls how she used to loathe those sessions and tried to bargain with her doctor even to escape from such hurtful sessions.
She owes a lot to her doctor. He had once told her, "Aimee, you are such a strong and powerful little girl, I think you're going to break one of these bands. When you do break it, I'm going to give you $100."
The doctor hardly knew his words would spill such magic on that little girl that she would not only break the band, but break a record in Paralympics in 1996 in Atlanta,where she ran the 100-meter dash in 17.01 seconds and jumped 3.14 meters in the long-jump.
Aimee had this to say on her doctor,
"What he effectively did for me was re-shape an awful daily occurrence into a new and promising experience for me.  I have to wonder to what extent his vision and his declaration of me as a strong and powerful little girl shaped my own view of myself as an inherently strong, powerful, and athletic person well into the future."
What makes Mullins posthuman is her attitude toward her prosthetic. She never considered them as "fixing" something, rather she looked upto them as augmentations. She preceded a revolutionary trend in the  prosthetic technology by being the first athlete to use the now-famous "cheetah legs." Her hi-tech legs give her superpowers. She feels them to be integral parts of her body that people look at with admiration.
Apart from her record-breaking games, she has also established herself as a groundbreaking model on the fashion runways of the world, revamping traditional notions of beauty and body image. In 1998, she was invited by the legendary fashion designer, Alexander McQueen to do a ramp walk for his fashion show, The Savage Beauty  at the Metropolitan Museum of Art.
[sc:mediad]
Possibly, this was one of her most career defining moments. The world had never been imagined to see a double amputee model on the fashion runway. With Alexander's exceptional vision and Aimee's self-confidence, the duo justified the notion, "Nothing is impossible."
Aimee on McQueen's tragic death,
"At was my privilege to know him and to call him my friend. It was my honor to wear some of those incredible creations that were showcased in the Met.By giving me the platform to explore my own ability to transform, he reminded me that we all have to claim our own unique beauty."
She further adds,
They were solid wood, solid ash, so there's no give in the ankle. So any kind of a runway walk that I had practiced went out the window. And then suddenly they laced me into this leather bodice, and there were some spinning discs in the floor of the runway, which I had, while practicing in these wooden legs, you know . . . was very conscious of how to avoid them. But now that my neck was secured in this almost neck-brace position, I couldn't look down. I couldn't even see where the spinning discs were. And I just remember thinking, "Okay, you've done the Olympics. You've done harder things than this. You can do this. You can survive it. And you know, the fact is, nobody knew that they were prosthetic legs. They were the star of the show—these wooden boots peeking out from under this raffia dress—but in fact, they were actually legs made for me."
Mullins is currently focusing the brand ambassador for  L'Oréal and is also focusing on her acting career. By now she has acted in a couple of movies an currently she is focusing on her two upcoming movies, Rob the Mob and Young Ones. She is also committed to her job with the Women's Sports Foundation, for whom she travels and speaks nationally. To keep in shape she does kick boxing in Greenwich Village. Ask her to recall one of hardest moments in her life and she would correlate it to Madonna.
Madonna wanted to do a video with her, but because of her prior commitments a speaking engagement in Kansas City, she had to refuse the offer. For her, Madonna has been the hardest person, she has ever said no to.
Here is one of her most inspirational videos. This is her second speech at TED. A must-watch!
Hope you found this post inspiring. Do share your views!