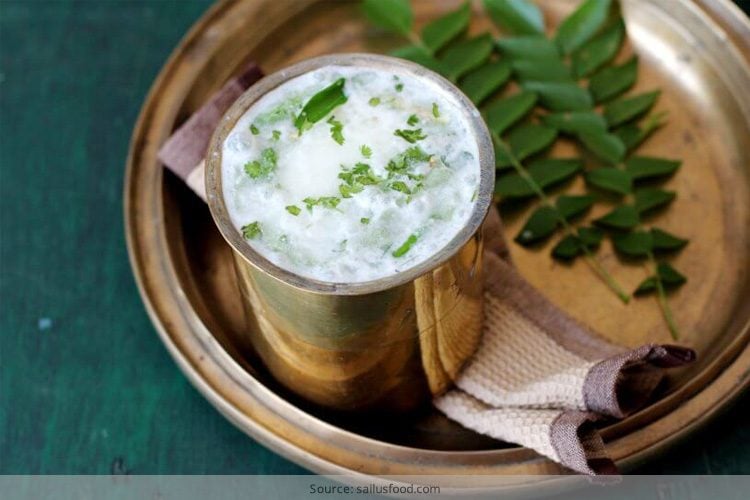 Did you know that the light, frothy buttermilk that you drink to aid your digestion can also give you amazing skin? Yes, it's true – buttermilk is one of the most underrated beauty products and its regular use can actually do your skin a lot of good. The chach benefits have been studied by a lot of scientists and they believe that incorporating it into your diet can help your skin and health in a myriad of ways. In this article, we will talk all about buttermilk benefits and how it can affect your skin for the good.
Why is buttermilk good for health?
Buttermilk is a light frothy version of curd that is very good for your tummy. It is extremely light and can also do a lot of good to people who have gas or an upset stomach. It is a great summer drink and buttermilk with lemon juice is actually recommended even by doctors as a good way to cool down your body. Chach, as it is commonly known in most Indian households can also be good for your skin and hair. Read on to know more!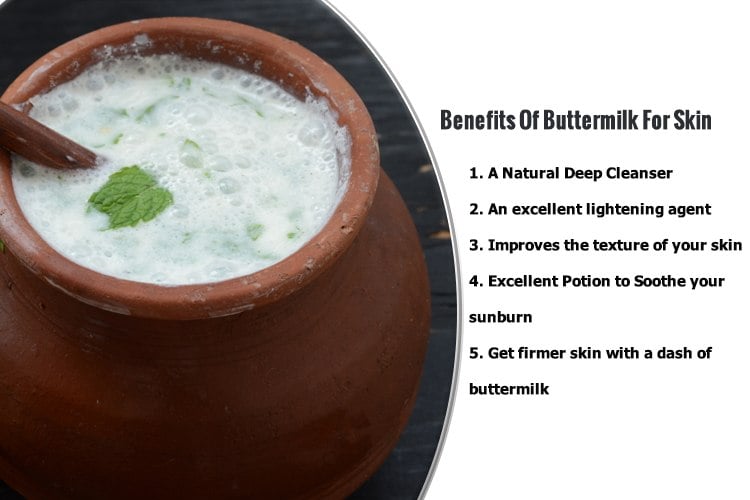 A Natural Deep Cleanser:
Cleaning your face every day before going to sleep is the best way to ensure that your skin stays perfect. A good deep cleansing will rid your skin of all the dirt and grime and prevent any breakouts. Apart from being a cleanser, buttermilk is also very moisturising which makes it a perfect cleanser for those who are suffering from dry and flaky skin. It contains lactic acid that helps clean the dirt from even the toughest layers of the skin. To use, just dab a cotton ball in some buttermilk and gently on your face. You will be able to get cleansed and beautiful looking skin instantly. Some people, however, find it a little difficult to tolerate the smell of buttermilk, so in that case, you should mix some rose water with buttermilk before using it on your skin. If you have extremely dry skin, you could also add a few drops of olive oil to this mixture and cleanse your skin. Either way, buttermilk can help you with squeaky clean skin.
An excellent lightening agent:
Besides being a great cleanser, buttermilk can also act as a skin lightening agent. It contains lactic acid and alpha hydroxy acids that are known to lighten spots and marks and also the skin tone. The acids are gentle exfoliators that can remove the blemished or the spotty layer of dead skin and reveal a spotless skin beneath. To make a good lightening face pack with buttermilk, dry some orange peels and grind the peels into a fine powder. Now mix this with the buttermilk and apply on your face. Make sure you keep this paste on for at least 10-15 minutes and then wash it off with some warm water. Repeat this process at least twice a week to get lighter and fairer looking skin.
Improves the texture of your skin:
The lactic acid present in the buttermilk is also great to improve the texture of the skin. Just mix some buttermilk with turmeric powder (that has lightening properties and healing properties) and gram flour (exfoliating property) and apply this paste on your face. Let it sit for about 10-15 minutes and then wash not off with lukewarm water. Regular application of the paste makes your skin tone more even and helps in reduction of blemishes and spots.
[sc:mediad]
Excellent Potion to Soothe your sunburn:
Sunburns are not only painful and unsightly to look at, but not taking proper care after the sunburn is likely to cause your skin to peel off. Since buttermilk has excellent lightening properties, it can be used to remove tans and also soothe a fresh sunburn. Refrigerate some buttermilk and take this cold buttermilk in a bowl. Take a fresh tomato and extract the juice from it. Now use this juice with the mixture and apply this mixture on your face or the affected areas. In ideal conditions, this paste will take about an hour to cool and settle on your face. So lie down, chill and wash this off after an hour. Your burnt skin will feel a lot cooler than before.
Get firmer skin with a dash of buttermilk:
Buttermilk has innate properties that work to firm up the skin. The lactic acid present in buttermilk is an excellent astringent that shrinks the pores naturally making your skin look firmer and tighter. At the same time, buttermilk also has great moisturising qualities that help your skin to become better and smoother as well as even toned with time. A good and smooth textured skin tone obviously helps your skin become firmer. Mix some bentonite clay with oatmeal powder and fresh buttermilk. Apply this paste on your skin and let it sit for about half an hour. wash off with cool water. This formula is a very good skin-firming mask and regular use can help the skin become much firmer.
Hence, these are some of the best benefits of buttermilk for your skin. It's natural, non-oily and can help you get fairer and much beautiful looking skin with just a few day's use. Make sure you use homemade buttermilk as far as possible. Though you do get Amul's pre-packaged buttermilk, it is best you use the one you make at home. The store bought ones may have other preservatives which wouldn't make it ideal for your skin.