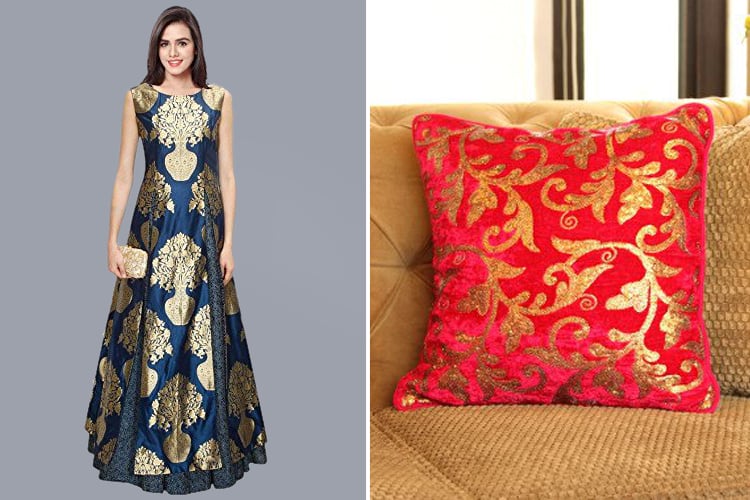 The Banarasi saree is an integral part of the rich heritage of our country, India. No wedding trousseau can be complete without a Banarsi sari, resplendent with all its hue and glory. Banarasi sarees are famous for their intricate weaving with rich gold threads, its glamorous feel and its regal appeal. These sarees are heavy and can easily weigh up to 6 kilos. These are exquisite pieces, but you can wear them at best for some wedding and family functions. And that's that. Your Banarasi saree, wrapped in makhmal cloth, will go into your almirah to be worn next God knows when. Unfortunately, with time the fabric may undergo wear and tear and become unusable.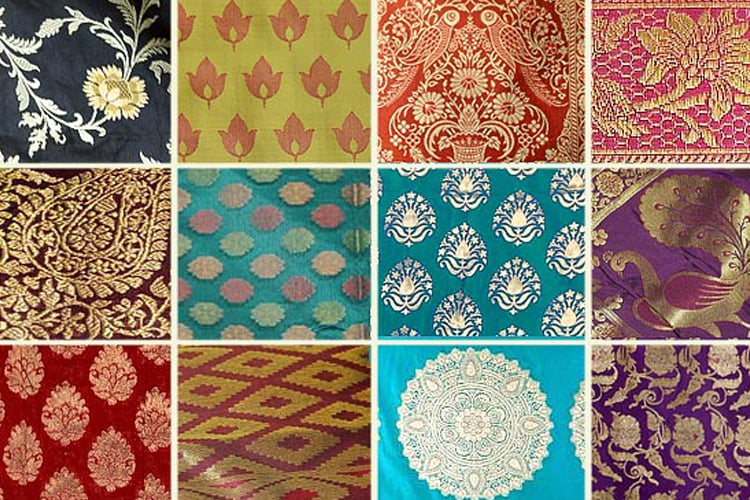 Now if you want to hold on to your Banarasi sari forever, as a timeless memento of a special day – we understand. But for those who want to reuse their Banarasi sarees here are a dozen amazing and unique ways to go about it.
1. Design a Dress
When it comes to reusing your Banarasi Sarees, the idea of making a dress out of it tops the charts. The saree usually measures six yards, which is over 5.5 meters of super-fine fabric. Making a full-length dress will help you make a complete use of the saree. If you are looking for a western attire with some desi tadka to wear at a wedding or festive celebration, these Banarasi dresses are the perfect option.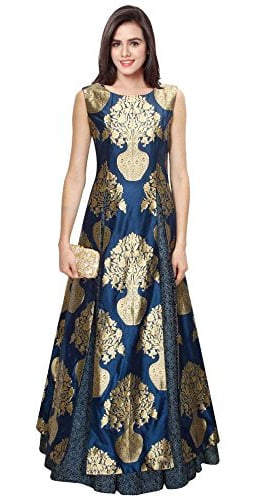 2. Short Skirt
To make a more westernized use of your traditional Banarasi saree, take inspiration from these Banana Republic pieces. These short skirts made out of brocade fabric have a very European design and look very classy when made to fit. Accessorize these pieces with metallic buttons, secure the waist with an elastic, and take them no further below your knees. You can wear them to a club, next time you want to paint the town red and let the temperature soar. Match them with a contemporary top – we would suggest one with loads of ruffles, in a contrasting color. Add a statement stud to the ears and you are ready to rock!
3. Long Lehenga
Coming back to a more traditional look, here is how Alia Bhatt wore a lehenga made out of the Banarasi fabric. There is no better way to reuse Banarasi saree in a traditional way than to give it to a tailor who could turn it into a lehenga. To give the desi attire a contemporary feel, we observe that the designers sew it replete with box pleats, and we can't love it enough. But you can go for the traditional kalis also. Remember that a saree gives you more material than a lehenga usually requires. You have the advantage to ask your masterji to throw in a bunch of extra kalis that would give the lehenga an added flair. You may team these lehengas with traditional cholis in a contrasting color, or wear a button up English shirt for a fusion look.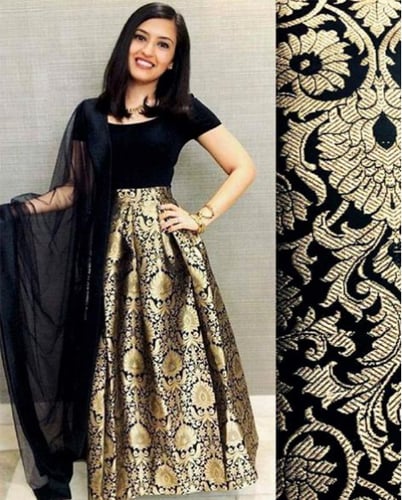 4. Jacket
The knee length jackets are a new addition to the Indian wardrobe and have found great popularity. These jackets can replace the dupatta when paired with a lehenga-choli or a blouse paired with a saree. For the mild winter evenings, they also double up to save you the shiver if thrown in over your regular salwar kameez. A jacket made using an old Banarasi saree will allow you to experiment with your style statement. Even while pairing it with the most basic pieces in your wardrobe, they instantly make you a head-turner. This is certainly a unique way of designing an entire look just by adding one layer of the garment.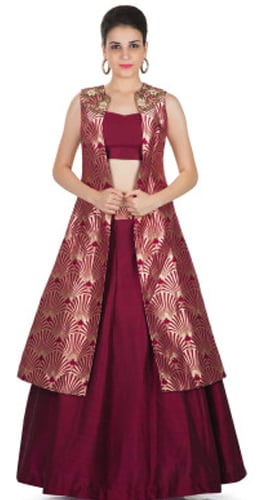 5. Kurta
It was indeed Hema Malini's book release, but don't hold us up for saying that it was, in fact, Deepika Padukone who owned the evening. Deepika stole the thunder from the original dream girl by wearing this gorgeous saree from Raw Mango. We were still going gaga over the rich red attire when Malaika Arora surprised us with this ethnic look. Yes, this is the same material by Raw Mango, just that Malaika reinvented it to make a kurta which looks equally divine. You can very well try out this look; a Banarasi kurta could be paired with sharara pants or patiayalas for a festive look, and with leggings or churidars for an afternoon event.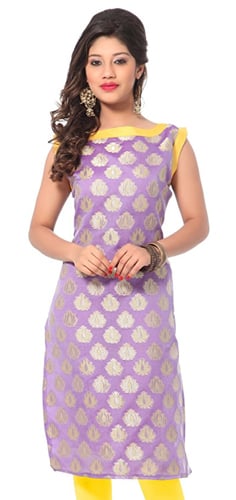 6. Trousers
Want to try something out of the box? How about these trousers made out of Banarasi fabric? These trousers will save the day for those who feel more comfortable in western wear, and who find themselves out of place in the cumbersome lehenga or hard to drape saree, and still fancy the flowers and the foliage that come to life on this rich fabric at the hand looms of Banaras. These pants would go well with a shirt that has a minimum or no accentuations. You should rather keep the accessories minimal too so that this gorgeous trouser grabs all the limelight.
[sc:mediad]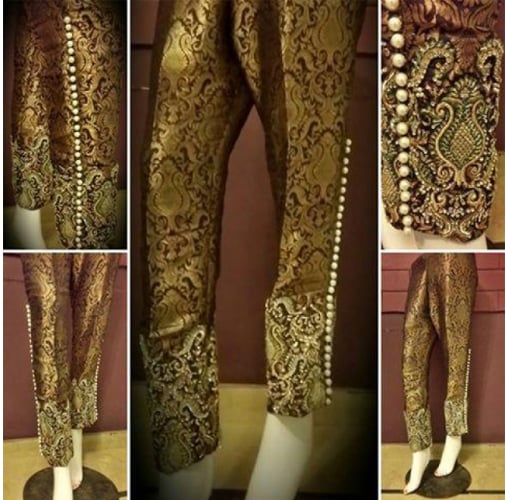 7. Dupatta
Sizing out a dupatta from a Banarasi saree is a perfect way of wearing your favorite fabric in a versatile way with almost no added effort. Start with removing the false at the bottom of the saree. Now measure about 2.5 meters of the cloth and run your scissors through it. Make sure you get both the ends stitched. You can also secure the ends with a beaded or a ghungroo lace. This dupatta is so gorgeous that you would rather keep the salwar-kameez, or the lehenga-choli as simple and basic as possible and allow this Banarasi dupatta to be the show-stealer.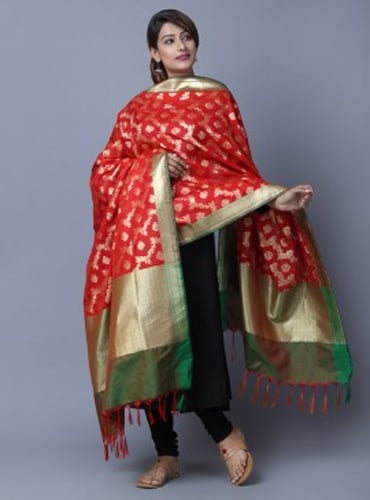 8. Make a designer blouse
For those sarees that have got damaged with the passage of time, we recommend you convert them to own a few stunning blouses. Don't waste the material in making a plain blouse. Make a designer piece that should be kept away for special occasions. Take your time to create your look and call out your expectations loud and clear to the tailor. The Banarasi blouse will make sure you are the toast of the town no matter what the occasion is. A plain saree works best with these embellished blouses. The solid color saree could be either in the same shade as your blouse or a contrast hue – both are win-win situations for us.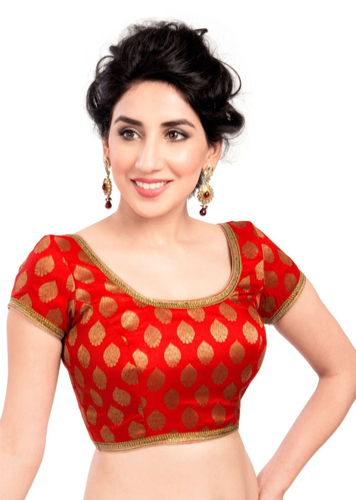 9. Outfit for Children
It is a wonderful way of sharing the most beautiful memory of your life with your children. This precious fabric would make for adorable outfits for your bundle of joy. You may use the Banarasi material to make a frock or use it to design the bust or the skirt area of an ethnic outfit, either way, it will make a lovely attire. You can opt for a frock, long dress or lehenga – to make your little darling look like a princess straight out of a fairytale!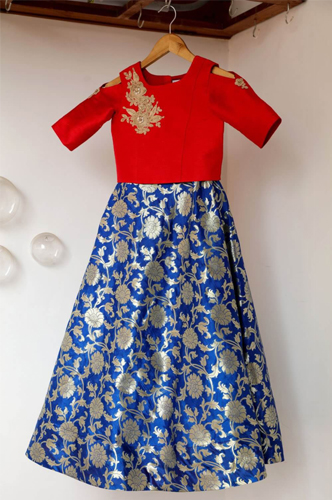 10. Bag
Moving on from clothes, let's see how we can make striking accessories out of an old Banarasi cloth. The fabric if used intelligently can be reinvented as potlis, passport pouches, wallets and jholas. Don't forget to embellish the bag with metallic beads, zaris and latkans to enhance its traditional appeal.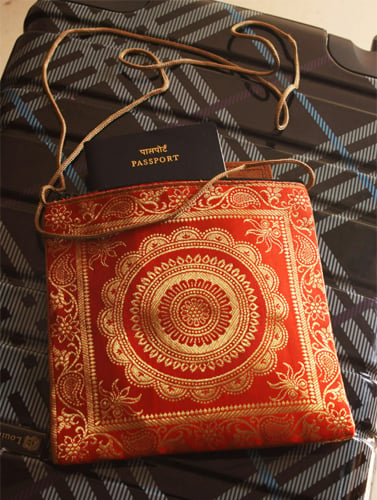 11. Gift Wrap
Pieces of Banarasi saree can be cut into square and circular shapes of different sizes. They can be now used to pack gifts for our loved ones during special occasions. You can use them to gift wrap a bridal trousseau in a classy way. Hem the sides with decorative laces and zaris. Add some gotas, sequins, or metallic embellishments if you want to. Use a lot of imagination and suit yourself.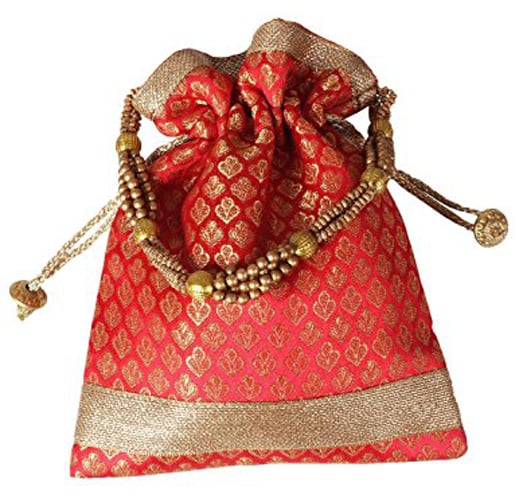 12. Home Décor
Last but not the least are these completely innovative home décor ideas. It's a clever way of giving your home a festive look by adorning it with the royal Banarasi drape. If you are super bored of your old Banarsi saree, why not make cushion covers out of it. The vibrant fabric would make for great table mats, curtains, and sofa covers too. There is no limit to the many ways you can use your traditional saree to create a dream home.
Aren't these ideas super innovative and equally workable? Trust us, these are the easiest DIYs ever and the outcome will certainly make you pat your back with pride. Mix and match is the ultimate mantra. Make sure to buy enough craft material like ethnic laces in gold and silver, matching buttons, zips, and silk threads before you start working with the Banarsi sarees and giving them a fresh lease of life. Tell us your creative story about how you reinvented your old Banarsi saree in the comments section below.
Images Source: pinterest