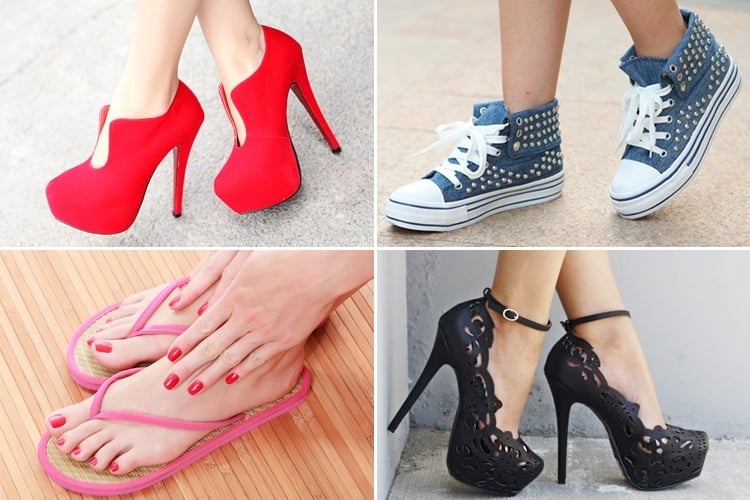 Any fashion conscious women simply cannot have enough footwear! If diamonds accessorize our ensemble and give any women that extra oomph, shoes are no less! No ensemble, however terrific can look complete and impeccable without proper footwear. It should be in accordance with your entire clothing and ooze out your personality and right impression! Thus every season, we hog to collect the latest footwear even though most of us are completely unaware of the shoe lingo.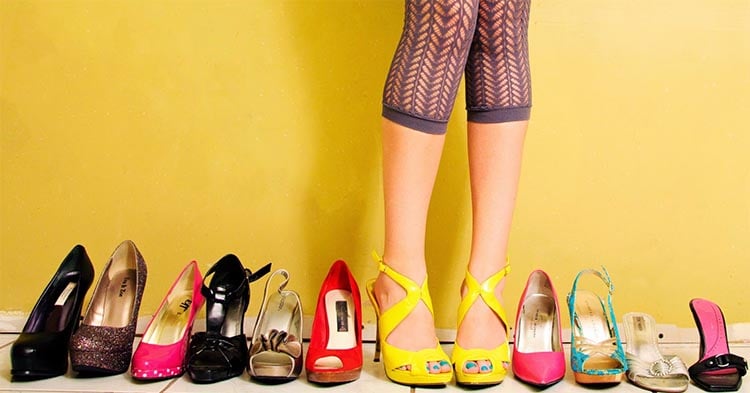 Different Types Of Footwear
To help ease the issue, we go ahead and help you understand different footwear for different purpose. Become an expert and invest in right footwear to take your entire personality vibe to a new plane!
Pumps
Considered the LBD of the shoe world, a statement pump is a must have to add that extra edge to your party portfolio. These heeled shoes cover the foot from back, front and sides, leaving the top open. Normally with heels of two to three inches and sometimes with pencil heels, they are commonly crafted from leather, fiber or thick cloth in various designs and patterns. Amongst various different types of footwear, they can match with almost any feminine clothing ensemble and amp up your sophisticated and utterly feminine vibe! Getting a basic black suede or leather pumps and if possible a second pair in nude would almost complete your footwear mandatory needs for both casual and party purposes.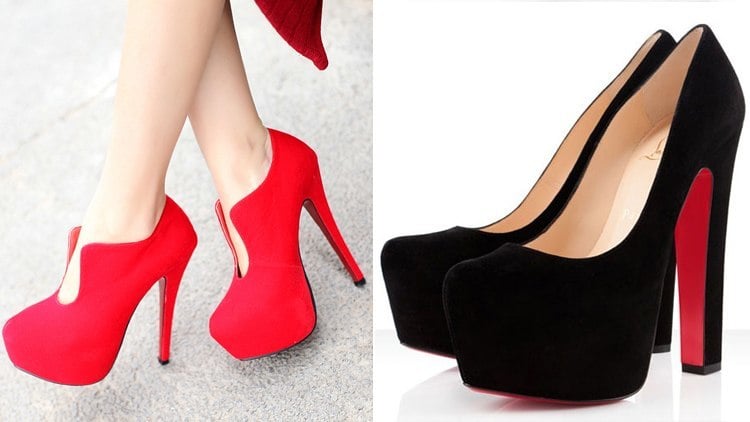 Stilettos
A high street fashion footwear, these sport the highest heel which can go up to 8 inches. It's long and narrow heels resemble a very slim heel post and looks similar to stiletto knife. If, by any chance you are height challenged and wondering what footwear to wear; stilettos are the perfect choice! A point to note here is that it may prove problematic to walk in them and you should have sufficient practice of walking into it. Moreover, they should not be worn for a long time as they can actually cause quite a strain on your legs. However they look extremely glamorous and sensual for any rocking parties!
[Also Read: White Sneakers Trend]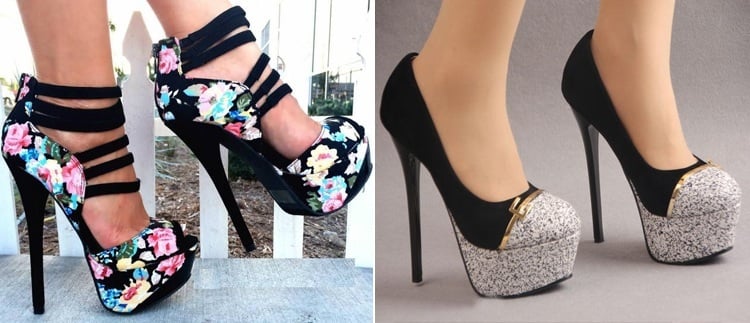 Ankle Strap Heels
Available in varying heel heights, these feminine shoes have straps going around the ankle. Because of this, the heels get quite secure and these shoes are highly comfortable to walk around. These are also available as flats. These are terrific footwear to adorn on a daily basis to office, college or any other sophisticated event. They seamlessly elevate your style to add that extra oomph factor without any compromise on your comfortability. When striving to complete your collection of different footwear for different purpose, remember to add a couple of these of varying heights to suit any occasion.
[sc:mediad]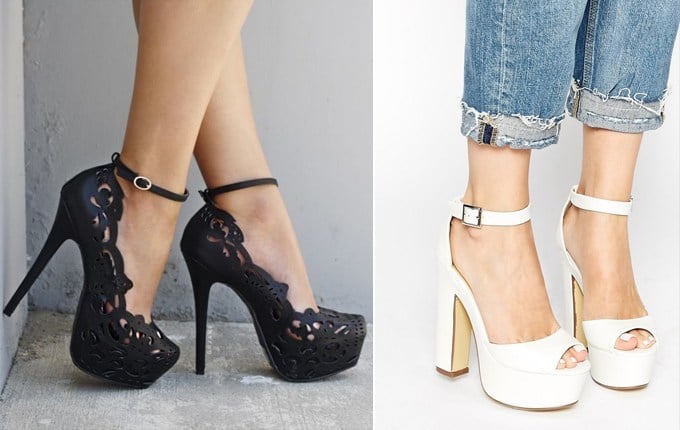 Sandals
No fashion conscious woman can survive without a pair or two of terrific sandals! Available as both flats and heels, they are available in a plethora of designs and varieties suitable for both casual and formal occasion. For those of you looking to get updated with different types of footwear with names, the most popular sandals are gladiators, flip-flops, and Birkenstock. Undoubtedly, flip-flops are the most common casual sandals, perfect for beach, running errands or simply to wear while moving about in the house. Gladiators in contrast are ideal formal wears which can be worn to office or any formal parties.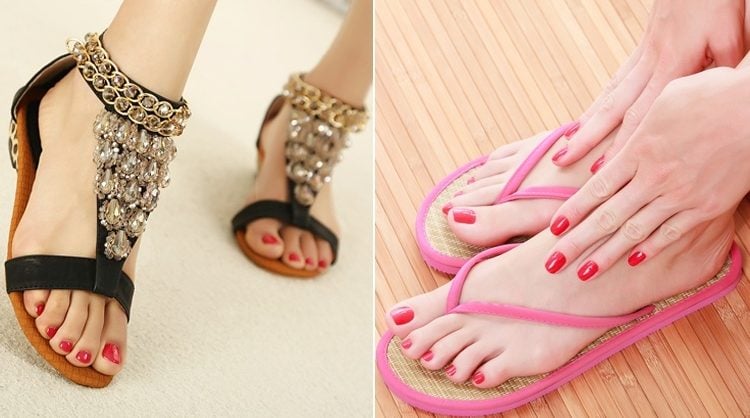 Ballerinas
Want to give your feet rest from heels! Opt for statement ballet flats which are extremely versatile and look very chic and adorable on any feminine legs! Regarding styles, materials, colors and designs, the sky is the limit here! Whether going to work, shopping, travelling, hanging out or any other casual occasion under the sun, they can be your ultimate choice. Featuring very low and flat heel, these are very stylish and comfy slip-on addition to your footwear collection.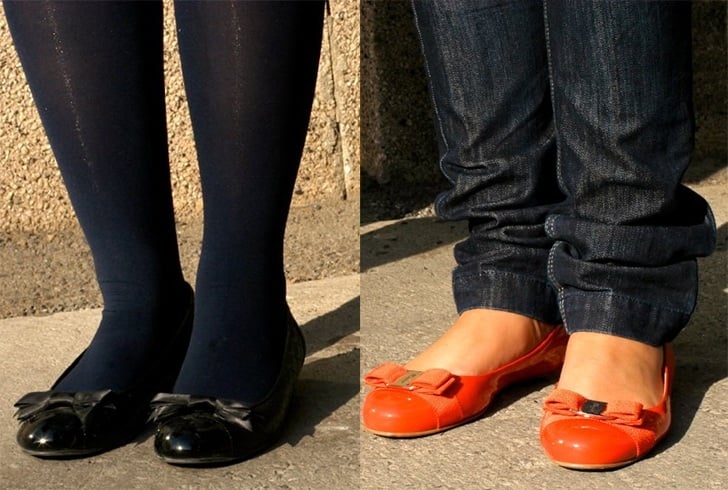 Sneakers
Mostly crafted from leather, rubber or canvas, these casual shoes are a must have for sweating out in a gym or running around! These provide terrific support to your arches and provide a real barricade against injuries. When on a walking expedition or long travelling, these are the ultimate choice to lend you both style and super-comfort! Make it your blind choice for occasions when you need to be on your feet for disgusting long periods! Your feet would love you for it!
[Also Read: Yellow Footwear Trend]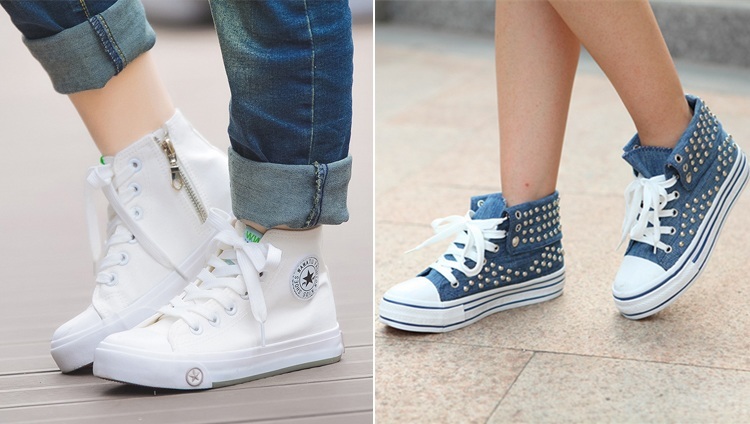 There is much other different footwear for different purpose like dancing shoes, wedges, boots, oxfords, espadrilles, rain boots and numerous other varieties. Depending on your specific requirement and needs, get the appropriate footwear to enhance your style quotient! Share with us your favorite footwear and why so by writing in the box below. We would love to be a part of your experiences!
Images Source: pinterest