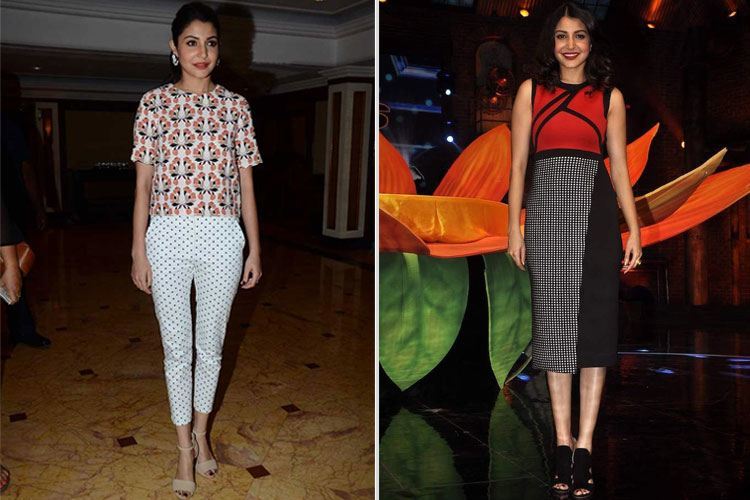 Anushka Sharma has always been girl next door. You could always connect to her style at a very normal non-celebrity level. We guess, that's the part of her charm – where she wears normal clothes (which we can wear as well) and styles them so normally (like any college going girl would do) and then smile at the camera's like she's the only girl in the world.
Her 'Band Baaja Baraat' style was so popular that we can still spot girls embracing that style. While promoting NH10, Anushka went with lots of blues (she was bleedin' blue guys! *wink wink*) and now, while promoting Bombay Velvet, she's taking chic to a new level!
Here's what she wore so far!
At the Press Meet
This is the most dreaded time for every celebrity! Facing the press can be so unnerving. Why? Because their questions don't have any filters and they ask you about anything and everything irrespective of the relevancy. But did Anushka Sharma flinch? Not a chance! In her Zara separates, she rocked the entire event with a dazzling smile! We just love everything about this outfit! The footwear, the earrings – Actee, the dark, perfectly manicured nails, the on point make up, the fabulous hair! Uff, need we say more? This look is every college girl's dream!
[sc:mediad]
India's Got Talent
While on the sets of 'India's Got Talent', Anushka Sharma opted for a Tanieya Khanuja number. The red and black theme, though a little dull for someone whose that fair, worked very well on Anushka. It could probably be the lighting or the entire dark ambiance but she looked so 1980's actress. Maybe she was dressing for her character? But whatever the motive of intention, she looked fab! The dark lips and kohl lined eyes looked fantastic on that dress and we couldn't have asked for something better!
A big shout out to Allia Al Rufai, her stylist for both these events. You did a wonderful job girl!