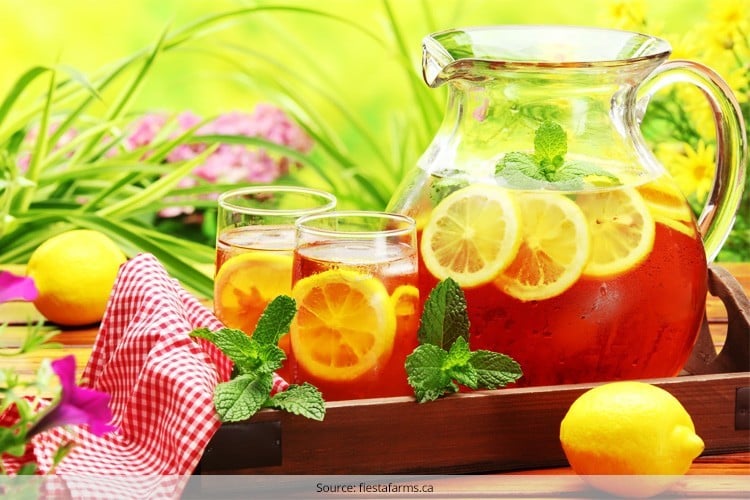 This summer, if refreshment is on your mind, the options are several and chilled as can be. Soft drinks (you can't include hard drinks in this list, puhlease), coconut water, shakes and yes, the bubbly and lovely iced tea.
Iced tea is a healthiest drink that works as a thanda splash on the sun-tired skin. It is rich in anti-oxidants and minerals that keep a check on calories. It cuts down on the consumption of coffee and helps in the system flush too.
[Also Read: Reasons to Stay Away from Caffeine]
So, what stops you in going for it or making it for yourself when your friends are coming over? Get some diet chips, avocados, or peanuts and get started on mission iced tea. Hurray!
Rules for making Iced Tea
First and foremost thing that you need to bear in mind is that iced tea is all about minimum sugar. So there will be fewer calories and more of thirst-quenching and fun.
1. Tea Bags
For every 3 cups of water, use 2 tea bags. Stronger teas such as Green Tea, Darjeeling Tea or Jasmine Tea make well-flavored tea when served cold.
2. Adding Sugar to Water
All of us have our own preferences while having tea. If you want a sweetened tea, add some sugar to the hot tea so that the grains dissolve. If you prefer to have it sweetened after the tea is made, then add syrup instead of sugar granules (so that the granules don't stay back in the glass).
3. Avoid over-steeping
If you would like to go for stronger tea, use more tea bags instead of increasing the duration of steeping time. If your heart is on sipping weaker tea, then reduce the steeping time.
4. Before refrigerating, cool
Never make the mistake of putting hot tea into a fridge as that will make your tea cloudy. Patience works so allow your tea to cool down before you put it in the refrigerator.
5. Real lemons
The true flavor of an iced tea comes when you add freshly squeezed lemon juice to it. Stay away from putting artificial lemon juice as that will only spoil the show.
6. Freshness
Want to serve iced tea fresh? Then make it fresh. This is what will bring out the true taste of iced tea rather than keeping the balanced tea in the fridge and then drinking it after batches. All questions on how to make iced tea are answered below:
Homemade Iced Tea recipes for you to Enjoy
1. Chai Iced Tea Recipe
Ingredients:
6 cups whole milk or unsweetened almond milk
¾ cup honey syrup
8 small black tea bags (such as Lipton with paper and string removed)
8 crushed green cardamom pods
8 crushed allspice
8 crushed peppercorns
8 cloves
3 star anise
2 cinnamon sticks
1 vanilla bean, split lengthwise (seeds scraped and reserved)
2inch piece ginger (peeled and thinly sliced) – 1 no.
½ crushed whole nutmeg
Procedure:
Take a saucepan and put all the ingredients mentioned above in 6 cups water
Allow it to simmer, and remove from heat
After 10–15 minutes, pour it through a strainer into a pitcher
Serve hot or chilled
Store in refrigerator keeping it covered for up to 1 week
More Iced Teas for you
Here are some more iced teas to include in your gossip sessions with your friends and dates:
Classic Iced Tea Recipe
Ingredients:
4 English breakfast teabags (or equivalent if using loose tea)
2 cups boiling water
2 ½ tbsp honey
1 cup iced water
2 cups ice cubes
juice of ½ lemon
1 lemon, thinly sliced
Procedure:
In a teapot or heatproof jug, brew 4 tea bags in 2 cups of boiling water for 5 minutes
Remove the tea bags then add the honey while the water is still warm
Leave to cool, then transfer to a serving jug / pitcher
Add the iced water, lemon juice, ice cubes and lemon slices
Serve in glasses with a sprig of mint if desired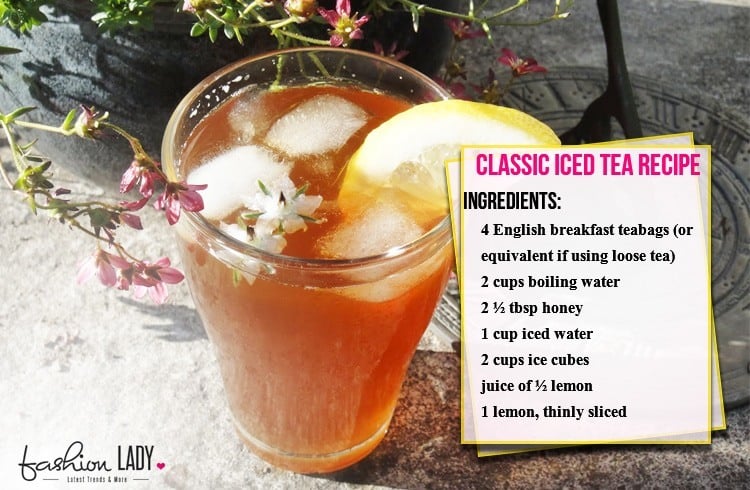 [sc:mediad]
Jasmine Lime Iced Tea Recipe
Ingredients:
40 oz of filtered water
10 generous tsp of Jasmine Jazz Full-Leaf Green
5 Tbsp of agave nectar
1Tbsp freshly squeezed lime juice
Procedure:
Bring 40 oz of filtered water just to a boil
Place 10 generous tsp of Jasmine Jazz Full-Leaf Green in a glass iced tea pitcher, add boiling water and infuse for 3 minutes
Remove tea and allow to cool
Add 5 Tbsp of agave nectar and 1 Tbsp freshly squeezed lime juice
Garnish with fresh lime slices, and serve the tea-limeade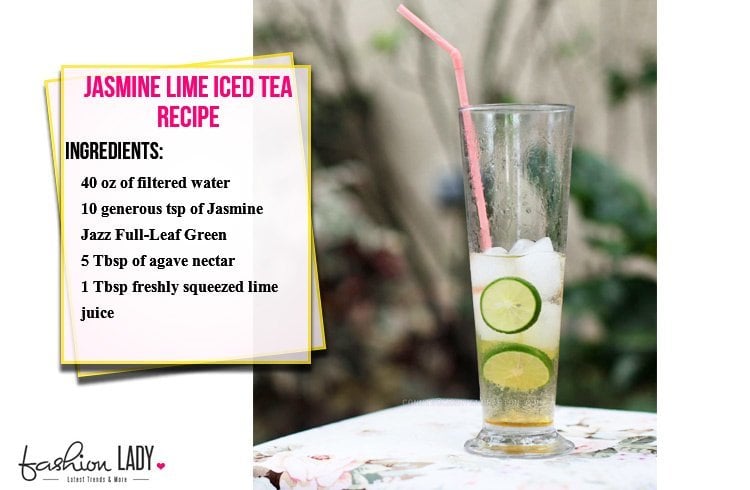 Cranberry and Cinnamon Rooibos Iced Tea Recipe
Ingredients:
6 rooibos tea bags
80ml (1/3 cup) light brown sugar
3 cinnamon sticks, roughly broken
1 litre boiling water
1 litre cranberry juice
a lemon, sliced
30ml lemon juice
1 red apple, sliced into thin wafer rounds
mint, to serve
blueberry ice cubes
Procedure:
Place the tea bags, sugar and cinnamon in a large, heat-resistant jug
Pour the boiling water over and stir through until the sugar has dissolved
Set aside and allow to steep for at least an hour or until cooled to room temperature
Remove the tea bags and discard. Add the cranberry juice, lemon slices, lemon juice and apple wafers
Chill for several hours or until completely cold
To make the ice cubes, fill an ice tray with water and add your favourite fruit and a sprig of mint before placing in the freezer. When ready to serve, half fill a tumbler with ice, a little extra mint and top up with the iced tea. Enjoy!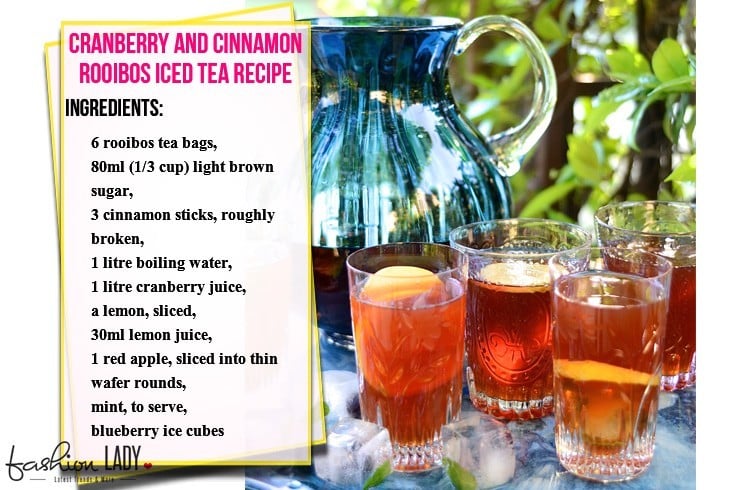 Apple & Honey Iced Tea Recipe
Ingredients:
3 cups water, boiling
4 tea bags
1/3 cup honey
3 cups apple juice
Procedure:
Steep tea bags in hot water for 5 minutes
Strain out tea bags, and stir in honey and juice
Mix until honey is dissolved
Chill and serve over ice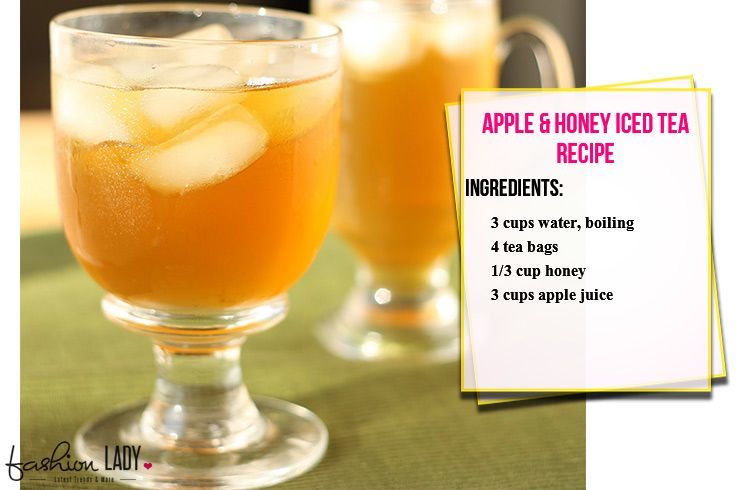 Easy Apple Chamomile Iced Tea with Honey Recipe
Ingredients:
750ml chamomile tea, brewed
250 – 450ml clear apple juice
80ml (1/3 cup) passion fruit pulp
Mint to garnish
Instructions
Procedure:
Brew 750ml chamomile tea and allow this to cool
Add the apple juice and passion fruit pulp and chill
When its cold, serve over ice and add a few sprigs of mint to the glass for garnish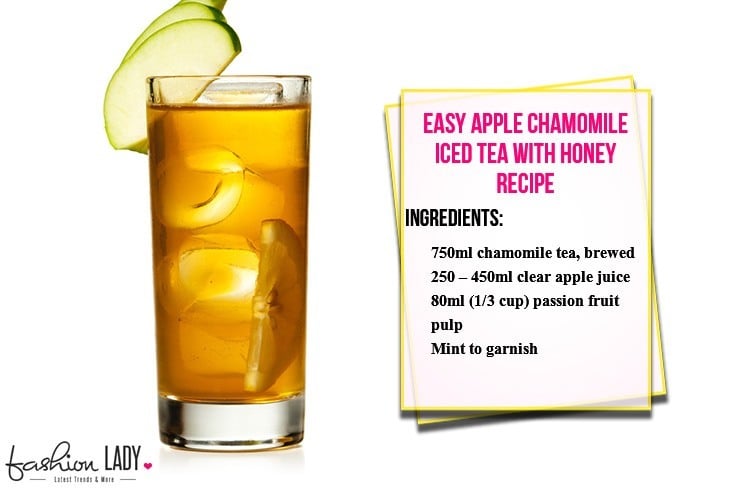 Orange Mint Iced Tea Recipe
Ingredients:
Tea leaves – 1 tsp
Water – 1 cup
Sugar – 2 tsp
Orange juice – 1 cup
Lemon juice – 2 tsp
Mint leaves – 2-3 sprigs
Ice
Procedure:
Heat water in a pan and add tea leaves, 8-10 mint leaves and sugar
Let it boil and then simmer for a minute
Remove from heat and cool for 10 minutes
Fill a tall glass with ice till top
Add a few mint leave
Pour 1/2 cup orange juice and 1/2 cup tea
Add 1 tsp lemon juice
Garnish with orange slice
Serve immediately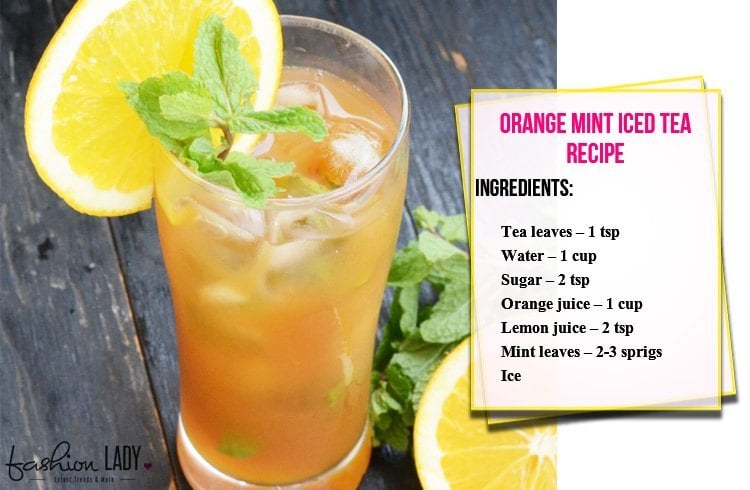 Hibiscus Mint Iced Tea Recipe
Ingredients:
4 hibiscus tea bags
1/2 cup fresh mint leaves
4 cups boiling water
2 cups apple juice
2 cups cold water
Ice cubes, for serving
Mint sprigs (optional)
Procedure:
In a large heatproof pitcher, combine tea bags, mint leaves, and boiling water; steep 10 minutes
Discard tea bags and mint
Add apple juice and cold water; refrigerate until cold
Serve over ice with sprigs of mint, if desired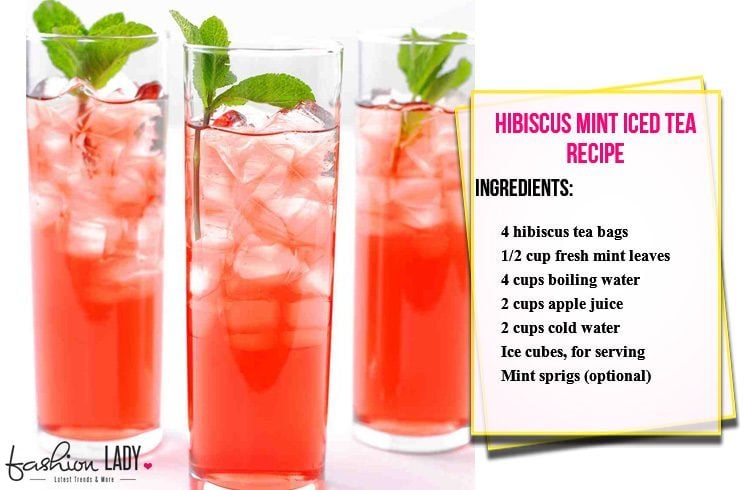 Start making these summer sippers and see how the soaring temperature vanishes away by the sheer excitement and thrill of these.