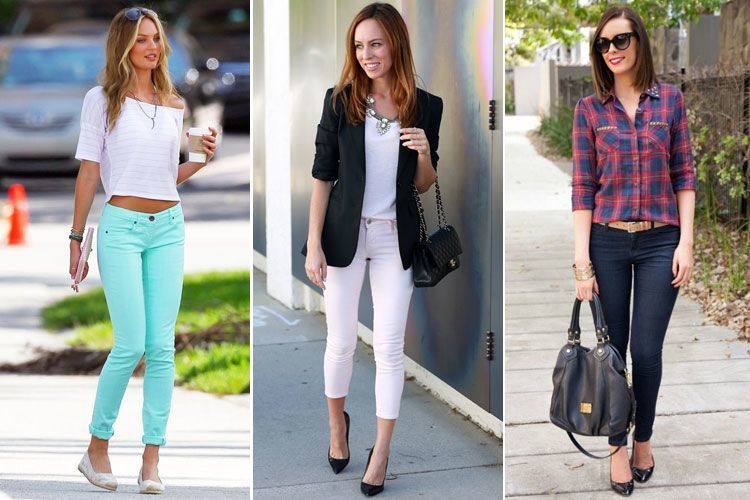 Top model Natalia Vodianova had commented in front of her audience at London's 2012 Vogue Festival saying "It's better to be skinny than fat".
When it comes to wearing skinny outfits, cropped culture in the form of cropped jumpers, cropped t-shirts, cropped pants, cropped denims is becoming so popular that it is almost sucking everyone. Wouldn't you like to wear it the right way and be loved? Let us check out how.
[Also Read: How to Wear Crop Tops!]
Cropped Pants
There are ways in which you can make out your cropped pants look super chic. Getting the perfect pair is one of them. One that has the perfect fit, length and style to flatter your figure. Here are some tips on how to wear cropped pants and look fab, not flab.
The right length – This is the first thing you need to look for in a pair of cropped pants. Ideally speaking, cropped pants should show a third or less of your legs from the knees to the ankles. Try it out and you will surely look a few inches taller than you actually are. If the length goes more than this, it will either make your legs look short and stubby or make you give an old aunty look. If you're designing your own cropped pants from an old pair of regular pants, then roll the cuffs up first and find out the best length which suits you before you start to cut and sew it up.
Pointy toe shoes – Short height doesn't mean the end of the road in wearing cropped pants when you want to look tall. Pointy shoes are there to make you look taller than before. Asking how? Well, they 'extend' your legs, making them look longer and more slender.
[Also Read: How to Style Patterned Pants]
Bright colours – Looking for a fun way to spruce up your outfit? Add a pop of bright and vibrant colours. It' will help make your cropped pants cooler and hippier.
Wear prints – Thinking of adding detailing to your cropped pants instead of the plain bold colours? Try out wearing printed cropped pants. It would be a nice way to add a casual street going style to your outfit.
Cropped Tops
Super cool, sexy and everyday staple, cropped tops make just the right piece to pair up with your bottoms and even accessories.
There are many ways in which you can wear and pair your crop top with. The best part about a crop top is that it can gel well with almost any body type.
[sc:mediad]
Before you buy a crop top, keep some basic tips in mind on how to wear it in your everyday schedule.
Stand straight – The fashion rule is to sit straight and walk straight. Good posture would not only help you look refined as ever, it would prevent any unflattering angles that happen from crouching forward with your shoulders looking slumped.
Wear everything else conservative. In the mission of wearing a cropped skinny in the form of a crop top, chances are your cleavage is going to show. Make sure that your midriff, under-butt, and all other potentially naked zones get covered.
[Also Read: Chic Sweatpants Styles]
Loosen your hair locks – Look the cool in crop tops when you have a low unruffled ponytail hanging over your shoulders. It takes minutes to make it, goes with your natural texture is, and gives you the no-fuss perfect look for summer.
Now go ahead and rock the trend by wearing cropped skinnies the right way, if you want the right kind of claps and whistles pouring in.