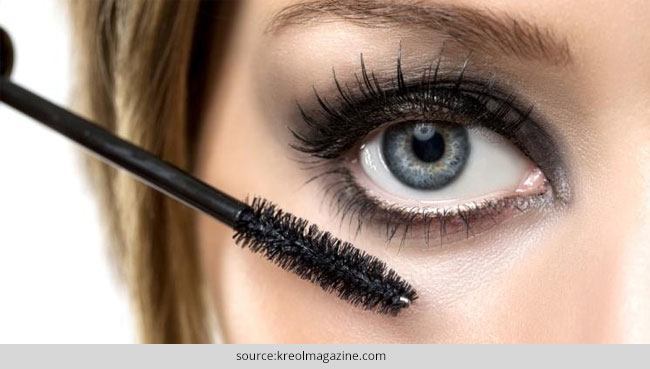 You can see mascara bloopers everywhere! Though it is an instant glam option for many women, most do not really know how to put on mascara the right way. A wrong mascara application will take you from hero to zero in seconds! Yes! The right mascara application is very essential for a good look. It is the easiest and the cheapest way to look fresh and awake in a jiffy, provided you know how to apply mascara the right way. So, if you want to play by the book and look glam all night, you have to avoid these mascara mistakes. You have a chance to polish up your skills on applying mascara the right way.
1.Coats and More Coats:
Yes, we get it. Those fluttering eyelashes and those batting lids can look gorgeous but too much is not always better. Piling on your mascara coats isn't going to give you amazing lashes, but instead you will be stuck with gooey black residue at the end of the day.
Mascara Rule: No more than two coats and that's it! Too much coating is social murder! You don't want to look like a hot raccoon do you?
2.Pumping Up That Wand:
Another big misconception is the fact that pumping up the wand will give you a lot more volume. But contrary to popular belief, it can dry out the mascara faster and you will end up with clumpy lashes again!
[Also Read: How To Fix Dry Mascara]
3.Toss that old wand!
Most women put their health at risk by using expired makeup products. Old mascara is bad news for your lashes. Not only is it a breeding ground for germs, but it will also not be able to give you that affect you are looking for! The germs that are breeding on your wand can give you red eyes, itchiness and even styes! So, if you think your mascara is old, it's time for you to throw it away!
4.Curling Lashes AFTER:
For the perfect set of eyelashes, you have to curl your lashes BEFORE using mascara. Curl your lashes and then apply the mascara. The trick is to use the curler on clean, mascara-less eyes. The work of the mascara is to hold the curl after you are done using the eyelash curler.
5.Applying on top before bottom:
[sc:mediad]
This is a cardinal sin and almost all women seem to do it! So what really happens when you apply mascara on your top lashes first? It's science people! The still-wet mascara on the top lashes will smudge! So always apply mascara on your lower lashes first. If you do mess up, then you can wait for the older mascara to dry and then you can flake it off with the help of a cotton swab.
6.Superficial application:
You can apply mascara coats to your eyelashes, but don't forget the most important part! You have to cover your roots too! If you don't, you will end up with shorter looking lashes. Women with shorter lashes should be extra careful while using mascara. The correct way it should look like after the mascara application is given in the picture below.
7.Dab the excess off:
You may feel that using too much mascara on your lashes will give you a thicker set of lashes. Unfortunately, it doesn't work that way and if you don't wipe off the extra product before starting your regime, you would be heading for some big no-show! Clumpy, spider lashes are very common with most wrong applicators. Make sure you wipe your wand so that you don't end up with them!
Every makeup junky would know the above mentioned quick eye makeup tips. But if you don't know the right method, you may end up looking like a raccoon! So get your basics right and keep the above pointers in mind for the right look!