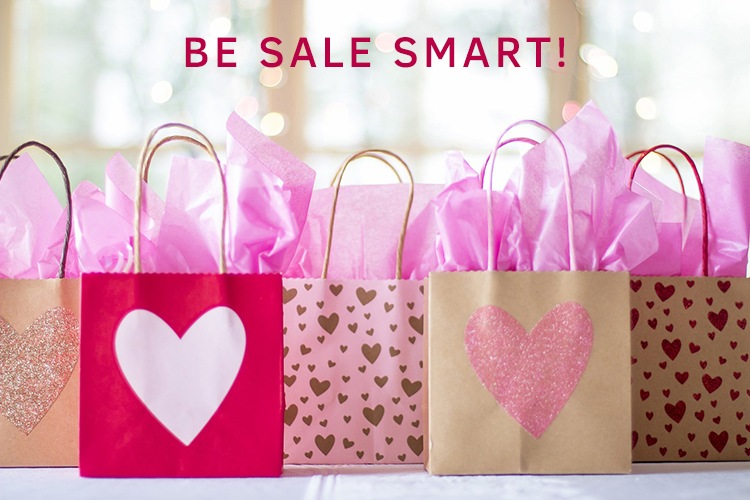 Sales, discounts, price drops, markdowns – they are everywhere these days. From the booming ecommerce websites to social media pages to our favorite stores and brands – everyone out there is enticing customers with price slashes.
Whether it is because of the impending changes in taxation rules, or the much-awaited off-season discounts, mid-year Sales have already made an entry – leaving us awed by the mid-boggling variety. With fascinating reductions available on almost everything, most of us can't help over-spending.
Do we always buy the right stuff, in the face of such maddening allure, though? Well, not always. Many times, the actual purpose of Sales – i.e. saving money – is wasted. And, what we end up with is – heaps of useless stuff, plus tonnes of guilt – all of which makes us feel bad. Isn't shopping meant to make us feel good and relaxed? Another reason to avoid going crazy during Sales! Is that really possible, though?
Whatever we may say or however ascetically we may promise (ourselves) to behave in the face of the splendid temptations – Sales eventually get to us. Well, we can't miss out on such splendid offers too. Can we? Not really, but we can always plan ahead – be measured, calculated and smart, so the Sale blunders are lesser (there will be some, anyway). Here are a few pointers that can help make the most of your lovely shopping sprees –
1. Make a List
There may be hundred or thousand people or articles, already telling us the same thing – but that doesn't take away the need to emphasize this all-important point. Making lists does two things – it gives us time to reflect and re-collect – and it acts as a good reference, when we need it later. So, get down to it, before hitting the stores, or going online. If nothing else, it will ensure that you don't forget to buy the most important stuff.
2. Segment – what you 'NEED' 'Want' 'desire' 'like'
I needed a pair of high quality black and beige leggings, but last sale season, I forgot to buy it – as I went about collecting knee-length dresses and tops. Has that happened with you too?
Classifying is very important! There is a beautiful Urdu quote that goes like this, "Hazaron khwahishein aisi, ke har khwahish pe dum nikle…bahut nikle, magar phir bhi, mere armaan kam nikle". Desires are unending – and temptations abound. But, we can't have it all! So, it is important to prioritize.
If a wedding is approaching, yours or someone else's, don't forget to make use of the alluring discounts – even if the wedding ceremony is slated for a few months down the line. Wedding sarees, bridal lehengas, festive suits are heavy and pricey purchases, and markdowns are a great way to save on these rare wears.
3. Consider all aspects – fashion/ clothes, shoes, bags & luggage, work-wear, upcoming wedding/ functions, gifting, kids-wear, other accessories, home stuff – bed linen, towels, crockery, dry groceries etc.
We all love looking great, so for most of us, fashion, clothing, shoes feature the highest on the lists, when the Sales hit. But, in the rush to grab the enticing trends and latest styles, we often forget that our lives also have other components. Chances are these too are on discounts. For example, towels, hair accessories, belts, handkerchiefs, socks, thermal-wear, little gifting items, toys, knick-knacks – are often available at great bargains, during off-season discounts. Do you forget to buy these, like I do!
Revisit the previous pointer – and prioritize! However lovely a dress may seem, it will not double as running shoes for your next half marathon. So buy those trainers first, if you 'need' them.
4. Invest in Classics first
Another simple, overstated, yet oft-ignored rule! Leggings, jeans, handloom silk sarees, smart office-wear suits, kurtas, everyday lingerie, black jerseys, under-shirts, gym pants, office shoes, corporate-wear shirts – classics that are least likely to go out of fashion for starters, and the ones that would go with almost all sorts of looks – even a few years down the lane. Fads are tempting – and are the ones stores try to clear off during sales, because they are likely to go out of fashion – soon. Remember that!
5. Zero down the choices/ brands/ store before – and go there first
You love a certain brand, an e-store brought you lots of happiness last time you shopped from there, a certain store's merchandise always fits you extremely well – keep all these on top priority, when the discounts start pouring. Always go there first, and visit at the earliest – so the best pieces are still on offer.
6. Prepare before you hit the stores – comfy clothes, comfy shoes, eat light
So, finally the day has dawned, when you are hitting the stores. Well, it helps if you are prepared, because, there will be a lot of other people like you – who are going to fight it out to grab the best offerings. Dress up in a way that will allow you to quickly change in the trial rooms. Don't layer a lot, or otherwise you will get tired, when you have to try on the clothes. Any way, it's not easy to get access to trial rooms, when the Sales are on. Plus, many stores have a policy of only 3 or 5 garments at one go – in the trial rooms.
You will also, invariably, need to walk a lot, whether it's in a market or at a mall. Be prepped, and go in comfortable shoes. Shopping after a full, greasy meal is also not a great ides, For starters, you may feel bloated, and secondly, you won't really feel in the right mood. Do take a nice coffee and sandwich break, in between, though.
[sc:mediad]
7. Rope in a trusted shopping partner/ pal
It helps, because opinion matters. Plus, when you have a trusted aide by your side, you will also feel happier and relaxed. Chatting and shopping are the best therapies in the world, they say! This trusted ally – your mum, friend or anyone else – should also be able to 'stop' you, when you go overboard. Don't forget to help out this person, in return, when they shop!
8. Avoid the Rush Hour – shop on a week day, if you can
Restless energy of too many people milling around gives an (albeit not useful) adrenaline rush – thinking logically is out of question. Plus, we all hate to stand in the long queues on billing counters, or worse, outside the trial rooms. And, those pulling-on-the-same-dress fights – nasty! This makes shopping stressful and time-consuming, so if possible, take time out on a week day – or early on a weekend – to avoid the rush hour. You will think better, when shopping in calmer settings.
9. Don't forget the fringe benefits – that come with memberships, deals, happy hours, credit/debit card offers/ points
Discounts and reductions are great, but if you still can squeeze out a little extra – what's the harm! Store memberships can help you save 3-10% extra, which, at times, is good enough to nullify additional charges of some taxes. Online Sign Ups and registrations help you earn points and rewards, every time you shop. There are happy hours that let you get even greater bargains. Bank tie-ups of some stores let you enjoy additional savings – if you use their card to pay, that is. Take advantage!
10. Go Online
Last but not the least, Online sales and discounts are the best, when you wish to browse endlessly and get the best bargains. The overheads are lesser for online retailers, so they are better equipped to offer higher markdowns. Plus, the choice is endless. You don't have to worry about the shops being open – e-world offers 24 X 7 convenience – so it's great for working professionals, new mothers, ones in smaller cities or remote areas etc.
Equipped with these smart pointers, hit the stores and have fun!