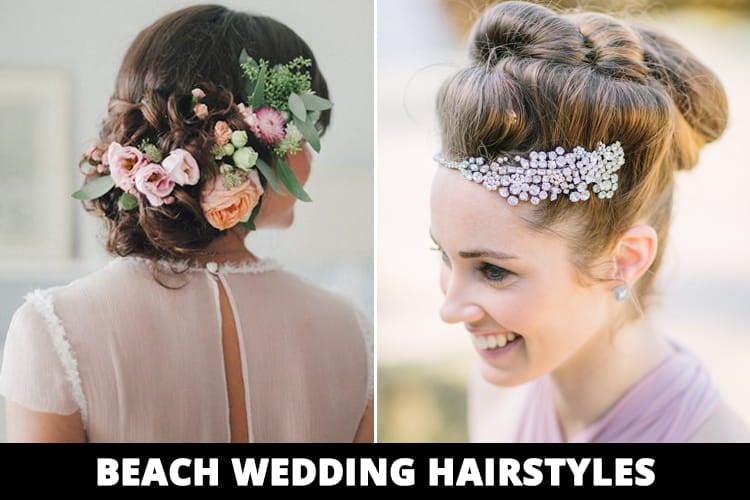 Are you getting ready for your dreamy beach wedding? Lucky! While most of your wedding beauty routine may be revolving around laidback ideas, since you know, sunshine and sea breeze is enough to set you glowing, make sure to give an extra thought to your hairstyle.
This is the place to start right off: our 20 breezy beach wedding hairstyles perfect for a beach wedding, all of which will maintain their striking aura through high winds, humidity, and whatever adventure comes your way. Note that these hairstyles can also be suitable if you are acting as a bridesmaid or the guest of honor at the wedding, too. The entire look is timeless, so you never feel bored to look back on your wedding photographs in the future.
Beach wedding hairstyles for medium length hair and short hair and long hair:
1. Beachy Waves
The sexy beachy waves are one of the popular choices for beach wedding hairstyles. The hairdo is built up on texture, using right products for preventing frizzines or flatness, once your waves make it outdoors. If you get this right, the texture is perfect to carry any beautiful day at the beach. Beachy waves are great for any hair texture and hair length. If you have fine hair, make use of a good plumping mousse over your locks, to allow your hair the needed thickness and volume.
2. Gorgeous Bun
Do not worry about creating a polished bun. If you start off with creating a sleek chignon, the high winds will only lead to more flyaway. Instead, you can try a messy bun and create more texture. Allow the sweet wisps from coming loose for a more natural finish.
3. Bohemian Braid
Anything braided, like a bohemian braid, for example, can only get prettier with a little wind-swept finish. This will look terrific. With this hairdo, you can also incorporate smaller braids with half-up hairstyles. Also, try out full-braided up-do for a perfect beach wedding hairdo look.
4. Sea Accessories
If you are looking for beach wedding hair ideas, then a loose curly hairdo has the casual beach vibe and is exactly what you need to look pretty. The addition of a nautical hair piece can enhance the spirit of freedom, suited for all beach weddings. You can go for colorful pebble-like beaded hair accessories or sea star hair clasp for the perfect finish.
5. Low bun with Tropical Flowers
A sleek, low, side bun will keep your hair in place, even when they're facing high shoreline breezes. With that, you can also add fresh tropical flowers. Select from white orchids or any white or bright flowers as an accent. A voluminous curly knot at the nape, completed with a large flower next to your ear, can only add to your beauty.
6. Side Twists
Few wispy curls and side twists help keep your hair away from your face. This can allow you to carry on with the ceremony without any hassles.
7. Fancy Headband for Short Hair
Short hair will look stunning, even on a windy day at a wedding. A simple short hairdo with straight silky tresses and fancy headband can make a terrific idea. This hairstyle is feminine, classy, and elegant, minus the short hair length.
8. Princess-like Curly Hairstyles
Most girls would love this idea of a princess-inspired wedding hairstyle. The wedding is the day where the bride looks the loveliest. Princess-like curly hairstyles comes with elongated curl shapes, which beautifully complement your forehead, cascading naturally over your shoulders or swept away on one side. You can finish the look using a hair accessory that compliments your princess look.
9. Neo-classic hairdo with a curly side pony
A hairdo with rich tresses, gathered into a loose side ponytail, is absolutely essential for a beach wedding. This simple and gorgeous hairstyle is a perfect beach hairstyle you can do for weddings.
10. Mermaid Look
The stunning mermaid look is simple to create on the base of long curly braided hairstyle. For this, you will need to create bouncy curls from medium shaft to ends and a Dutch braid as a headband to finish. You can choose makeup with an accent for your eyes to finish the look.
[sc:mediad]
11. Greek Messy Updo with a Chain
Greek messy up-do is another hot favorite beach wedding hairstyle. These updos come with an intricate interweaving of twists and curls implying the creation of double headbands. Finish the hairdo with a chain, as shown in the image, for a more creative feel, other than using a normal headband.
12. Tall Updo with Rolls for Both Thick and Thin Hair
French updos are a common choice for weddings. Similar to this, is the tall updo, which has a more natural and bohemian feel to it. You can add in a delicate hairpiece that complements with the beach setting. Try to go for accessories that are relatable with the theme of the wedding.
13. Lace Braided Updo for Medium Hair
If you are planning to make a stunning entry to a wedding, then this updo will work for you! The hairdo is demure yet attractive, and is sure to wow everyone. To create a similar hairstyle, you will need few tools, like sectioning clips, rat tail comb, small hair elastics, u-pins, bobby pins, and light-hold hairspray. Divide hair into two equal parts. Braid one section into a lace braid and repeat on the other side. Secure the braid ends using hair elastics. Take one of the lace braids and secure it on the opposite side using bobby pins. Tuck in the ends of the braids using u-pins. Finish off by styling or spritzing light hold hairspray.
14. Part Bohemian, Part-Surfer Girl Inspired Perm
The 90s perm look is back, but this time, it is more relaxed. For instance, this part bohemian and part-surfer girl inspired hairdo. This casual beach wedding hairstyles is perfect to carry to the beach during a wedding. To create the look, you will need a large barrel 1.5 curling iron for creating loose curls and comb them out. Then make a middle parting and take two pieces from each side of your face to create a rope braid. Secure it using clear elastic and wrap small hair pieces around the elastic to hide the band. Then, loosen the rope braid using your fingers for a more natural and effortless feel. Finish off by attaching small flower pieces matching your bouquet.
15. Eye Catching Fishtail Braids
Simple beachy waves on ombre hair, ending with spectacular fishtail braid works well for a beach wedding. For creating this hairdo, take large sections from the lower ends of your hair and curl it using curling iron. After that, clamp out the ends to give your waves a more casual look. Then, take the top half of your hair to create fishtail braid, by using your fingers to pull out the outside pieces of your braid. You can try these in several sections for making your braid appear fuller and voluminous.
16. Looped Braid with Mini Bun
The best part of this beach wedding hairdo is that a couple of flyaways are perfect to make your look even more authentic. To create the hairdo, spritz hair using dry shampoo. Then run a curling iron through your hair and comb it to loosen up the waves. Create a loose ponytail with the top half of your hair and make a braid at the bottom. Secure the ends using clear elastic and loop the braid into a mini bun. Tuck in the ends using elastic or bobby pins. Allow wispy pieces of hair to fall naturally into its place for adding more appeal.
17. Curly Updo with One-Tier Wedding Veil
One-tier wedding veil is usually weightless and light. They tend to highlight your beach wedding hairstyle in a better light. So to match your wedding veil, opt for a loose curly messy updo or a low bun. Since loose updos never lose trend, be sure to go with the trend.
18. Dreamy Waves with Sparkly Vintage Hair Clip
This hairdo is a rendition of Hollywood inspired red-carpet ready look. We absolutely adore these dreamy waves with sparkly vintage hair clip hairdo. And this can be easily translated into your bridal diaries as well. To create the same look, run a flexible hold mousse over damp hair starting from roots to ends and comb through the entire length of your hair. Blow-dry your hair making use of a ¾ curling iron and curl in one-inch sections. Spray each section using hairspray before you curl. If you want to add more volume to your hair, just massage through your scalp and try not to run your fingers through the curls.
19. Sweet And Simple Textured Braids
Seaside nuptials are less formal and more laidback. So for this type of wedding, you can choose a more laidback hairdo. For instance, this textured side braid is understated, romantic, and is simple to style. Allow the pieces to fall loosely and finish off by wrapping small sections of hair around the elastic for the perfect bridal look.
20. Two Thinly Plaited Braids and a Bun
If you are obsessed with unique updos, then you can try these two thinly-plaited braids on either side, with middle parting. Tie into a low bun. You can wear your veil over your bun or tie a lacy ribbon for an intricate finish.
So these are our pick of top 20 breezy beach wedding hairstyles. We hope you too love them as much as we did. Do share us your thoughts in the comment box below. We would love to hear from you.