You must have come across several ads of the very versatile and multifunctional baby oil. Though none of them depict how baby oil is an absolute treasure for adults, they are specifically marketed for the tiny tots. But don't dismiss baby oil as a baby product, it really has much to offer to you and me, beyond being an absolute must for your baby.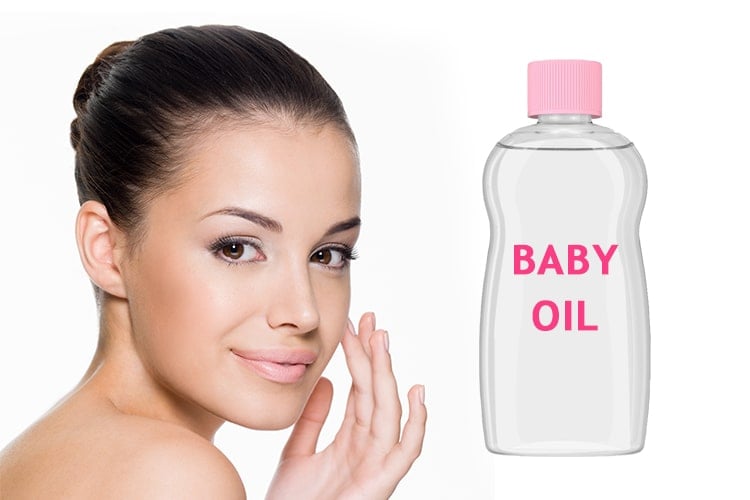 What Is Baby Oil?
Essentially, baby oil is 98% mineral oil and 2% fragrance. Mineral oil used in baby oils is transparent, highly refined, purified colorless oil, composed mainly of alkanes and cycloalkanes. It is related to the common petroleum jelly, derived when crude oil is refined.
Despite what you may have heard, mineral oil comes with a lot of benefits for your skin and hair, and the fact that baby oil is specifically marketed for the most delicate beings should be enough for you to dismiss false claims about mineral oil being unsafe. Mineral oil is regulated by FDA, and is completely safe for you and your baby.
If you do not like the fragrant version, opt for odourless baby oil, which will be a bit thicker than the normal baby oil.
Is Baby Oil Comedogenic?
By itself, mineral oil is non comedogenic in nature, meaning it does not clog pores and cause acne or breakouts. Molecules of mineral oil are quite large to get penetrated into the skin, so they just stay on the skin's surface.
But, if you have acne, you may wish to avoid using baby oil because it tends to create a barrier on your skin that prevents the leakage of moisture. This may cause your acne to spread because you have fed your skin with more oil.
Benefits Of Baby Oil For Face:
Your face is the first thing that everyone notices about you, and that is why there is an entire industry catering to making your face look good. A healthy, glowing skin can put expensive cosmetics and makeup to shame, and the glow is unmatchable. You can make use of baby oil to achieve healthy, hydrated and well-maintained skin, and make your face look good even without makeup. Here's how-
1. Use Baby Oil To Hydrate Your Face:
A hydrated face exudes glow like no other, and no makeup product can match it. Baby oil is your go-to hydrating agent because it locks the moisture intact, making your face look shiny, bright and hydrated, and of course, healthy.
2. Baby Oil As a Makeup Remover:
Removing makeup before you hit the bed is one skin-care regime everyone swears of. Removing makeup prevents breakouts, acne, wrinkles and makes your skin healthy. If you do not wish to spend heavy amounts on buying makeup remover, just dab a clean tissue with some baby oil and remove your makeup with this. Follow up with a warm water face-wash routine and your skin will thank you.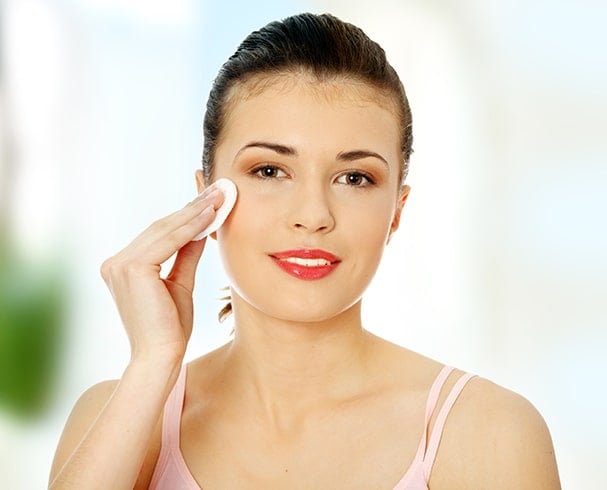 3. Baby Oil To Clean Makeup Brushes:
Using clean makeup brushes is another important aspect to take care of your skin. Every other week, dip your makeup brush in a little baby oil on your palm and rub it gently. Grim, dirt and all makeup clogged in the brush will come out. Rinse with warm water, press gently and let the bristles dry naturally. Your cleaned and conditioned makeup brushes are ready.
4. Scrub Your Lips:
To get beautiful and soft pink lips, make a scrub using baby oil, sugar and a little lemon juice. Use this scrub on your lips, massaging gently. Wash and dry your lips and they will turn glossier, softer and pink! Use this remedy in the night when you don't need to apply lipstick on your lips.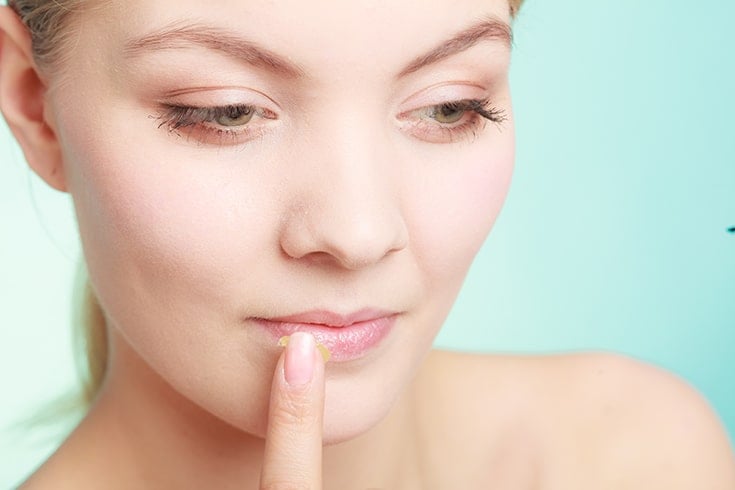 5. Use It In Your Makeup Routine:
Looking for a tinted makeup look? Just mix some baby oil in your regular foundation and you have it! Glossy eyes? Dab some eye-powder in a little baby oil and you are good to go. Dry mousse in your dresser? Mix up some baby oil and use it as normal. There are more than a few ways baby oil can come in handy for everyday makeup use.
6. Keep Your Face Moisturised With Baby Oil:
Dry skin or eczema is a common problem during winters, and in areas where it snows and is chilly and dry all the time, baby oil can come to your rescue. Apply a little baby oil on your still damp face after a bath and your face will remain hydrated the entire day. If you are skipping shower, mix equal quantities of water and baby oil and massage on your face for 2 minutes. Fresh, as ever.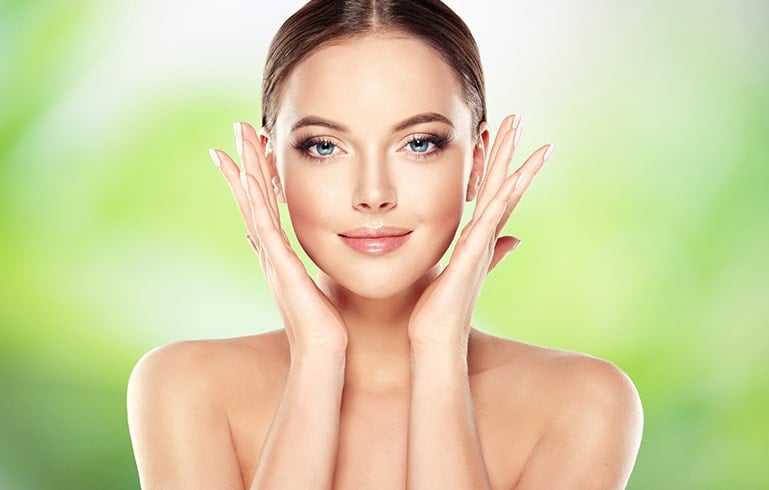 7. Tame Your Eyebrows:
Eyebrows outline your face, and give symmetry to those eyes of yours. To highlight them in a shaped way, touch your eyebrow brush with a little baby oil and dip in some light eye-shadow. Use the brush to create a faux shape beneath the last line of eyebrow hair, and watch them lend a sharp look to your face.
8. Use It As Eye-Makeup Remover:
If you don't want to dab whole of your face with baby oil, just use it to easily remove your eye-makeup, no matter how long you have been wearing it. It will remove the makeup while making your eyes feel refreshed without getting it into your eyes.
Precautions When Using Baby Oil For Face:
Though baby oil can play a key role in giving you a healthy, glowing and shiny skin, it needs to be used with caution under the following conditions-
1. It Can Cause Tanning:
Baby oil reflects the ultraviolet rays of the sun, so it may tan your skin if exposed. However, it causes your skin to absorb UV rays deeply into the skin, which can cause serious burns.
2. Baby Oil And Sunburn:
Baby oil attracts the UV rays of the sun, so never go out in the sun after applying baby oil. Always use a sunscreen to save yourself from harmful rays of the sun.
3. Acne Due To Baby Oil:
Acne is caused due to excess buildup of dirt and grime in the skin pores, and because baby oil locks the moisture in, it could worsen the skin condition.
[sc:mediad]
Other Uses Of Baby Oil For Skin:
As a shaving cream: Replace your regular shaving cream with an application of baby oil and your razor will just glide by.
Baby oil as body moisturiser: You can use baby oil as an after-bath moisturiser to keep your skin healthy, soft and supple.
Using baby oil for frizzy hair: Say hi to great looking hair by dabbing some baby oil in a tissue and using the tissue to gently massage the ends of your hair. Style as usual – you will have no more bad hair days.
Heal cracked and sore heels: Before you go to sleep, massage baby oil on your cracked feet and put on some socks. Wake up to soft feet.
As a post waxing care lotion: After a waxing session, get rid of the stickiness by massaging some baby oil. It will also keep your skin free of rashes.
Baby oil is generally safe for all types of skin, but benefits normal to dry skin the most. Discontinue the use if you notice redness, rashes or face any other discomfort due to using baby oil.