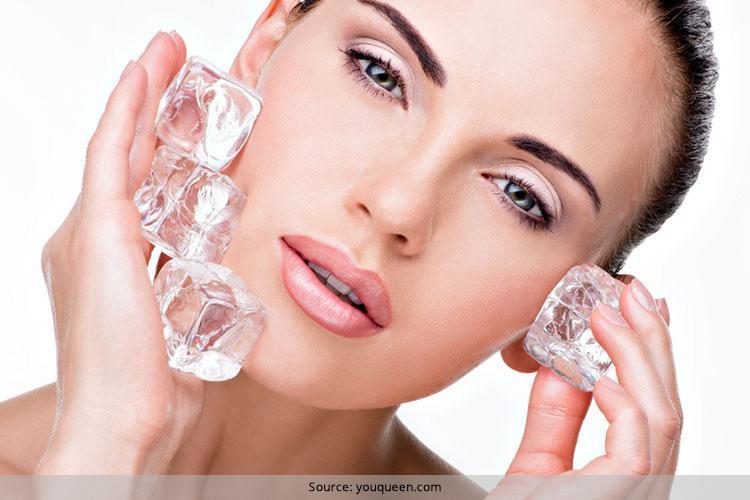 Summers mean gulping thanda chilled water, and sipping ice lemonades with your kith and kin. But what use is drinking iced water when your skin is battling with sun at its scorching high. Just like your body system, your skin needs a thirst quenching too.
Heard of dunking your face in ice water and ice cubes? This is no funny thing or straight out of an adventure comic. The trick of washing face with ice cold water gives you a glow like a million bucks. All you need to do is fill up a bowl with cold water, put some ice cubes in it, push your hair back, and dunk your head in this thrice at an interval of 10-30 second. And, bingo. This is the start of benefits of ice cold facials – the cool way to smoother skin.
[Also Read: Get Glowing Skin With Different Ice Cubes]
Tips on Washing Face With Ice Cold Water
Question is how do cold facial treatments stand against an average spa facial? While the hi-priced facials may target only one issue with your skin, the ice facial can fix a bunch of issues in just a few minutes. Which is why, it is seen as the best quick-morning tip to getting fabulous skin.
Whenever you start the ice cube trick, remember to wrap the ice cube in a paper towel. Because applying the cube directly to your skin can make delicate blood vessels to break.
Let us have a quick look at benefits of ice cold facials and find out how it can help you gain tremendously from it.
De-Puffs Eyes
Busy woman you are, and time-pressed, balancing work duties, relationships and social life. In all likelihood, you are missing out on the required eight hours of sleep. While tea and coffee might perk up your brain, it is a short term gain.
When you do a quick dunk into a bowl of ice in the morning hours, it is enough to rid you of the puffiness that creeps under your tired eyes.
Eases Out Skin Redness
Facing a sunburn or a bad reaction to a skin cream? Avail of rubbing ice on face benefits. Not only does it ease out the redness on your face, it evens out all your weird undertones as well.
[Also Read:  Best Facial kit]
Tightens The Skin
When skin pores open up, the process of downfall has begun. Shrinking them is not a smooth task then, but for ice facials in which cold water tightens skin pores, thereby giving your face a smoother look.
[Also Read: Here's How You Can Use Ice As Your Beauty Secret]
Fights Wrinkles
Talk of glowing skin, and wrinkles are last on your mind, even when we are in our thirties. Instead of investing in expensive wrinkle creams to prevent ageing lines, dunk your face in ice water instead. It will fight lines on your face and keep your skin smooth too.
Hides The Hangover
It might be good to party out at night once in a blue moon and drink like a fish. But sweetie the hangover will show up on your face the next morning. Splash ice cold water on your face and get back to the routine and happening life as it is a cool way to smoother skin.
[sc:mediad]
Makes Your Face Look Clean And Fresh
When you use this morning trick of ice cold water on your face, you will swear with the results of rubbing ice on face benefits. Because it instantly gives you the feeling of a clean- looking face.
Remember to rub an ice cube after you have cleansed your skin. Stroke it across your forehead, under your eyes, across your cheeks, chin and neck in upward movements. In fact, many celebrities and models do this at night to tighten skin pores and refresh their skin.
Hope you got a hang of benefits of ice cold facials. Tell us when you are starting it.