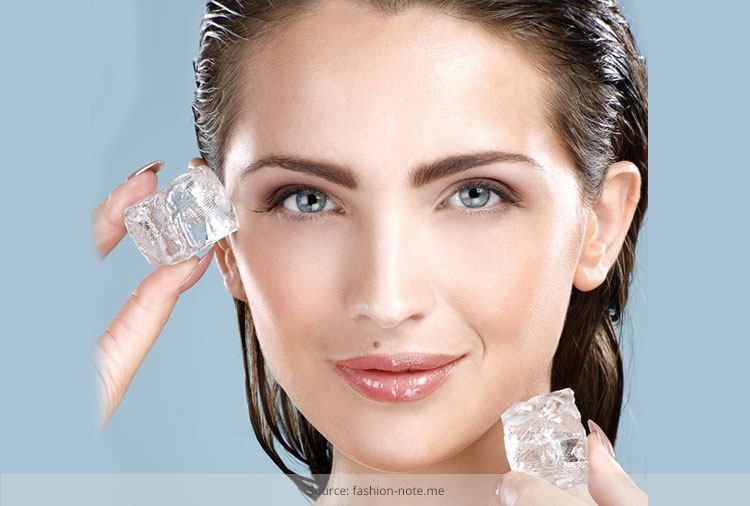 Did you know that you can use ice cubes for other than just plunking them in your drink? One of beauty's well-kept secrets is using ice cubes! Who knew they would come so handy. We have some icy-cool beauty tips to use this summer. So don't just freeze your ice cubes for your drinks. You can really make a difference to your skin by freezing ice-cubes mixed with certain items. So if you are wondering how you can use ice as your beauty secret, let's read on to know:
1. Your To-Go Make-up Rescue:
So you don't have time for your makeup regime? Don't worry; ice cubes have you covered. If you want to have a radiant skin before you go out, just rub some ice cubes on your face. This will give you an instant dewy and fresh look. Also, if you use ice cubes on your skin before you start applying makeup, the makeup is going to stay much longer.
2. Green Tea Ice Cubes:
Don't be surprised! Green tea can be put inside ice cubes and they can instantly reduce puffy eyes! So after a long day at work, you can put green tea ice cubes on your face. Not only will it reduce puffy eyes but it can also help in removing dark circles. The green tea will also help keep your skin oil-free for the rest of the day.
[Also Read: Ways To Re-Use Green Tea Bags]
3. Oily Skin Rescue:
If you have oily skin, you can whip up a nice ice cube concoction to keep the oil at bay. You can freeze calendula, sage and yarrow infusion and use it on your skin at least twice a day. You will notice quite a difference and also a lot of your acne will be pretty toned down.
4. Milk Ice Cubes:
For dry skin, this is the ultimate Holy Grail. Milk ice cubes can cleanse your skin and at the same time also moisturize them pretty well. Massage the ice cubes onto your skin till they melt and let it sit on your skin for at least 20 minutes. Wash it off with lukewarm water and feel the difference!
[sc:mediad]
5. Scrub-a-dub:
Never thought of ice cubes doubling as a scrub right? Well you are wrong because ice cubes can also be used as a scrub for some really squeaky clean skin. Puree some cucumber; add some lemon juice and honey. This ice cube is great for removing tan too. Gently massage on your skin and let it be there for at least ten minutes for a good effect.
6. Aloe Vera Ice Cubes:
Aloe Vera as we all know is an amazing healer. Put that in ice cubes and you have an even better and colder healer! It can soothe an insect sting or it can even help soothe sunburn. Freeze aloe vera in ice cubes and use it for any scratch or burn. Believe me, it's an instant relief.
7. For Dry Skin:
Summers are the time when most of us are plagued by dry skin. But don't worry because ice cubes have got you covered! You can easily use a concoction of chamomile, parsley and mint to combat dry skin in the summers. Make sure you rub the ice cubes for a long time for the concoction to actually go into your skin.
[Also Read: What Happens when You Ignore Dry Skin]
8. Lavender Fruit Massage:
Just drop some lavender oil onto ice cubes and rub them on your face when you feel a little tired. The aromatic oil is a very good relaxant and can remove blood circulation and also reduce fine lines!
Ice cubes are thus amazing ways to combat the summer blues!