Hairstyles can make or break our look. In fact, it is as important as beauty and grooming. As kids, most of us grew up reading the story of Rapunzel – the girl who let down her long hair for her prince to come and rescue her. Arabic hairstyles will keep you hooked when you learn how fascinating and awesome they can look. Are you excited already? Go ahead and check out this post!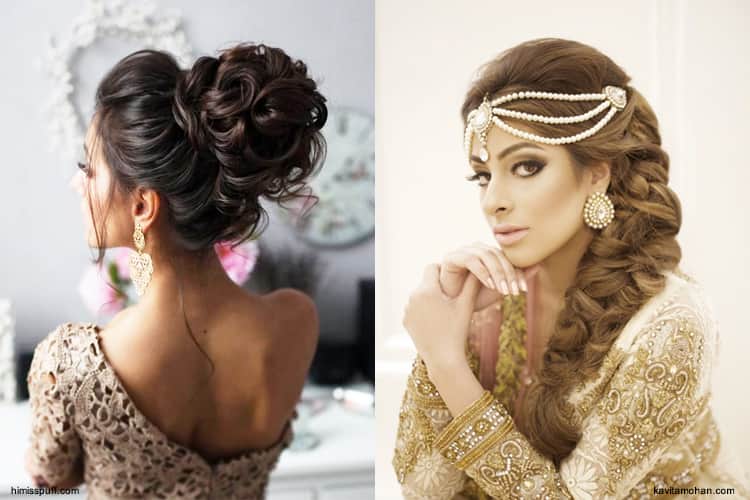 The options in Arab hairstyles are varied. From straight hairdos to curls, buns to updos, browse through the list and pick a beautiful Arabian bridal hairstyle to match your personality and occasion.
Most Popular Arabic Hairstyles:
Tempting, exciting, gorgeous, captivating. One will run out of words when it comes to describing Arabian nights hairstyles. Go ahead and select one that will help you steal the show.
1. Tantalize With A Top Knot:
This is one of the hottest Arab hairstyles that virtually adds panache to your crowning glory. In this hairstyle, a bun sits prettily on top of the head, while you are free to set the rest of your hair as per your whims and fancies. It is a fun, quirky and creative hairstyle all rolled into one literally!
2. Make A Subtle Style Statement With A Simple Bun:
The simple bun hairstyle is still popular and trendy, given the fact that it has no frills. Comb your hair and arrange it at the back in the form of a neat bun. A simple bun can enhance your elegance and feminine charm.
3. Rev Up Your Retro Charm With A Voluminous Bun:
This is one of the most popular Arab hairstyles for brides. It can add volumes to your hair and beauty. It can also help you ooze some vintage vibes.
4. Look Spectacular With Soft Curls:
This Arabic hairstyle for long hair is universal in its appeal. If you have poker straight hair then adding curls to your hair ends can give you the dream mane makeover. The romantic charm of this hairdo makes it a perfect choice for a date night!
5. Go Glam With A Half Up Half Down Curly Hairstyle:
This is one of the most glamorous Arabian nights' hairstyles that will make everyone say 'Wow'! It is good to go option for young girls and brides. Just straighten and style the front hair with a mid parting and bangs. Pin the remaining hair behind the crown. Curl the mid-lengths to hair ends and let your hair down so that the final result is awe-inspiring!
6. Be The Cynosure Of All Eyes With A Jewelry Hairstyle:
Jewelry used to adorn our hair is not something unheard of. In the past, many brides and fashion savvy ladies have dressed up their hairs with jewelry. It is an innovative way to flaunt your jewelry collection and turn heads at the same time!
7. Grab That Attention With Loose Waves:
Hey, don't be under the impression that loose waves do not qualify for Arabic hairstyles for long hair. This is also another Arabian Nights Hairstyles 2020 idea that is topping the popularity charts. What is so special about this Arab hairstyle? Well, it is simple, sleek and stylish. It is just at the bottom loose waves are arranged to make you look chic and beautiful. This fuss-free hairstyle can be worn for any kind of event. What more do you want?
Arabic Hairstyle Tutorial:
Check out a step-wise tutorial on Arabic hairstyle for long and medium hair.
Steps To Be Followed:
Take a readymade hair bun.
Bring few tufts of hair from the front and tie them at the back.
Put an artificial bun at the back using hair pins.
Cover the bun with the loose hair strands.
[sc:mediad]
While making the bun, arrange a few hair strands in wispy locks pattern.
Keep coiling the hair strands so that they seem resting in front of the bun.
You will see multiple floral patterns forming a circular shape from one side of the ear to another.
Check out the video to know more:
Hope you enjoyed reading this post on hairstyles inspired straight from Arabian Nights. What are you waiting for? Go ahead and try them today and get ready to be flooded with a deluge of compliments.
Tell us your favorite Arabic hairstyle from the above list. You can also go ahead and share your recommendations in the comments box with other hairstyle enthusiasts. We would love to hear from you!