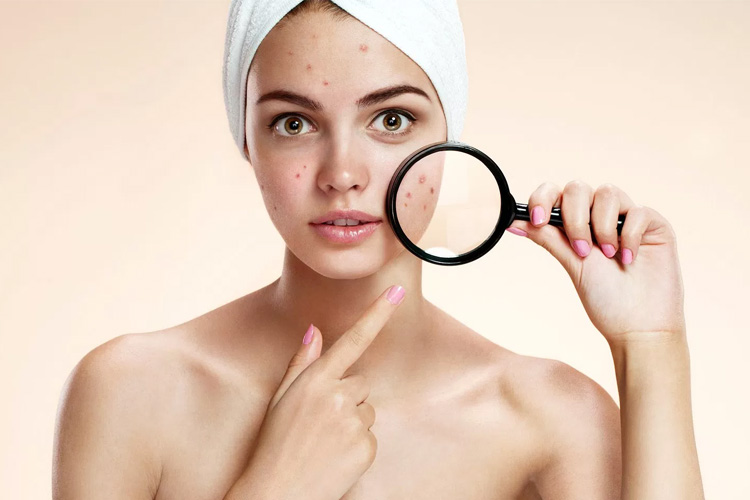 Two things for a girl are stubborn – pimples and acne. Acne, in particular, dents both your visage and confidence. Even if you are wearing a hot-looking LBD, acne marks can dampen your spirits. The good news is that Best Benzoyl Peroxide Acne Treatments can magically make your acne disappear for good. Sounds like a dream come true, right? Read on to know more!
This blog tells you everything you need to know – benzoyl peroxide for acne, benzoyl peroxide spot treatment, best benzoyl peroxide acne treatment, benzoyl peroxide wash. In short, everything about this best acne treatment – how Benzoyl Peroxide works against acne and how to minimise its possible side-effects.
What is Benzoyl Peroxide?
I hope you know that Benzoyl Peroxide is an "OTC" medication for acne easily available at your neighborhood pharmacy. It is a go-to product for fighting moderate acne along with other anti-acne ingredients like salicylic acid and glycolic acid.
Many international dermatologists opine that people of all age groups can safely use Benzoyl Peroxide to treat acne. Women can even use it during pregnancy to enjoy a blemish-free complexion.
Thank God!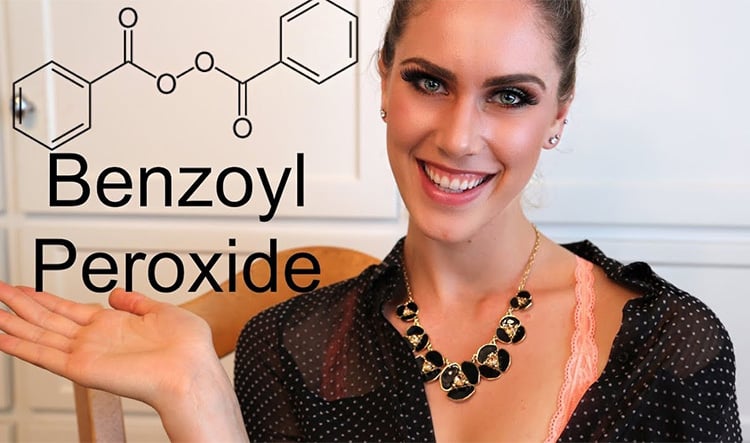 Why Is Benzoyl Peroxide Considered An Effective Anti-Acne Agent?
Call it rocket science or not, Benzoyl Peroxide effectively fights bacteria, treats inflammation and cleanses skin pores.
Any proof of this?
Yes, according to 'The Journal of Clinical and Aesthetic Dermatology':
"Benzoyl peroxide (BPO) has been an important component of topical therapy for acne vulgaris for more than five decades due to its ability to markedly reduce Propionibacterium acnes and inflammatory acne lesions and its ability to moderately reduce noninflammatory acne lesions."
Time Period For Acne Treatment With Benzoyl Peroxide
Don't expect a miracle to happen overnight. You just need to be a bit patient. Using a skin-care product with benzoyl peroxide for acne treatment can take almost a fortnight or more to deliver visible results. You can always switch to other anti-acne medications if you feel disappointed. Remember to look out for any burns, redness, swelling or peeling, dryness, itching and rashes – after using benzoyl peroxide for acne. Stop using benzoyl peroxide immediately if you experience any discomfort and consult your dermatologist ASAP.
The Right Benzoyl Peroxide Concentration
This is very important to know. You should use up to 2.5% to 5% concentration of BPO. As per a research published in The International Journal of Dermatology, a 2.5% dose of BPO was as effective as 5% and 10% concentrated doses to fight against acne vulgaris. So, avoid going for a treatment that uses a higher concentration of Benzoyl Peroxide to fight acne.
10 Best Benzoyl Peroxide Products For Acne Treatment:
1. Clean & Clear Advantage 3-in-1 Exfoliating Cleanser
This daily use scrub helps you exfoliate dead skin cells and unclog skin pores. This is a medium strength acne medication with benzoyl peroxide of 5% and microbeads. The "3-in-1" mentioned implies CnC Advantage Exfoliating cleanser removes dead skin cells, treats pimples and prevents future acne breakouts.
Best Suited For: Oily, normal and combination skin.
Pros
Good choice if you want fast relief from acne
Benzoyl peroxide of 5% banishes bacteria
Micro-beads gently slough away dead skin cells and unclog pores
Reduces pimple size and skin inflammations
Cons
This is not a shower-friendly product (can bleach your hair if you have colored it)
Not effective in treating severe acne
Additional Tips
Massage this benzoyl peroxide spot treatment gently all over your WET FACE, rinse it and pat it dry
Start off by applying it only once on your acne-skin. Then increase its application to intensify the treatment.
Never use it in conjunction with any other acne medication as it may cause skin irritation and dryness.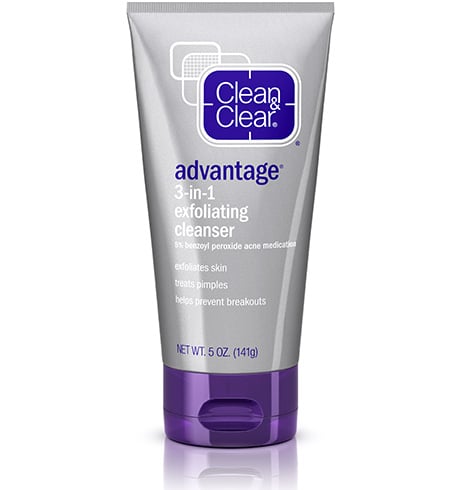 2. Derma Topix Benzoyl Peroxide Wash 10%
Meet this popular product that is an answer to both your anti-aging and anti-acne needs. Derma Topix is one of the Best Benzoyl Peroxide Acne Treatments with 10% Benzoyl Peroxide which fights the bacteria that cause skin inflammation like acne. The Aloe Vera extract in it helps to rehydrate your skin and eliminate any dryness caused by the strong chemical composition of the product.
Best Suited For: Oily, normal and combination skin.
Pros
Works best for adult acne
Effective in treating even acute acne conditions
Can also be used for treating body acne.
Cons
Not ideal for dry and sensitive skin
The product is not odorless
Additional Tips
It is advisable to use a moisturizer or coconut-oil based product along with this acne-treatment cream.
Use it daily to get best results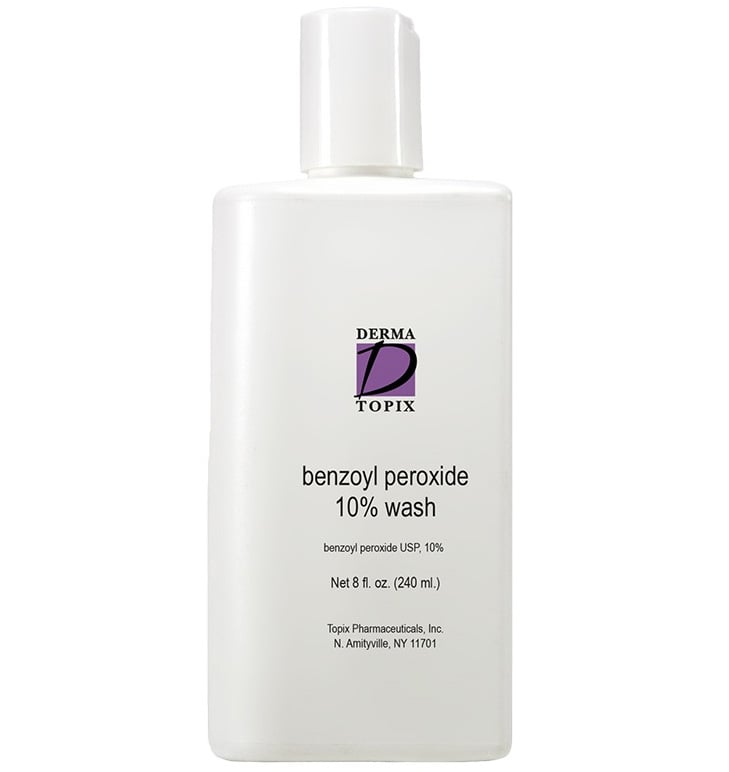 3. Humane Benzoyl Peroxide 10% Acne Treatment Body & Face Wash
This is the "Maximum strength" 10% benzoyl peroxide acne wash. It is the best acne treatment for fighting acute skin inflammation.
Best Suited For: Oily skin.
Pros
SLS, Fragrance-and-parabens free. Even cruelty-free!
Not only clears existing acne, it even reduces scars
Provides acne treatment for full body
Cons
Avoid using this if you have a sensitive skin type.
A BP concentration of 10% implies a high risk of experiencing redness, irritation and itchiness. Stop using this acne lotion if you suffer from these side-effects
You need to rinse your skin thoroughly after application to remove any residues.
Tips
Apply a little product and let it sit for 15 seconds at least
Rinse your face with lukewarm water
Use a moisturizer to hydrate your skin
Stepping outside? Use a Sunscreen with SPF30 or more.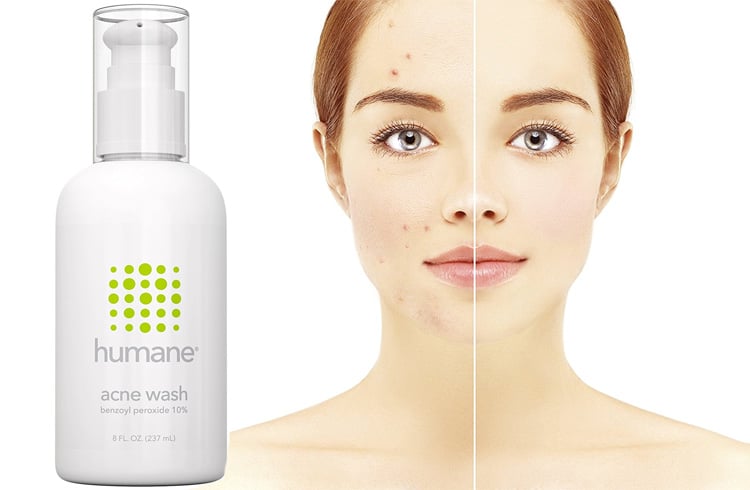 4. Neutrogena Rapid Clear Stubborn Acne Cleanser
Maximum Strength Benzoyl Peroxide Acne Medicine it is from Neutrogena. Good to be tagged as Best Benzoyl Peroxide Acne Treatments. Why? Because Neutrogena's Rapid Clear® Stubborn Acne Cleanser claims to be "Clinically proven to rapidly reduce size and redness of stubborn acne in just 1 day."
Best Suited For: Oily, normal and combination skin only.
Pros
Its deep penetration formula helps unclog pores
Effectively fights acute acne conditions
No prescription needed (but your acne is to be in the "severe" category if you have to use this best acne treatment)
Use it daily to reveal clean-n- clearer skin
Start with one application daily. Then increase it to 2-3 times daily (depending on the need and doctor's prescription)
Cons
A harsh product with strong chemicals can cause itching and irritation
Doesn't reduce the oiliness of your face completely
Additional Tips
A "patch" test is a must before you add it to your skin-care regimen
Use a sunscreen lotion after using it.
Moisturize your skin well after applying this benzoyl peroxide acne treatment to avoid dullness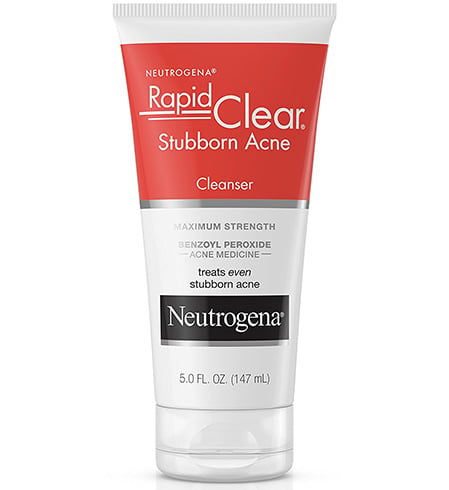 5. Clean & Clear Persa-Gel 10, Maximum Strength
Yet another product from the same brand on our list. And it is well-deserving when it comes to best acne treatment. The gel is a maximum-strength acne treatment with 10% benzoyl peroxide (BPO), this is the number-one pharmacist-recommended acne medicine. The gel immediately starts its work by releasing benzoyl peroxide deep into the skin pores to fight the bacteria buildup that causes pimples. Regular use can help keep your skin acne-free.
Best Suited For: Normal, oily, and combination skin
Pros
This strong anti-acne product can fight acute acne effectively.
Tackles other skin problems like pimples, whiteheads and blackheads too!
As you need to use only a little bit of the product at a time, so the bottle will last you for long.
Suitable for all age groups
Cons
Leaves your skin feeling dull and dry. So, always use a moisturizer after applying this acne-fighting cream
White traces may appear on your skin post application
It's not a gel per se, but a thin cream
Additional Tips
Clean the affected area and then apply the product lightly.
Begin using this product by applying it once daily. You can increase the frequency up to thrice a day.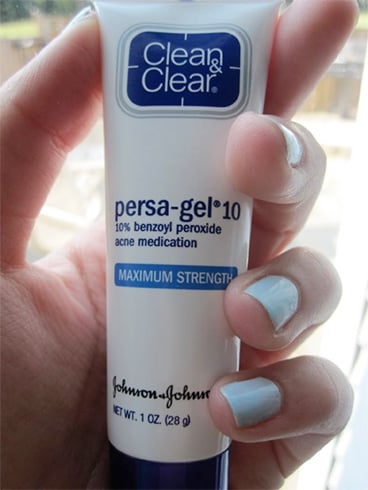 6. PanOxyl Acne Foaming Wash Maximum Strength
The name conveys it all. Being the best benzoyl peroxide acne treatment this foaming wash has the strongest composition with 10% BPO in it. It is rated as the #1 acne wash in drug class of trade/drug stores in the US.
Best Suited For: This brand of benzoyl peroxide for acne is suitable for normal, oily and combinations skins
[sc:mediad]
Pros
Appropriate for use on your face, chest, and back.
Works extremely well against stubborn acne
Prevents breakouts in future
Cons
Not recommended for dry and sensitive skin
Additional Tips
Keep this acne cream off your clothes as it can bleach them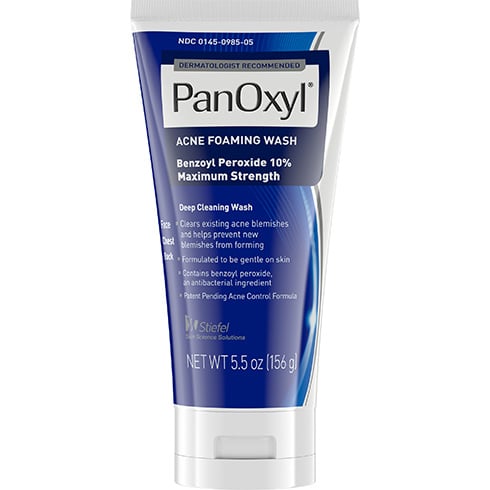 7. Claror Acne Treatment S1 With Benzoyl Peroxide (BPO) 2.5%
Clinically proven medication and BEST BENZOYL PEROXIDE GEL FOR ACNE! As confirmed by studies, the Benzoyl Peroxide in this acne treatment in the form of gel claims to destroy the pimple-causing bacteria instantly.
Best Suited For: All types of skin
Pros
Gentle composition with BPO of 2.5% concentration
100% safe to use on your skin. It is a Made in the USA product which is manufactured in an FDA approved facility.
Helps in getting a blemish-free skin within 30 days or has a money back scheme
The mild formula causes less irritation on the acne-prone skin as compared to products with higher concentrations of BPO and Laser Treatments.
Free from artificial colors, synthetic fragrances or ingredients from animals
Does not dehydrate the skin
Cons
Additional Tips
Use a moisturizer post-application of this product to rehydrate your skin
Start off with one application a day. Then increase it to two times a day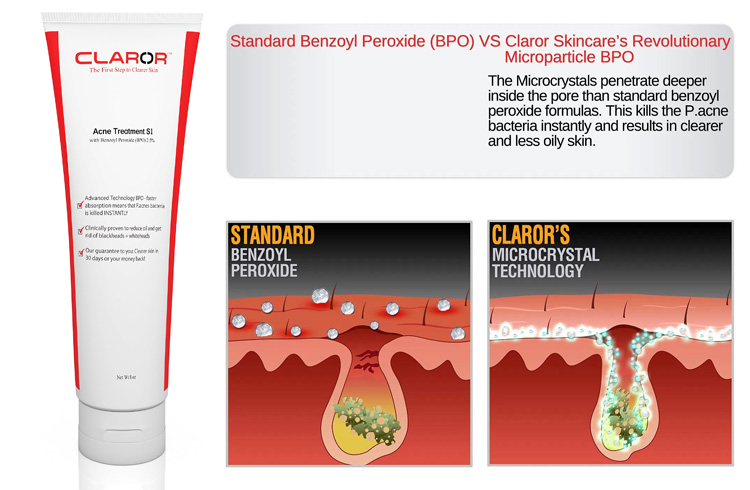 8. Neutrogena On-the-Spot Acne Treatment
"Vanishing Cream Formula"!! Aha…sounds interesting. This 2.5% Benzoyl Peroxide product is oil-free and non-comedogenic (won't clog pores) too. It is clinically proven to be an effective acne treatment on day 1 of use. It goes deep down into the pores to kill the bacteria that cause pimples. Also, helps prevents breakouts in future. This is a mild Benzoyl peroxide acne medication at work.
Best Suited For: All types of skin
Pros
Doesn't dehydrate your skin
Super-absorbent light-weight cream won't leave any traces behind
Cons
It's not a quick-fix acne treatment. To get visible results, you need to use it continuously for a while.
Additional Tips
Use it once daily in the beginning. Then slowly and steadily you can graduate to using it thrice a day or as directed by the medical practitioner.
Apply a sunscreen after using this product before stepping out.
9. Paula's Choice CLEAR Extra Strength Daily Skin Clearing Treatment with 5% Benzoyl Peroxide
This one is a prominent acne treatment serum from Paula's Choice. The BPO of 5% fights stubborn acne. Plus, it prevents future acne breakouts – whether it's on your face or on your body.
Best Suited For: Good for all types of skin
Pros
Free from synthetic fragrances
Good for treating stubborn acne, including cystic acne
Reduces redness and skin inflammations to a great extent.
Doesn't leave the skin looking dry and flaky
It has a super-light lotion texture that sets to an invisible matte finish. Ideal to use to prep face before makeup
Cons
Since BPO concentration is 5%, it is a fairly strong formula not recommended for sensitive skin
Can lead to a temporary dark staining of the skin if used along with any other anti-acne cream.
Additional Tips
DO NOT APPLY this benzoyl peroxide spot treatment all over your face, but use it as a SPOT treatment.
Use a sunscreen lotion post-application of this product.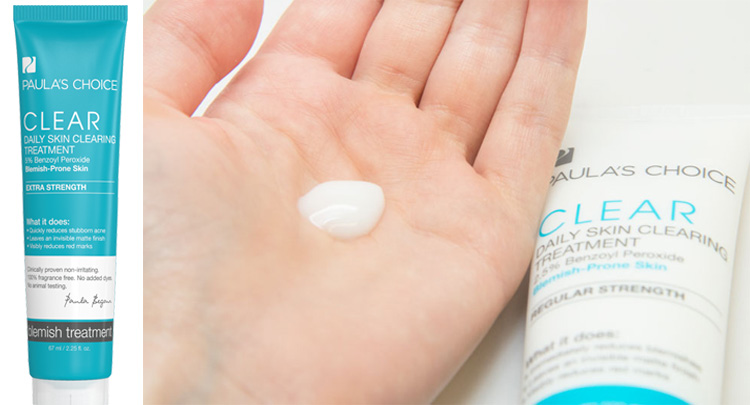 10. Exposed Acne Serum with Benzoyl Peroxide
With a BPO concentration of 3.5%, this acne treatment-cum-day serum by Exposed Skin Care is safe for teens and adults. Formulated with the most advanced acne fighting ingredients.
Best Suited For: All skin types (and this includes sensitive skin)
Pros
Free from harsh chemicals
Has Green tea extract and tea tree oil to kill acne-causing bacteria
Guarantees to reduce acne within 30 days
It helps to fight blackheads, whiteheads, inflammation and acne scars on the face
Cons
Can cause dryness of skin
Not as mild as other anti-acne products in the market
Not as effective against hormonal or cystic acne
Additional Tips
Use this benzoyl peroxide for acne twice a day to obtain optimum results
Apply moisturizer after application of this BPO serum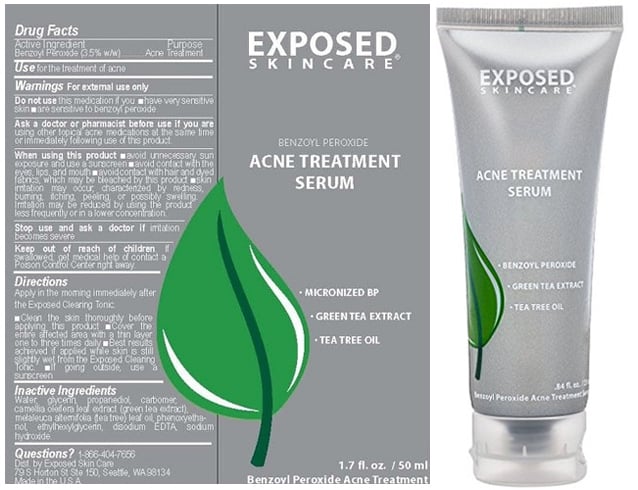 Do you want to heave a sigh of relief? I do. So many brands of best benzoyl peroxide acne treatment – you just have to pick one matching your skin type. And Bingo! It will be a huge blow to the persistent acne bothering you. Write in and tell us how you found this blog. Do you know any more brands for best acne treatment that you would like to recommend? Tell us about them.
Images Source: amazon, pinterest