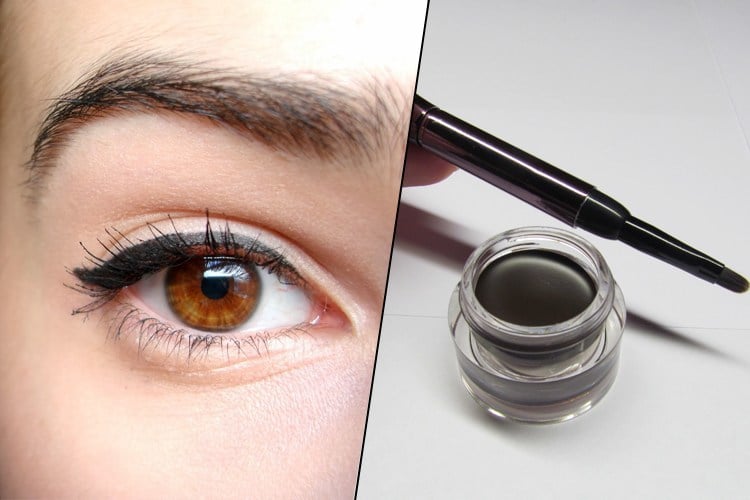 Eye makeup has revolutionized over the years and now is the season of gel eyeliners. Gel eyeliners are better than their pencil counterparts because their staying power is much longer and they last pretty long too. Nowadays, a lot of fashionistas are swearing by gel eyeliners because of the ease of use and also because they are now so much easier to find. The best gel eyeliners available in India are not only very pocket friendly, but they are also easy to carry around. This article will give you the lowdown of the best gel eyeliners and where you should be spending your money on.
[Also Read: Tips On How To Apply Eyeliner The Right Way]
Best Gel Liners Available
It's showdown time. For this one, there were top gel liners used and then we picked the winners. Let's start with the best gel liners in India winner:
1. M.A.C Gel Eyeliner
Hands down the best gel eyeliner available in the market, M.A.C is known for being expensive, but the good thing is, they last really long and are just like a tattoo! The rich and creamy texture does not break once you apply and it can only be removed with a M.A.C eye makeup remover! Such is the staying power that even after swimming, it will stay as good as new. It's an amazing product but it will pinch your pocket. For a tiny 3gm pot, you will have to shell out Rs. 1200. But, let's tell you the truth-It is well worth the money!
2. Inglot AMC Gel Liner
Another good product in the market, Inglot makes its mark in the eyeliner industry as well. This gel eyeliner is almost half the price of its M.A.C counterpart, but it works just as well. Its super drying power makes it a little difficult for those who want to try out smudging or smokey eye makeup with this one. Its staying power is pretty long too and does not smudge for a long time. It is super waterproof and does not have the perennial problem of accumulating in bits and parts in the corners of the eyes. For a 6gm pot, you will have to pay just around Rs. 700! Quite a steal, right; and way cheaper than M.A.C!
M.A.C lovers, sorry for the comparison, but this one is really a good bet for those who do not want to spend a bomb on their gel eyeliners.
3. Lakme Absolute Gel Addict Eye Liner
Lakme's foray into the gel eye liner isn't that bad considering the fact that we have rated it pretty high! This is tried and tested and actually is pretty good among the best gel liners in India. The formula is very thick and creamy and has a mousse like texture. It is also very pigmented and has the lasting power even on oily eyelids. The best part is, they have an extensive range of shades. Right now they are available in 7 shades and all of them are pretty awesome. They are super pigmented and hence look very good even with one swipe. They are available for a price of Rs. 800.
[Also Read: Best Liquid Eyeliners to give a Dramatic Look]
This blogger also wears the gel eyeliner in this picture:
[sc:mediad]
4. Maybelline Eye Studio Drama Gel Eye liner
Among us Indians, this one is a staple and a favourite the most of us. The dramatic look can actually be achieved with this one thanks to one amazing brush that comes with it. The liner is also very creamy which makes it easy to glide on the lids. It does not last for that long, but can easily last for your office hours. It's one of the cheapest gel eye liners available in the market and comes for just Rs. 450.
A beauty blogger uses the Maybelline liner:
There you go! Our list of faves! Do let us know in the comments if you have any favorites.