Today, people of all shapes and sizes are embraced without judement and considered beautiful. Women of all sizes wear desirable clothes and use it as a chance to show one's spirit. All women can be sexy, daring, and strong as they please.
If you are full-figured, you must have realized that the optiona available today for plus size clothing is better than ever before. Indian brands have introduced trend-worthy pieces across a wide variety of sizes. There are several start-ups that cater to this increasing market too.
It can get incredibly frustrating to select the straight-plus fence, but fortunately, a growing number of retailers have stopped focusing on manufacturing size zero alone. Instead of the regular sizes, they are also focusing on offering an array of plus-sized clothing. This offers shoppers to shop to their heart's content and not give up on a clothing item they have their eyes set on.
How To Choose Plus-Size Clothes For Your Body:
It seems simple to categorize clothing as either size zero or plus size. The task for dressing according to your body type, requires a different approach. This is especially true when it comes to plus-size category. And even if you are plus-size, we are sure you'd still want to follow trends.
If you are busty, the largest measurement can be across your chest. Your hips and midsection may be curvy but it is on a smaller scale. You can draw attention on a busty frame with a turtleneck. This style may emphasize your top with a V-shaped zipper.
If you have an apple shaped body, your shoulder, hips, and legs will be slimmer in proportion. If you are looking to emphasize your shape, go for slim trousers. You can pair it with an oversized top. This type of matchup can play with your proportions in the best way.
If you have rectangle shaped body, then you have defined curves. You can play with denims with straight lined frame and a tighter tunic for a balanced look.
Where To Shop For Plus Size Clothes In India?
There are a whole lot of brands that are keen on releasing plus-size clothing. The clothes available are chic and yet casual. After all, feeling most comfortable begins with wearing clothes that you feel you are absolutely best in. This is why we're showcasing 5 best places to buy plus size clothes in India that embrace your curves!
1. Shoppers Stop
Shoppers Stop is one of the leading brands for affordable fashion. This brand is keeping it 100% real and authentic. They have a department devoted to plus-size clothing and accessories. Their plus size collection promotes body positivity through style. Their collections are never retouched and are most relatable for any plus size brand. They control quality and curate every piece to ensure that the size you think you're buying is the exact size you're getting. Keeping to the aesthetic, at Shoppers Stop you can expect plus size dresses, work separates, glam evening wear, casual wear, and embellished ensembles. Their dresses and tops are available at affordable price range-including both wardrobe staples and trendy pieces.
2. AND India
AND India has more versatile collection of pieces for plus size women. This season has a distinctly rich vibe with plus size clothes designers, relaxed tailoring pieces, separates, and shirting with detailing injected with red, pink, white, pastel, and others. If you're into celebrating your individual style, then hop over to AND India as it can be the ideal shopping destination for you. Their collections are specifically designed keeping full-figured women in mind. With a wide selection of original pieces and a close attention to fittings, their collection features both basics and trend-worthy pieces.
3. Amydus
Amydus is celebrated for their classy and exquisite ready-to-wear Indian wear collections. They are also an excellent brand for plus-size clothing with prices ranging from the budget-minded to the more indulgent customer. Women around the country will be able to relate with their modern and traditional silhouettes designed to suit all plus-sized women. Their collections include plus size dresses, kurtis, tops, skirts, denim pants and leggings. All their pieces are reasonably priced and are available online as well.
[sc:mediad]
4. Marks & Spencer
Marks & Spencer is a well-known label. They focus on the luxury and have always topped quality construction. The brand is all about offering the alternative for elevated essentials for plus size women and unsurprisingly everyone is still pining for this luxe basic line. They work under the industry's top creative teams to set a new standard in plus size fashion.
5. Kaneesha
A favorite for most Indian women, Kaneesha offers great plus size Indian wear pieces. Perfect for their lehengas, anarkalis, and other pieces, they have a legion of loyal customers. This well-curated and fashion forward brand is steadily growing with some of the best plus size fashion brands around. Their plus size clothing in India is affordable. They are great on trends and have a sprinkling of auspicious wear collection to seal the deal.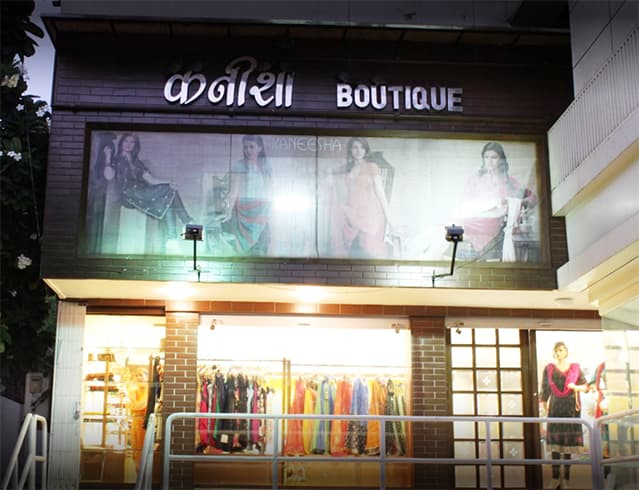 These are 5 best places to buy plus size clothes in India. You can try both retail and online shopping to select the best clothing for you. It is thrilling that plus size is receiving more popularity than ever nowadays and hence plus-size women have more choice. And we're not missing on sharing some of our favorite five best brands to buy plus size clothes. From quality work wear to chic and holiday-ready clothing, there is a plus size brand for every wardrobe wear. And you can keep checking back to see this article on which plus size brands have the coolest collection. And do not forget to bookmark this page for future binge shopping!