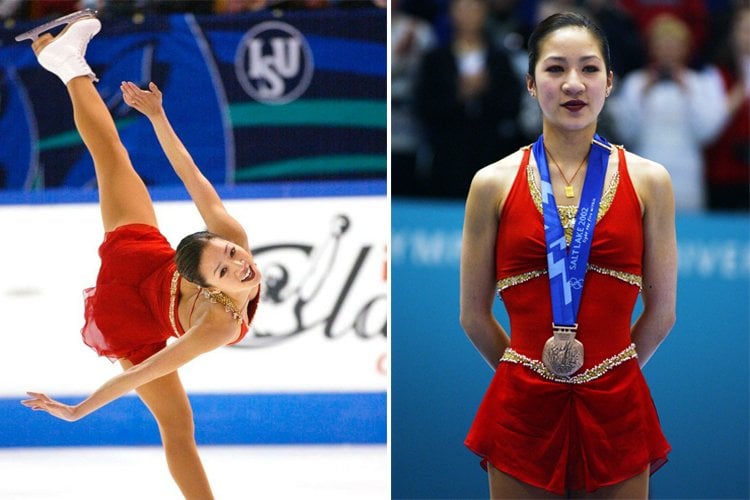 Michelle Kwan is an exemplary American figure skater who won accolades in the late 1990s and early 2000s. At the 1998 Nagano Olympics, Kwan took home the silver medal, and throughout her career won five World Championships. Her skating performances were technically clean, graceful, and moving.
Early Life of Michelle Kwan
Michelle Kwan is the third child to father, Danny Kwan and mother, Estella Kwan from Hong Kong. Her mother, Estella Kwan was instrumental in shaping her since an early stage. Michelle was woken up at 4:30 a.m. daily and by 5:00 a.m. she was to be present at the rink. This had a daily schedule before school. And this training shaped her into becoming the most iconic skating figure in U.S. history.
As a young skater, Kwan confesses she faced a lot of body image issues, and has a message for other young athletes to know she is there for them with advices.
She rose to fame at the age of 12 when she went on to become a senior-level figure skater and five-time World Champion. Kwan states that growing up in the limelight put more pressure on her as she looked a certain way both on and off the ice.
I was a teenager and going through puberty very publicly, it was tough. You're on magazine covers, being interviewed, and just trying to be the best-and there's a lot of pressure that comes with that.
This comment came only a few weeks after Gracie Gold's announcement that Kwan was pulled off the Grand Prix of Figure Skating and is being treated for anxiety, depression, and eating disorder.
I've been there, I can relate; whether its competition, setbacks, fears of failing or body image. I hope that [younger skaters] know I'm here for them to give honest advice.
Her mother, Estella Kwan and father, Danny Kwan emigrated from Hong Kong to U.S to help through what she calls her, isolating times. Her mother's advice to her was to always stay focused.
These are not your real friends. You'll have friends who are supportive who will help you get to where you are and are supportive of one another.
Life after Retirement:
After retirement, the olympic athlete kept herself busy. She completed graduation from law school, and served in the political scene with Hillary Clinton in her 2016 Presidential campaign. Michelle also partnered with Proctor & Gamble for its latest installment of its "Thank You, Mom" campaign in ahead of the 2018 Olympics in Pyeongchang.
Workout that keeps Olympic Figure Skater Michelle Kwan Fit and Happy:
Besides all that, Kwan has never looked so much fitter than now. She attributes it all to staying happy, stress-free, and her daily workout routine. The workout that keeps Olympic figure skater Michelle Kwan fit and happy is yoga, of course. She states yoga helps clear her mind. It helps her to maintain a sense of mental ease as the day passes. Like when she is stuck in traffic, or get into an argument, or do something chaotic at work, she is able to take a step back to pause and reflect before she reacts. This is the reason she practices so much, keeping safety of others in mind.
Her favorite yoga routine includes hot yoga, vinyasa yoga, and hatha yoga. Kwan constantly posts pictures and videos of her yoga practice on her Instagram. So if you require some motivation to get into few yoga poses, look up to her feed for inspiration.
Besides that Michelle maintains a daily workout routine. Here are to find out what her morning routine looks like:
She exercises in the morning at least five or six days a week, or sometimes the full seven days of a week. Since childhood, she is an early riser and it keeps her energized.
Kwan does not wait until evening to exercise as she gets too tired by the end of the day.
Her daily workout routine revolves between pilates and doing yoga or core power.
While she is traveling, she does her own routine which includes a combination of yoga, skating moves (practices on the floor), plyometrics, planks, and stretching.
Practices skating occasionally. She does do it as much as she'd like but it still remains a fun routine for her. She believes there is a difference between being in shape and being in ice skating shape.
This is the workout that keeps Olympic figure skater Michelle Kwan fit and happy.
Michelle Kwan's Diet Plan
Michelle loves her eggs so she usually makes herself an omelet for breakfast. Besides eggs, she adds other proteins in her diet like berries, or others. Kwan also loves her ginger lemon shots and Pressed Juicery. She occasionally drinks coffee. She prefers her coffee with milk and sugar, and never drinks it black. Besides that, Kwan also loves her soy lattes.
[sc:mediad]
Interesting Facts about Michelle Kwan:
No one believes Kwan when they learn that she is an introvert. She states it takes a lot whenever she is introducing herself.
After long periods of high-energy socializing of attending interviews or functions, she needs her alone time to recharge herself.
Yoga helps her to be stress free and remain happy.
An advice she wants to give her younger self is to prevent doubts and insecurities to invade her mind, to be present, and to keep chasing her dreams. "You don't always have to know what's next. You don't need to have everything mapped out. As an athlete, you instinctively try to control every situation, everything you possibly can, because every move and every breath and every step is calculated."
Kwan is married to Clay Pell, Director for Strategic Planning.