As a general rule, semi-permanent lash extensions do not require any mascara as they already give the illusion of mascara and a thick, full and luxurious eye. However, our expert panel strongly recommends you to use one with them. The mascara not only lends a dramatic pop but they also help you maintain that polished and matched up look when the lash extensions are shedding themselves in their last leg. Unfortunately, not all mascaras can be used with them as they would actually ruin and damage your lash extensions. Only water based mascaras are recommended with them. Forget waterproof or oil based ones as they have ingredients which dissolve the adhesive agent that holds your lash extensions on.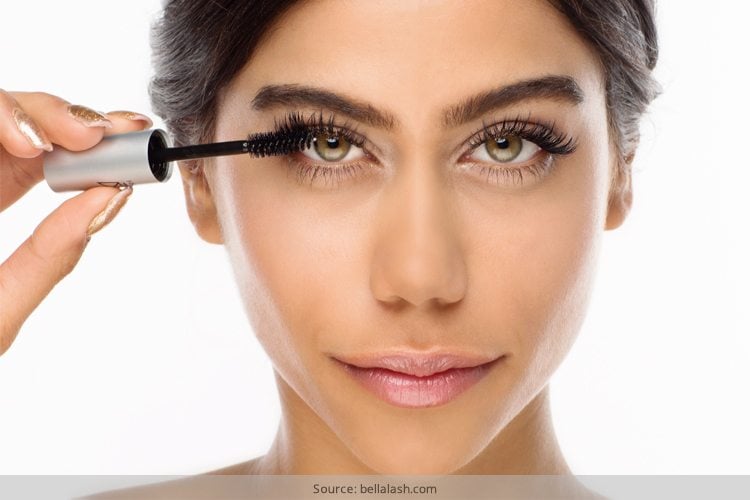 What Is Water Based Mascara?
Mascaras are normally formulated with an oil base or a water base. With a natural hydrogen (pH) levels, the water based mascara are free of any chemicals or oils and are great for those of you who have sensitive eye or are prone to allergies. They are not only much easier to remove but also dry much faster. However, they do not ooze the spider lashed effect and thus are a great aid to give a polished look to your lash extensions. Now that you are aware of this, we present below our top picks of water based mascara for eyelash extensions for you to choose.
[Also Read: Best Volumizing Mascaras]
1. DV Volume Up Mascara
Formulated especially for eyelash extensions with pro vitamin B5, this is amongst our top choices of water based mascara brands. Completely oil free and water based formula; it wraps beautifully to lengthen your lashes to the maximum with no clotting or smudging. Its special ingredients of vegetable wax and fruit extracts enhance the volume while oozing a completely natural and mesmerizing look. Awesome mascara which can easily be used with or without any lash extensions, it can just be washed out or gently removed without using any cleanser.
2. Maybelline Great Lash Mascara
A very basic oil free water based mascara; many of you would have used it and forgotten about it. Well, it's time to get reacquainted with it. Without any artificial wax, its exclusive little grabber brush easily reaches every single lash to coat smoothly and evenly. Enhancing both the length and the volume, defines your lashes to leave them with oodles of impact and style. While it doesn't clump or dry crunchy, it does flake a bit. However, it is ophthalmologist tested and is safe to use even with contact lens and can be easily removed. You will end up buying a second tube after using it.
3. Clinique's Naturally Glossy Mascara
This water based mascara for lash extensions has a gel formula which with its volumizing and lengthening effect leaves your lashes sleek and shiny. Its multiple coats leave the lashes silky plain as well as clump and flake free. Due to this, it is your god-sent answer for filling the gaps and making lashes keep looking natural when the lash extensions start to fall out. Never dropping throughout the day, it can easily be removed as well. However, it may leave your lashes a bit dry and stiff due to the film-forming and gel ingredient, PVP.
4. Lash Perfect Ultimate Black Mascara
Up your ante with this water based mascara drugstore. Ideal for both natural and lash extensions, this oil-free formula does not compromise with the lash extension bond in any way. Providing a natural and full flattering eyelash look, it is safe to use even for sensitive eyes. With an international acclaim, this mascara is bound to win you over.
[sc:mediad]
5. Benefit Bad Gal Lash Mascara
If you are looking to create a sexy and dramatic effect, this is the mascara for you. This unadulterated black mascara with its unique brush leaves you with beautiful, bodacious lashes even when used alone to give off a dramatic look. Thus, a small bit of the volumizing mascara is required to lend a perfect glossy eye-lash look. Feeling like an instant set of false lashes, this is your product to fill all gaps to the tee.
6. MAX2 Special Mascara Gold
Formulated especially to be used with eyelash extensions, it contains royal jelly and natural herb extracts which leaves you with a darker looking, longer and fuller lashes. Oozing no fumes or rarely causing any irritation, it is highly recommended to be used with range of glues like Nouveau lash, Lash Fx, Ultra Glue, etc., with no fear of any damage. With its extreme black finish, expect your eyes to look spectacular.
We hope this post comes in handy for you! Do you use any other water based mascara? Let us know your take on that by commenting below for our readers to know as well.