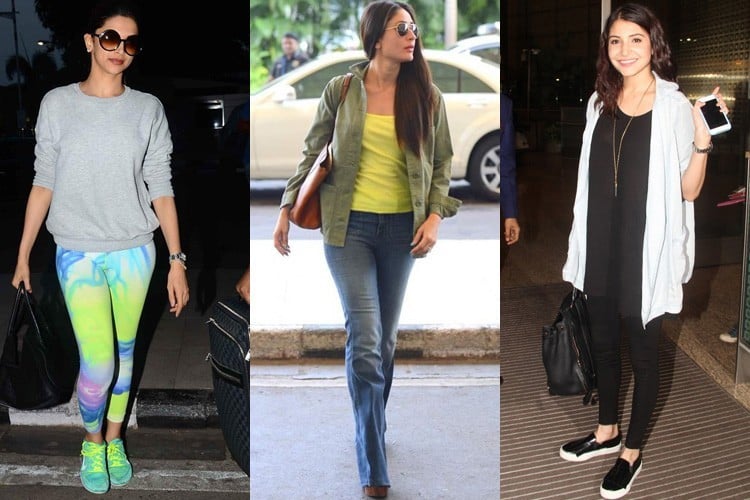 Bollywood walks in style, and you know what? Bollywood flies in style too. Irrespective of the length of the journey or the destination, our girls know how to make a statement. Let's check out the airport fashion trends of our celebs in 2015.
[Also Read: Celebrity Airport Style 2015 December Looks Are Drool Worthy!]
Sonam Kapoor
They say Sonam Kapoor is a Fashionista. So let's see what the fashionista has got here. Spotted in this wide hat and poker straight hair in the darkness of night all she needed was a witch broom.. neah.. Kidding people…but if she was a witch, she would certainly have bewitched all you men out there. Anyway, that over-sized sweater seemed to have worked brilliantly with those skinny pair of denims and high boots. Very season appropriate, we say.
Kangana Ranaut
Kangana looks like an empress with her entourage in this pic. The crisp white maxi dress is a perfect for summer and we assume that this trip was made during the summer itself. The hair neatly packed into a bun and the clear face make up accessorized with a pair of glares resonate with the weather. Don't miss out those nude flats. They are to assure the feet are at rest too while on the go.
Jacqueline Fernandez
Jacqueline is onto some serious travel here, check out those lugagge. But to keep with herself onboard she chose a backpack. The collored up loose tee speaks comfort, however, not sure if those super tight printed jeggins will collaborate on the comfort bit or not. Did you see the lether jacket tied around her waist? That is a safety assurance if the climatic conditions switch.
Priyanka Chopra
This had been a busy year for the Chopra girl and because of her Hollywood assignment she had to do a lot of flying in the year 2015. As we see, the former beauty queen likes to show her rock band loyalty while travelling and nothing beats a good fitted pair of denims when it comes at combining ease and style.
Anushka Sharma
A big soft warm garment – checked, blacks, as they never fail to impress – checked, a cute neckpiece to add variation – checked, a giant hand bag to store the world inside – checked, comfotable falts – checked, the quintessential smile – checked, Anushka has got everything in place for her 'Bon Voyage'.
Katrina Kaif
Tees, checkered shirt, shades, and super cute sneakers – Kat almost got everything right in this look. But that Dungri? Umm… I wonder won't it be cumbersome to go to the washroom while on the flight. Rest is okay, but no, fellas, no dungris in the flight.
Athiya Shetty
New bee Athiya looks cool in those ripped light denims. Though denims on denims are not an 'in' thing anymore, the 'Hero' heroine does a better job in teaming it up with peasant style denim blouse in sky blue. The nude strappy flats are showing some love to the feet and the shades are keeping the eyes safe. But my favorite piece in this entire attire in that fringe purse she is rocking.
Alia Bhatt
Alia Bhatt's personal style is always casual with minimal make up, and we have seen it time and again. The baby face no make-up looks go perfect for travel, her tops and lowers, if you check, aren't very tight fitted. Clearly, the girl is not a fan of super tight suffocating clothes while on the go. And she prefers closed shoes and a cross over pouch that she can wear either ways.
[sc:mediad]
Kareena Kapoor Khan
Not sure if Kareena is trying to bring the flared jeans back to fashion by making this airport style statement or she just got the decade wrong. Nevertheless, she looks effortlessly classy as always. That yellow tee is perhaps a spaghetti top that she layered up with a heavier jacket to stay warm in the flight. Don't miss the super soft straight hair.
Deepika Padukone
One can't really dare to make a negative comment while speaking about Deepika's dressing. Making all the money in Bollywood now, that girl must be doing things right. This baggy sweater is everything I want. But I might not want those super tight work out jeggings which she matched up with her sneakers. No offences, but I just feel they are a little too tight for a long distance travel. I can rob her off that hand bag any day.
These were all the hottest jetsetters in 2015. While stars prefer to look stylish all the time, we see comfort becomes the main concern for most of them. Did you notice, almost everyone had their favorite shades on, and no one took a chance with high heels. The feet were secured in flats or sneakers. Now you know what are your do's and don'ts while travelling, as far as style is in question.