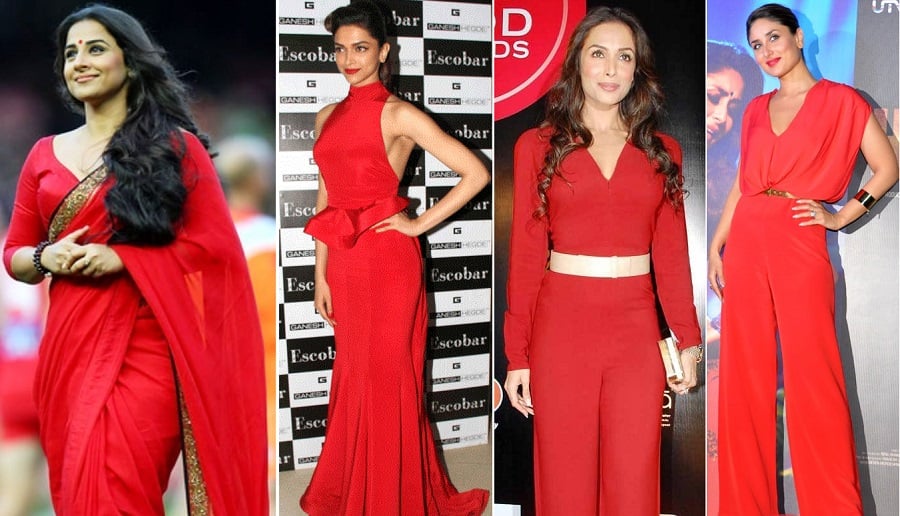 If you thought the color red is only destined for the brides in India and only celebs can pull it off without their fashion quotient being questioned then you still have not understood the power of red. It's also true red is not everyone's cup of tea.
You may be willing to wear red but you're not sure how to do the red thing. While a few exude confidence in pulling it off at ease, others just end of messing up with this bold shade of fashion. A favorite of Valentino, red can either make or break your personal style statement. Only if you've know how on wearing red that suits your personality and undertone then you're all set to flatter the world.
As per the famous fashion phrase goes – 'When in doubt wear red'; it's not an overrated statement. The power of this hue is so strong; it can easily hide your flaw areas say a red lipstick. It can divert everyone's attention from that stubborn pimple that's been on your face for 4 days now.
A pair of killer red heels can just save you from fashion police for that mundane dress you're wearing. Let's find out how Bollywood celebrities are pulling off red with such an élan.  Let's take cues from these 5 Bollywood actresses on wearing red!
#1 Kareena Kapoor's red lipstick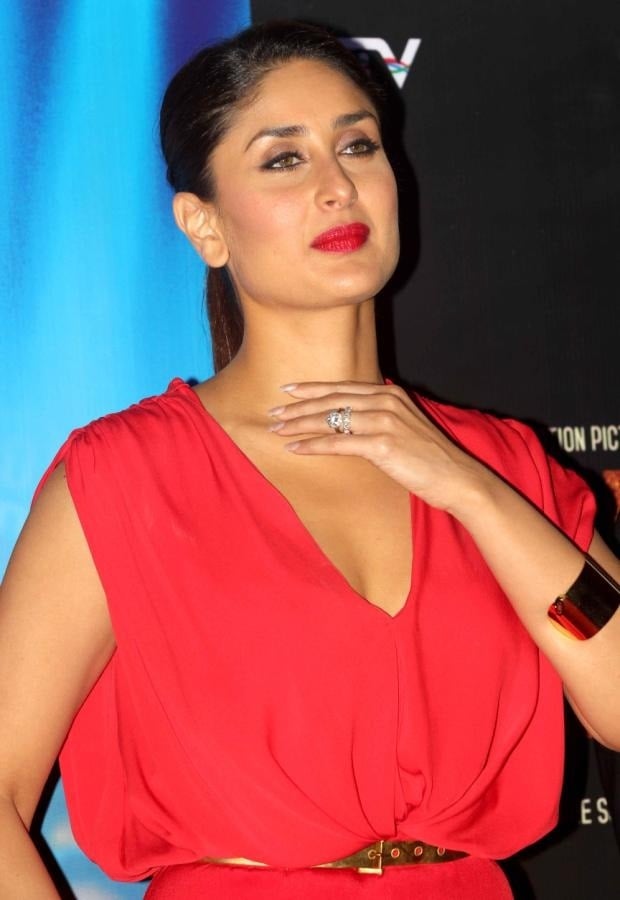 Mirror, mirror on the wall, who wears red lipstick, best of all? Well, none other than our vivacious Kareena Kapoor Khan. Bebo effortlessly pulls off a red lipstick like no one else and I have never seen anyone looking so gorgeous in red pouts like the Begum Kapoor.
Well having fuller pouts and a fair skintone are not the only criteria to wear red lipstick, instead one should have that loads of confidence like Bebo to step out donning red lips.
However, do not blindly pick any red as there are numerous shades in red as well. Pick the shade that best suits your skintone. It's risky but worth taking if you played it right.
#2 Vidya Balan's red saree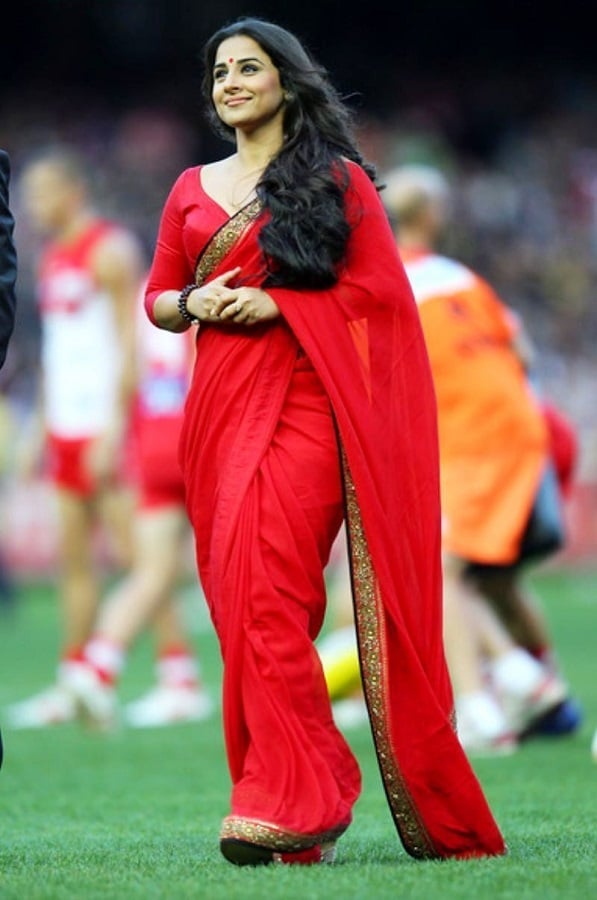 If you thought Vidya is in the news only for her fashion disasters then better have a look at her sarees, she has worn so far. Famoulsy known for following the footsteps of Rekha, Vidya is hugely inspired by the veteran diva and is always seen wearing saree with full sleeve blouses and bindi.
[sc:mediad]
She is now the muse of Sabyasachi Mukherjee, whose creations are ultra gracious and sophisticated. The red saree worn by Vidya is designed by Sabyasachi Mukherjee. Well, I don't think if any other actress could have given justice to this saree as Vidya did.
Realizing the sheer power of this bold fashion color, Vidya chose not to overdo her red saree by opting for no jewelry, minimal makeup and letting lose her strands.
#3 Katrina Kaif's red jeans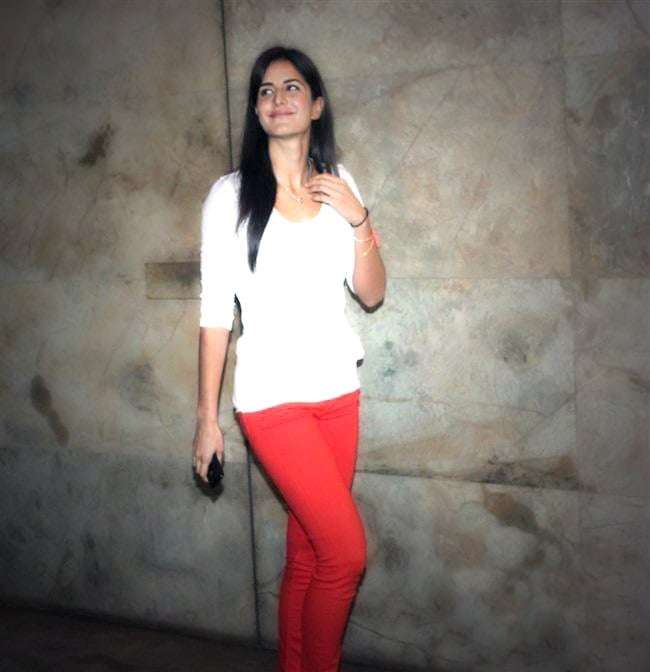 Red is a tricky color. You have to be very careful in picking a red outfit, especially when it comes to jeans. But if you look at Katrina and even Deepika, you can see how effortlessly the actresses pull off their red jeans.
All you have to do is pick a suitable pair that suits your body type and then pair it with either a cute white top like Katrina or combine it with your denim shirt like Deepika. However avoid wearing broad belts; instead a sleek metallic belt will do wonders. Now complete your look either with stilettos or a cute pair of platform heels.
#4 Deepika Padukone's red peplum gown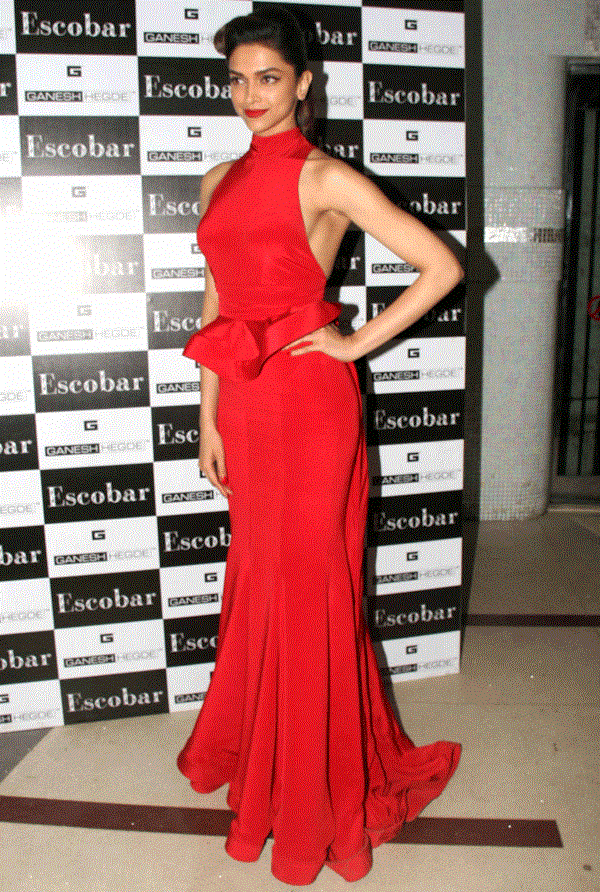 Deepika's fashion statement has always been impressive. The leggy lass looks picture perfect in whatever outfit she wears or whichever color she prefers. Her svelte figure and impressive height help her getting into any style. Deepika looks stunning in this red peplum gown and her perfect hairdo completes her glamorous look.
If you're too blessed with such height then you can pick a floor kissing red gown. Women at the petite side can go for knee length dress or even a red maxi dress will also work.
#5 Malaika Arora Khan's red jumpsuit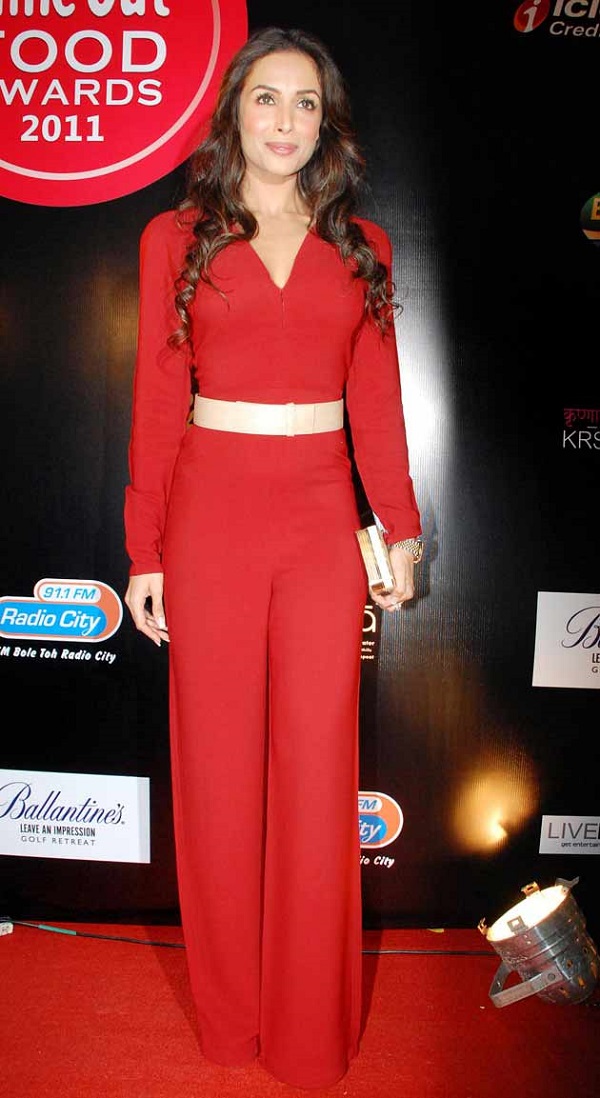 Malaika may not be having Katrina or Deepika's height, but the mother of two surely knows how to pick a style that not only hides her petite figure but even makes her look younger and gorgeous than ever.
Her red jumpsuit with a contrasting waist belt with plunging neckline sets fire to her sex appeal. And the curled locks with statement time piece just give an edge to her look.
 Hope this helps!
Stay tuned for more Bollywood style checks!!