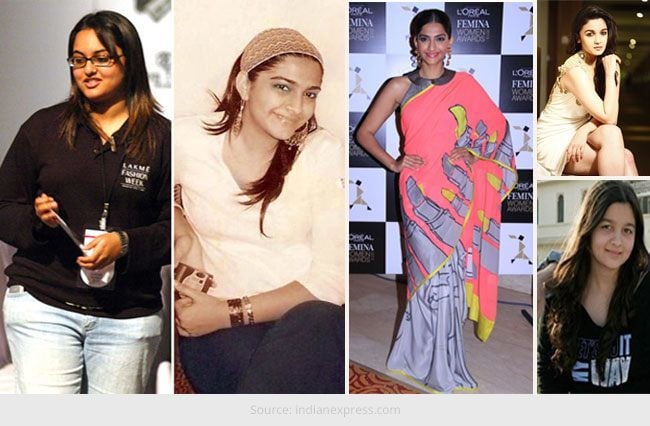 Losing weight is not an easy affair. A lot of hard work, perseverance and patience are required to get a physically fit body and many star kids in Bollywood have done it. So what if it's difficult? It's not impossible! And, good things do take some time and effort.
Read and be inspired from the stories of these famous celebrities who were once fat and worked on their body to shed weight and now look stunning!
[Also Read: How To Get Chubby Cheeks]
Sonam Kapoor
Sonam Kapoor, who is famous for being a fashionista and astonishing everyone with her style statement, didn't have such a fit body before she debuted in 'Saawariya'. She weighed 90kgs before she started to work out for the film.
She lost over 30 Kgs for the film and looked beautiful in it and from then on, she has maintained herself and thereby, continues to look stunning.
Alia Bhatt
She has been chubby as a child so when she auditioned for her debut film, Student of the year and got selected, she was told to lose her weight and thereby, she worked on her body and lost 16kgs for the film.
Now, Alia has a slim and a fit body and looks beautiful in her every appearance. She works out 6 days a week which includes cardio, weight training, running on the treadmill and kick boxing. Her workout also includes squats, abs crunches, bicycle crunches and pushups.
Learn from this young hard working girl and start working on your body too!
Arjun Kapoor
Arjun Kapoor is a heartthrob of many! He had not been as fit and sexy as he looks now in his films. He wasn't fit at all before he faced the camera. He weighed about 150 kilos and had no motivation of even losing it until, Salman Khan, his savior told him to do so.
Under the guidance of Salman, he trained for over 3 years before he had a toned body and then, soon enough he got his first film. His work out includes cardio, weights and a cross-fit regime.
Parineeti Chopra
This PR manager turned actor, has been chubby all her life. In fact, more than just chubby, as stated by her. But once she decided that she wanted to be an actor, she immediately quit her job and started working hard on her body.
In her debut film, 'Ladies Vs Rickly Bahl', she was still a bit chubby but after that movie, she lost even more weight and looked fit from then on.
Kareena Kapoor
The begum of Pataudi Kareena Kapoor Khan, even after being in the industry for such a long time, never really got over her puppy fat. When she chose to do the film 'Tashan', she not just got over her puppy fat but also stunned everyone with her size zero look, which became quite a trend in Bollywood from then onwards.
[sc:mediad]
It didn't happen overnight, getting into that shape took a lot of time for her. She believes in power yoga and she has been doing it for a couple of years now. She is now back on her sultry and curvaceous yet fit shape!
Sonakshi Sinha
Sonakshi has been said to be fat as a teenager and for a bit of time, as an adult too. She weighed 90 kilos at a point of time. But, once she decided to enter the glamour industry she started working out.
In her debut film 'Dabbang', she was seen in a whole new avatar. Though, she can't be termed as slim but this lady is happy in her skin and is in fact, losing weight with tremendous speed! She works out 5 days a week and does cardio, yoga and weight training.
If she, being a highly over-weight person can get into her fit and curvaceous shape, why can't you?
Losing weight is one thing but maintaining it is another. All of these celebrities had worked tremendously hard on their bodies and the result is in front of us. So, get up and get going because you can have an amazingly fit body too! Undoubtedly, it will take some time but don't lose hope because in the end, it all will be totally worth it. Good luck!