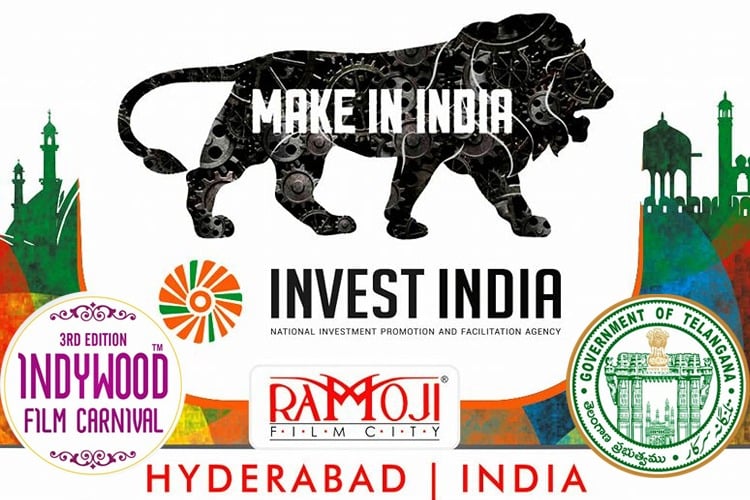 Cinema is a world with no boundaries and it should not be limited to audiences from one background, religion, country or genre. It is a larger than life image of every social issue, every culture and most importantly it is a celebration of creativity.
Honoring this thought and perception, the Indywood Film Carnival is back with its third edition scheduled at the Ramoji Film City, Hyderabad from 1st to 4th December 2017. The honourable Vice President M.Venkaiah Naidu will be inaugurating the carnival along with Union Minister of State for Tourism Alphons Kannanthanam, Telangana Chief Minister K. Chandrashekar Rao, Telangana Minister for Cinematography Talasani Srinivas Yadav.
Scheduled to begin at Princess Hall at 6 PM on the 1st of December, the film carnival promises to be one of the most splendid affairs.
The Indywood Film Market is intended to provide a platform for talented people from various genres like filmmakers, producers, investors, technology developers, and industry stakeholders. Since Indian Cinema is no longer limited to audiences in India, this carnival works as a stepping stone to bring Indian films to a global domain.
Drawing in nearly 50,000 footfalls, 5000 trade delegates, more than 500 investors, 300 exhibitors and greater than 2500 talents from all across the country, the carnival is bound to make a remarkable impression on its audience.
NRI industrialist, Sohan Roy, who is based out of UAE, is the driving force of the Project Indywood which is grandly supported by 2000 Indian billionaires and corporates. Sohan Roy, the chairman and CEO of Aries Group based out of UAE is keenly working towards encouraging the cinema world by initiating 10,000 new 4K projection multiplex screens, 10,000 2K/4K projection home cinemas, 8K/4K film studios, 100 animation/VFX studios and film schools conforming to international standards.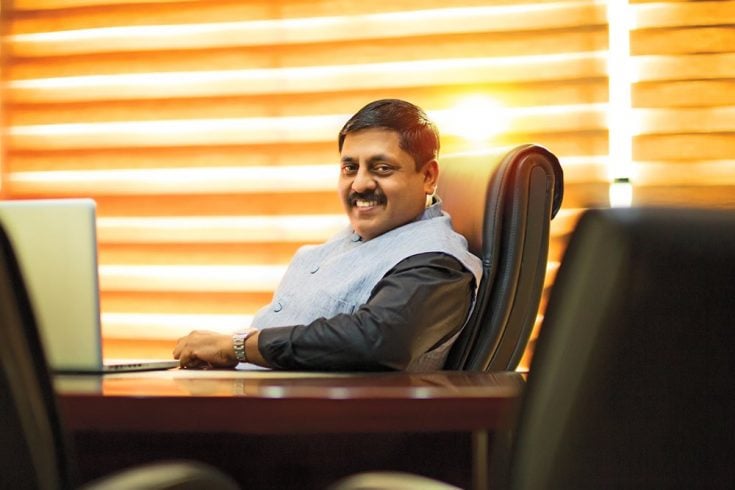 With more than 50 Indian billionaires and 500 investors from across the globe attending the inauguration, the grand opening of the Billionaire Club will be the prime focus of the event.
All Lights India International Film Festival (ALIIFF), Indywood Film Market (IFM), Indywood Talent Hunt (ITH), and Indywood Excellence Awards are few other programs that the carnival is going to indulge in.
With more than 1000 film submissions swarming in from over 80 countries for this third edition of ALIIFF, around 115 films have been shortlisted for screening in 6 competition and more than 8 non-competition categories. ALIIFF has defined a special section dedicated solely to the animation and environmental movies of the year.
[sc:mediad]
Shyam Benegal, the renowned filmmaker, and Padma Bhushan award holder will be chairing the grand event as the Festival Director. In honor of his contributions to the cinema world, ALIIFF 2017 will unroll a retrospective as a tribute to his celestial work. Also watch out for the trilogy of 11 Palanca Award winner, Filipino director, Jun Robles Lana grand appearance that will set the bar of the carnival soaring high.
On a global front, the Indywood Film Market (IFM) expo encompasses four categories namely the IFM Tech Expo, IFM Theatre Expo, Cine Hut and IFM Market Screening. While the IFM Tech expo focuses on world's best film technologists and their exhibit of their remarkable products, IFM Theatre expo is all about world's best theatre technology providers, audio-video equipment manufacturers etc., in a custom-made venue.
Cine Hut provides a demonstration room that holds multiple desktops for technologists and filmmakers to project their skill set to public. And lastly, IFM Market Screening is an homeplex provided with latest acoustic, recliners where exclusive screening of films can be hosted for distributors, producers etc.
One of their programs, The Indywood Talent Hunt will be a stepping stone for every individual globally, who aspires to make jaw-dropping contributions to the cinema world. The program encourages 22 categories of competition which includes short film, music, dance, still photography, advertisement, educational video, documentary film, animation character, drama, poster designing, dub-smash, performance art, film quiz, online promotion, music album, DJ, children's short film, best reporter or journalists, RJ hunt, VJ hunt, film club and model hunt.
Since, the whole carnival circles around the movie world, noted film stars besides leading technicians from all across the globe have declared their presence to celebrate talent and creativity.
This is a loud shout-out to all the young talent, including college students, to grab this opportunity to unfurl every streak of art that they hold pertaining to the cinema. So, ladies and gentlemen don't let this break slip through your fingers. Hurry up!