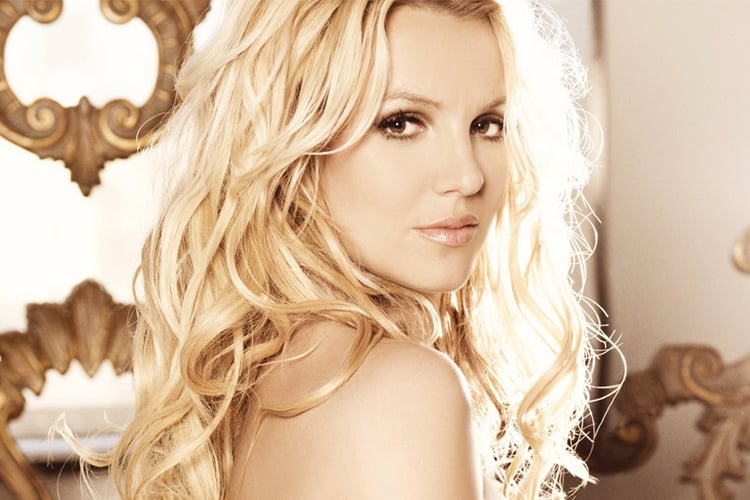 In her growing years, she was a bit of a tomboy. From racing go-carts to playing basketball with the neighborhood kids she was busy. She has several nicknames – Brit, Bit-Bit, Brit-Brit, Pinkey, Britney Pig, Pop Icon, Queen B, The Pop Phenomenon and Princess Of Pop too. She once owned a restaurant in New York City named 'Nyla' (named for its New York–and-Louisiana-style blend of food). She has many fragrances and almost all of them are hugely popular (so much so that they make up for 34% of the sales of all celebrity perfumes). The best selling female artist of the 2000s, her skills and showmanship has sold over 150 million records worldwide, making her one of the best-selling music artists of all time. Her music idol is Madonna. She loves to collect dolls. She has played roles in films namely Crossroads, Fahrenheit 9/11 and more. Her favorite quote is "Always be true to yourself". She is singer, actress, entertainer, fashion designer and TV personality Britney Spears.

Britney Spears Height | Britney Spears Age | Britney Spears Boyfriend | Britney Spears Family | Britney Spears Professional Career
Personal Details
| | |
| --- | --- |
| Name | Britney Jean Spears |
| Birthday Date | December 2, 1981 [celebrity_age_calc data="1981-12-02″] |
| Birth Place | Born in McComb, Mississippi, United States; Britney was raised in Kentwood, Louisiana |
| Sun Sign | Sagittarius |
| Eye Color | Light brown |
| Hair Color | Blonde |
| Nationality | American |
| Religion | Christian |
| Education | Parklane Academy (a private school in McComb, Mississippi), and Professional Performing Arts School (PPAS) in New York City |
| Occupation | Singer, dancer, actress |
| Marital Status | Married and divorced twice |
Family Details:
| | |
| --- | --- |
| Father | James Spears |
| Mother | Lynne Spears (writer) |
| Siblings | One bro Bryan Spears and one sis Jamie Lynn Spears |
| Spouse | Two of them who are divorced from Britney. Who are they? Jason Allen Alexander (marriage annulled in 2004) and Kevin Federline (divorced in 2007). |
| Children | Two – Sean Federline and Jayden James Federline |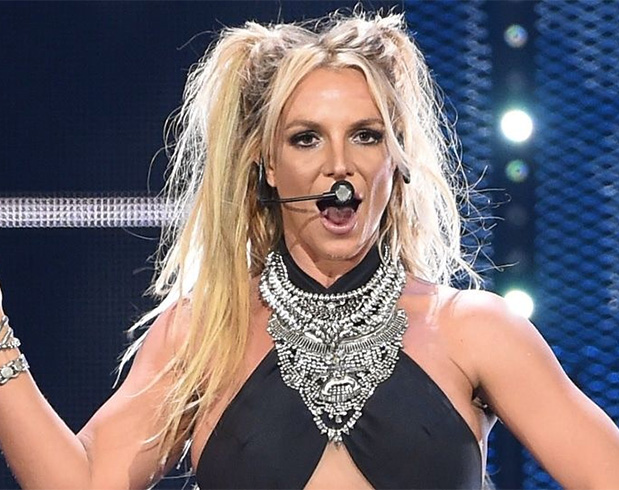 Britney also possesses writing skills. Her mom Lynne and Britney have co-written a book called "Heart to Heart" in year 2000 (best part is it's based on Britney's life).
Past Relationships
Professional Career
Well, Britney had a dating relationship with fellow pop star Justin Timberlake for good 3 years.
Rumors spread (though not confirmed) that it was Britney who had cheated on Justin Timberlake (which could be the reason for their falling apart).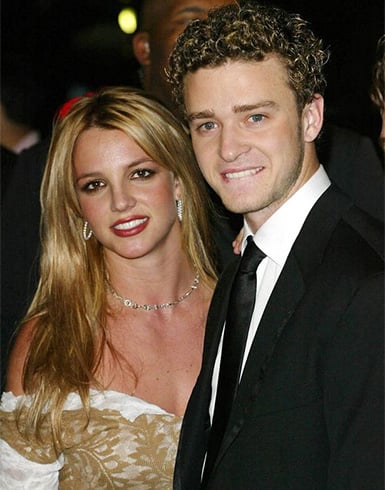 Strange but in Justin's music video "Cry Me a River," the girl who featured had a strange resemblance to Britney Spears.
On January 3, 2004, Britney tied the knot with Jason Alexander (her childhood friend). It so happened, that the wedding got annulled not in few years time or decades, but in time span of just 55 hours.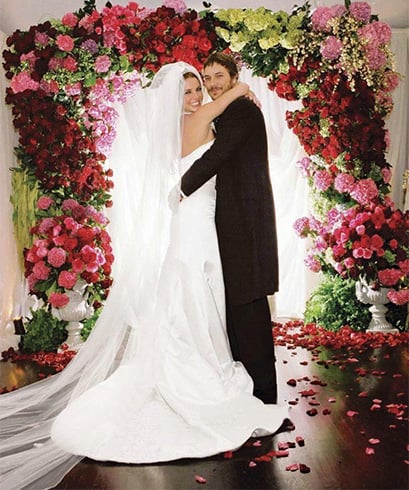 Few months after her 55-hour wedding (or wedding of the century), the Pop Icon Britney began dating the dancer Kevin Federline. The two of them did whatever a girl and boy hopelessly in love do – LOVE each other. They got engaged after three months of dating. For their wedding held in Las Vegas, guess the bridal dress of Britney? A baseball cap, midriff top and jeans.
Britney got divorced from Federline in 2007. But the worst part is she was not given the custody of the two sons born out of their wedlock – Sean and Jayden. Why? Because she was heavily on drugs. Custody was given (awarded is the better word) to ex-hubby Federline instead.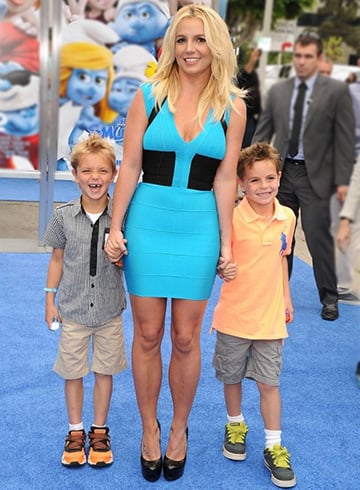 Do you know, in fits of madness, Spears even shaved off her head during those days. That led her to getting admitted in a psychiatric ward at UCLA Medical Center.
Body Status
| | |
| --- | --- |
| Build | Slim |
| Height | 5 feet 4 inches |
| Weight | 53 kg |
| Waist Size | 27 inches |
| Hip Size | 35 inches |
| Shoe Size | 6.5 (US) or 37 (EU) |
| Dress Size | 6 (US) |
| Body Measurement | 35-27-35 inches |
Britney Spears Without Makeup
Let us see how the Princess Of Pop looks like without an iota of make-up: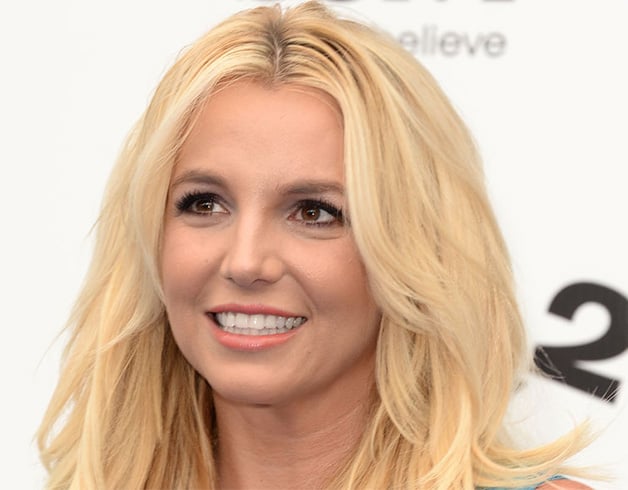 Favorite Things and Hobbies
| | |
| --- | --- |
| Color | Blue |
| Food | Chocolate, Pizza |
| Place | London |
| Sport | Basketball, Golf, Tennis |
| Brand | N/ A |
| Actor | Sylvester Stallone, Arnold Schwarzenegger |
| Actress | Jennifer Lopez, Kristen Stewart |
| Film | Steel Magnolias (1989), Pretty Woman (1990), The Fast and the Furious |
Professional Career
First Debut: Britney's debut album was …Baby One More Time and her first film was Longshot. Britney got her start on the TV show The Mickey Mouse Club.
Brand Endorsements: Polaroid, Skechers, Got Milk?, Eos, Pepsi, Candies (the American shoe brand),  Bvlgari, Swarovski, Volkswagen, Mazda, MateFit, PlentyOfFish, Beats Electronics, Sony, Nokia, Samsung and her Britney Spears Perfume brands – Radiance, Curious, Hidden Fantasy, Believe, Fantasy, Midnight Fantasy, Private Show, etc.; her own line of glasses 'Shades of Britney'.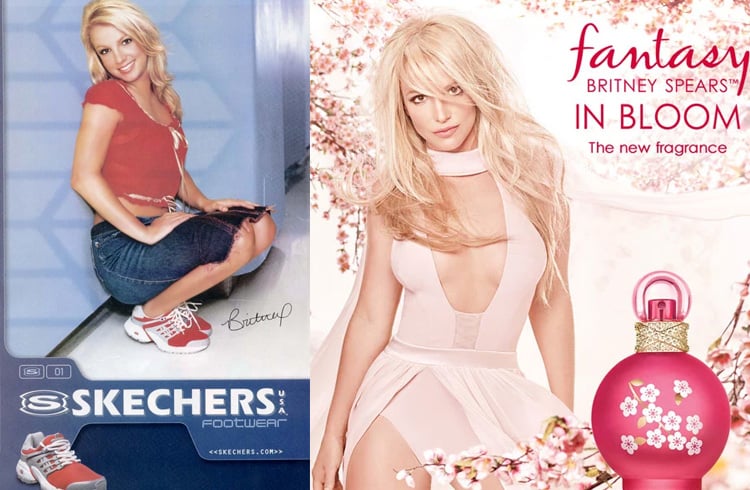 Career Achievements: Britney Spears has won a Grammy Award (for Best Dance Recording for "Toxic" in 2005), 6 MTV Video Music Awards including the Lifetime Achievement Award, 7 Billboard Music Awards including the Millennium Award, and a star on the Hollywood Walk of Fame. In 2009, Billboard ranked The Princess Of Pop as the 8th overall Artist of the Decade. OMG! Brit is truly unstoppable.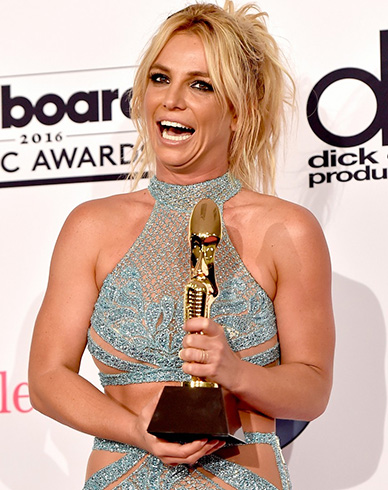 Brit's 1st and 2nd studio albums namely …Baby One More Time (1999) and Oops!…I Did It Again (2000) became international hits (and broke international sales records). In fact, her first and former album became the best-selling album by a teenage solo artist. In 2013, Britney's 8th studio album titled Britney Jean was released.
Britney has been a judge in the 2nd season of The X Factor (the singing competition show) for which she was paid whopping $15 million.
Remuneration: N/ A
Net Worth: $ 220 million
Britney: Piece of Me, her four-year residency show at The AXIS at Planet Hollywood Resort & Casino in Las Vegas got nominated in four 2017 Best of Las Vegas categories including: Best Resident Performer, Best Production Show, Best Bachelorette Party and Best Bachelor Party!
Britney Spears Weight Loss
Killer shape is important to Britney. So what does she do to get that? Any clue?
Workout Plan:
Other than pull-ups, crunches, and light weight-lifting, Britney also dances.
According to Britney – a mother of two, "I run a lot, I swim a lot and I dance a lot, too".
Britney loves to do sit-ups — she's known for doing 500 a day.
Her dance routines revolve around hip-hop movements.
Five days a week, Britney does workouts at least 2 hours a day (doing strength-training exercises and her own choreography).
Diet Plan:
Lean protein with a serving of high-fiber vegetables is where Britney's emphasis lies.
Breakfast: Egg-white omelet, or a bowl of oatmeal, served with fruit and a side of whole wheat toast.
Lunch: Salads topped with lean protein (like chicken or salmon). These are served on top of a mix of baby greens. Water is her drink of choice, or a real-fruit power smoothie.
Dinner: Lean, grilled chicken or pork with steamed mixed vegetables.
How does the Pop Icon curb her cravings? By indulging in high-protein snacks like Soy chips, a cup of low-fat yogurt with fruits and granola. Britney snacks on walnuts and almonds from time to time.
No way does Britney baby deprive herself. Her cheat foods? "Tacos, pizza and ice cream," Spears told eonline.com. "I love sweets. I love Oreo Blasts — they're the best!"
Facts About Britney Spears
By the time she was 9 years, Britney was a skilful gymnast.
When she was all of 11 years, Spears got a part in the quite- famous Disney's Mickey Mouse Club.
At the young age of 12 years, Britney worked at her dad's gym "Total Fitness by Jamie" as a young coordinator for the aerobics class.
Britney worked in the crawfish restaurant of her great grandma "Granny's Seafood and Deli". And what did Britney do? Worked as waitress and handled the cash register.
In January 2017, Britney Spears announced the new fragrance "Fantasy In Boom".
Britney has used several alias names to herself – "Alotta Warmheart", Mrs. Diana Prince, "Queen of the Fairy Dance", and Mrs. Abra Cadabra.
In 2002, Britney Spears was named as Hollywood's Most Powerful by Forbes Magazine.
Britney Spears has won more than 250 awards worldwide. Incidentally, Brits won majority of the 35 awards in 1999.
Britney is a tattoo girl. The ones that she has include – small black-winged fairy on the back of her spine, Jewish inscription on the back of her neck, pair of lips on her wrist and more.
Can you beat this – Brit-Brit kissed Madonna on the 2003 MTV Music Video Awards.
Talk of celeb endorsements and Britney Spears made over $ 10,000,000 million in an ad deal she did with Pepsi.
The hit songs of Britney Spears include ….Baby One More Time, Oops!…I Did It Again, I'm a Slave 4 U, Crazy, Toxic, Sometimes, Stronger, Born to Make You Happy, Do Somethin'.
If there was ever a movie on her life, Brit said she would like Natalie Portman to portray her.
Do write back and tell us how you found this post on Britney Spears.
Images Source: pinterest